I promised you an excellent side dish recipe last night – here it is!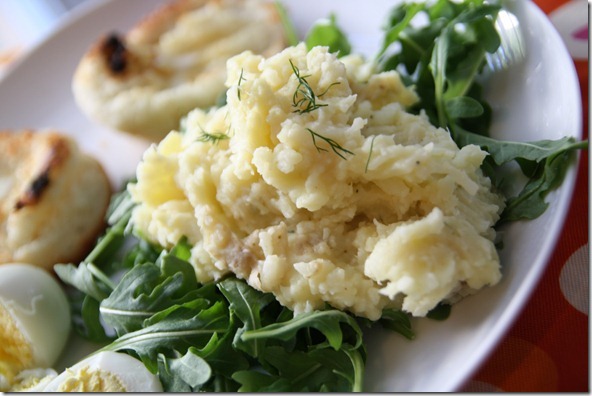 I was watching Restaurant Impossible a few weeks ago, and Chef Irvine made a cauliflower-mashed potato dish as a way to 'sneak' more veggies onto kids' plates.  I'm not a cauliflower fan but obviously love mashed potatoes, so it seemed like a pretty good idea to me.
Cauliflower Mashed Potatoes
Ingredients (six servings):
4 medium Yukon gold potatoes

1 head of cauliflower

1/4 cup butter or Earth Balance

1/4 cup milk (cow, soy, whatever)

Salt, pepper, and garlic powder to taste

2 tablespoons chopped dill
Directions:
Wash potatoes.  You can leave skin off or peel the potatoes.  Chop into 2-inch squares and boil for 20 minutes or until soft.

Meanwhile, wash cauliflower.  Chop into large pieces.  Boil for 20 minutes or until soft.

Using a mixer or a hand masher, combine potatoes and cauliflower.  Add Earth Balance, milk, salt, pepper, garlic powder, and dill.

Serve and enjoy!
Had some for breakfast today – kind of a more lunch-for-breakfast but really tasty.  Who says you can't have arugula for brekkie?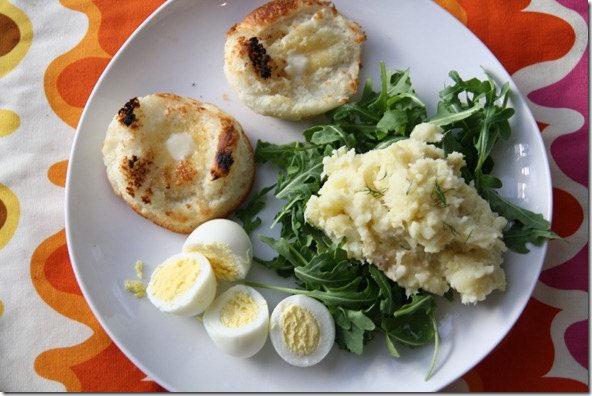 I've heard that some people take issue with 'sneaking' veggies into kids' food.  They argue you should just get kids to like veggies outright.  I can see their point, but like I said, even I'm not a huge fan of cauliflower.  So if I can convince myself to eat it by combining it with mashed potatoes – hurrah! 
Other fun ways to sneak in veggies, fruits, and other healthy foods:
Sub out oil for applesauce in cake and muffin recipes
Add a handful of spinach to fruit smoothies
Add pureed carrots or squash to pasta sauce
Make black bean brownies
Bake up some zucchini bread
Make homemade hummus and add spinach or roasted peppers (here's my Spinach Hummus recipe)
How do you sneak in more veggies?  And P.S. – HAPPY FRIDAY!