When I bought these 'right' and 'left' Nike dri-fit running socks right before I ran my first marathon (Disney back in 2010), I thought, "Because I never spring for expensive socks, I will lose righty or lefty in approximately two weeks. I just know it."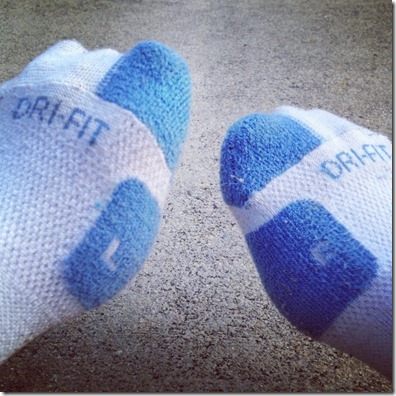 But I have managed to keep the pair together for over two years.  This is especially significant because my other socks are a pack of cheap cotton athletic socks with a rainbow of stripes on the top (so a red pair, a blue pair, etc.).  I don't wear the same colors at once because I consistently fail to find a matching pair.  But somehow, someway these two have remained as one.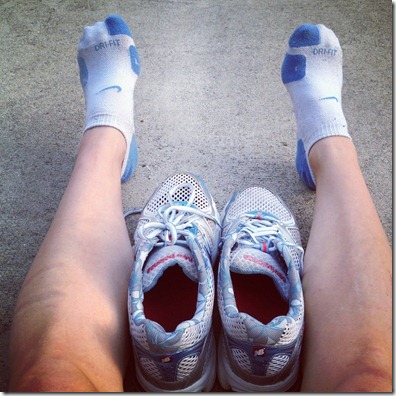 I went on a run tonight.  Whoop whoop.  Looked at my calendar on my iPhone during a walking break and realized my race is in a week and a half.  I confess that I am slightly nervous.  I haven't raced in so long, I haven't done a triathlon in even longer, and – hell – Henry was born in June.  You know what I'm worried about the most?  Not finishing (I know I'll finish – I'm just going to have fun with it!), I'm nervous that Henry will be a babbling crazy baby the night before the race, and I'll be exhausted at the start.  Oh, and I'm scared to do the run leg of the race after not feeding Henry for at least an hour and a half.  File both those under 'Momma Problems,' please.
Yes.  This is what I thought about the entire three miles.  The joys of fancy socks and the logistics of boob nightmares.  Help.