Check out this ridiculous Maggie photo I snapped last night… It's a self-made Cozy Cave!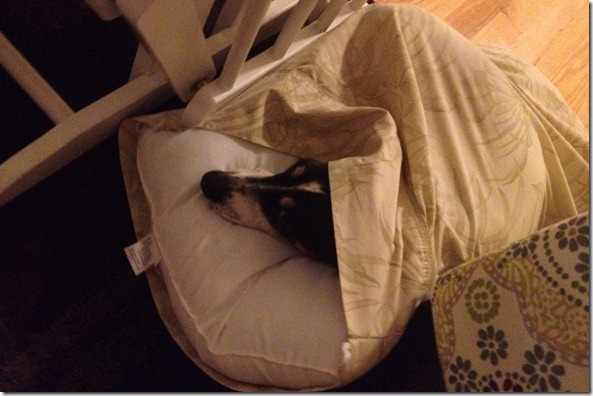 She also gets trapped in the duvet cover.  Picture a mouse trapped in a paper bag – that's what she looks like as she frantically goes from corner to corner of the duvet, trying to get out. 
Mom and I have just been hangin' out today.  She took over baby duty this morning, and I got to nap.  It was glorious, but perhaps not as glorious as the Husband's sleep.  He was all alone in a comfy hotel room last night (he's in Virginia for a wedding).  I hear he got nine hours of interrupted sleep.  Soooo jealous.  Hotel sleep is the best, isn't it?
Lunch: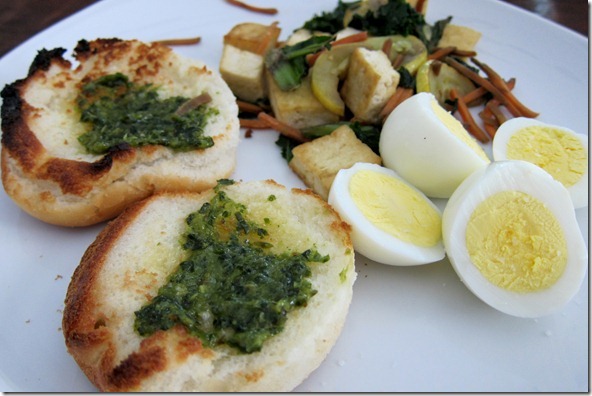 Toast with herb spread, boiled eggs, and leftover tofu and veggies.
So, I needed a laugh earlier, and I pulled up my absolute favorite YouTube video.
This video is a close second for best of all time.
What's your favorite YouTube video?  Link away!  I love crazy pet videos the most, although I love the Where the Hell is Matt? series too.