First of all, here is a gratuitously cute photograph of Henry from our newborn shoot.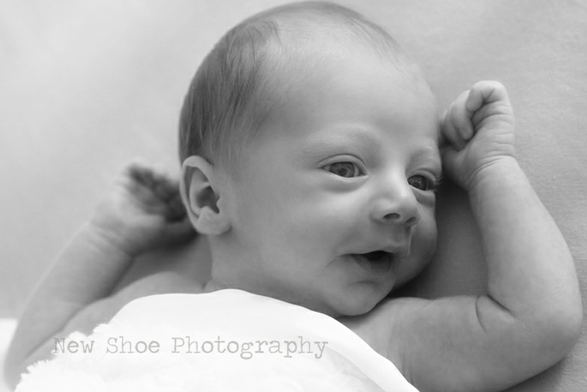 Second of all, here is my delicious breakfast!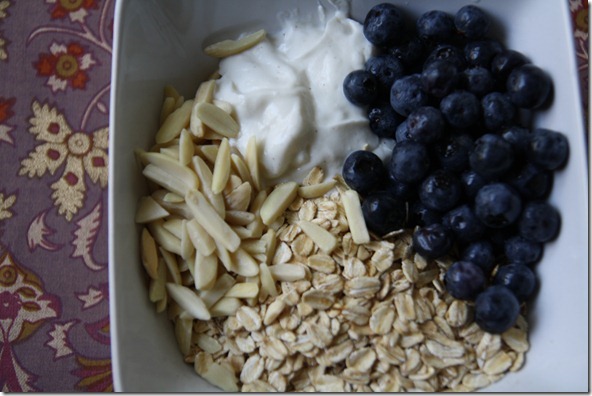 In the mix:
Raw oats
Blueberries
Greek yogurt
Almonds
I tried this brand of Greek yogurt today.  Honestly, I picked it up because it was only a buck (on sale).  I wasn't crazy about the flavor – honey/vanilla, I prefer plain vanilla – but the texture was nice.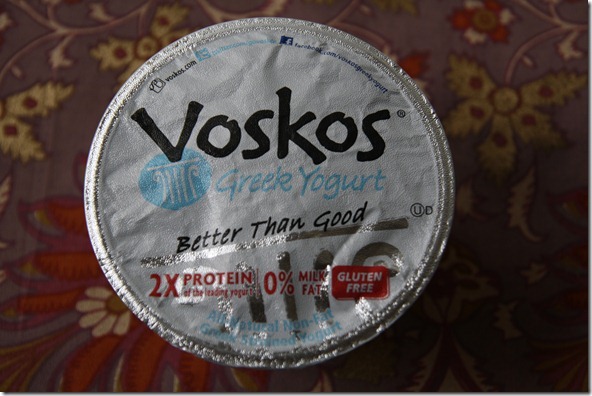 The Husband and I shared a watermelon wheel.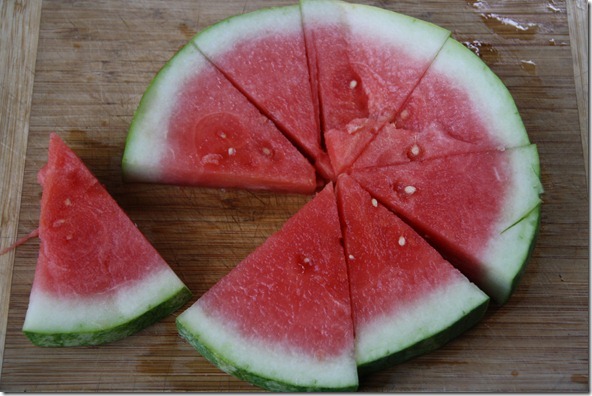 Yum.
For Your Reading Pleasure
How is it already Friday again!? Didn't this week seem to go by so quickly?  It must've been the holiday.  Anyway, here are a few interesting articles that I saw on the Interwebs this week:
Nature Is Cruel: Women Who Are Afraid of Giving Birth Have Longer Labors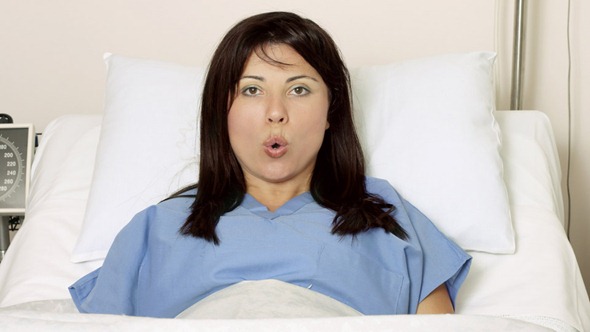 You manifest your worst fears, right?  In a study conducted in Norway, researchers found that: "the average length of labor was 8.22 hours for first-time moms and 4.91 hours for women who'd had previous children. But, here's the sad part, the women who had an established fear of childbirth spent an hour and 32 minutes longer laboring than women who weren't afraid. The average labor lasted 8 hours for women who were afraid and roughly six and a half hours for women who weren't."   Women who were afraid of labor were more likely to require instrumental vaginal deliveries (induction, vacuum, etc).  Similarly, women who were afraid had an increased risk of c-sections.  This article makes me think of Ina May's Guide to Childbirth, which talks about how the cervix is a sphincter, just like your anus.  If you're afraid to poop and have a bunch of people screaming at you to "push, push, push!" it may be difficult to have a bowel movement.  Childbirth is kind of the same thing.  Yes, I just compared childbirth to taking a poop…
Seventeen Magazine Vows to Show Girls 'as They Really Are'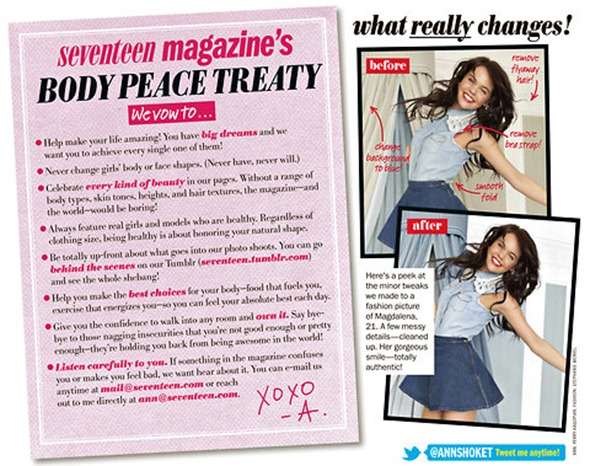 After a 14 year old collected over 86,000 signatures asking Seventeen magazine to stop Photoshopping models, the magazine has signed a Body Peace Treaty, which states the magazine will no longer change the shape of girl's body or face and only include images of 'real girls and models who are healthy.' I wish there were more specifics on what exactly 'real girls' were going to look like. I, for one, would like to see more images of girls and women in magazines without makeup on.
The Picky Eater Who Came to Dinner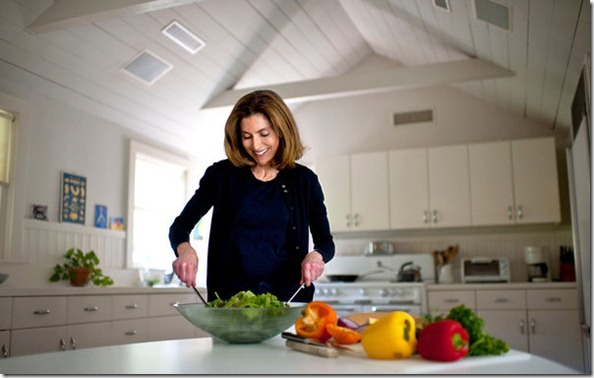 An article about how to handle 'picky' eaters with various dietary restrictions:  no gluten, vegetarian, vegan, no dairy, no high-fructose corn syrup, no nuts, or various allergens.  This piece explores whose responsibility it is to accommodate such eaters at dinner parties and restaurants.  Did you know some restaurants are beginning to refuse to make any alterations to their dishes, claiming it ruins the dish as envisioned by the chef?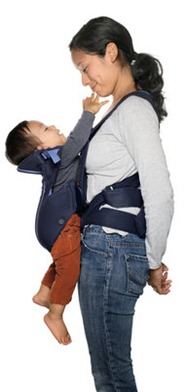 A fun style and design piece on the modern popularity of baby carriers.
My Heart Rate Is Over Average–Is This Bad?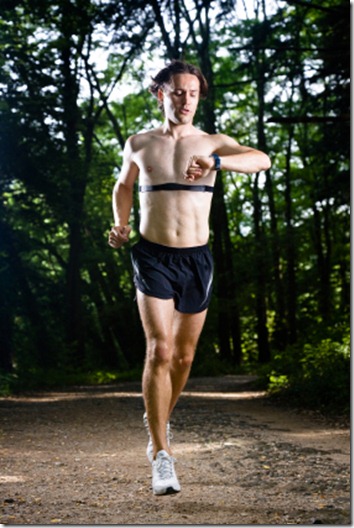 (Source)
The basic formula for maximum heart rate is 220 beats per minute minus your age, which would put mine at 192.  I read this article with interest because my heart rate is ALWAYS on the high side when exercising.  When I run at a moderate pace, it easily can top 180 – 190 BPM.  Even with swimming, I can hit 140 easily.  My resting heart rate tends to be on the higher side, too, especially for someone who does a decent amount of cardio (around 80 BPM – to contrast, my Husband's is 65).
Your turn! Were you scared to deliver and how do you think it impacted your childbirth experience?  Are you a 'picky eater' with strange requests? How do you handle going to dinner parties (do you inform the hostess ahead of time, bring your own dish, etc)?  Do you own a baby carrier – if so, what kind?  Do you think Seventeen magazine is legit or is the Body Peace Treaty a public relations move?  And do you have a low or high heart rate?