My prayers for a thunderstorm came true.  Overnight, the temperatures dropped thirty degrees thanks to the rain!  Too bad the sun will burn it all up in just a few hours.
Happy Monday!  Who has a short week thanks to the holiday?
Breakfast: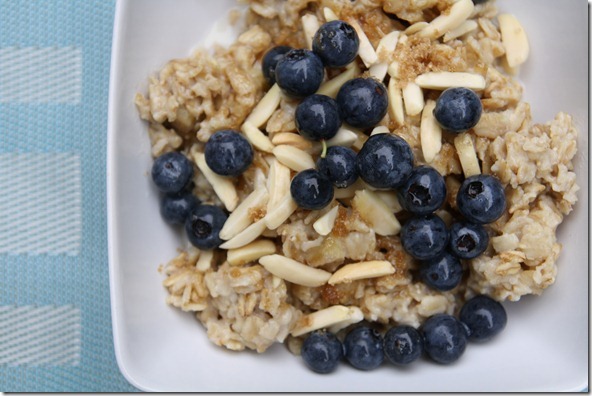 Stovetop banana oatmeal:
1/2 cup oatmeal
1/2 cup water
1/2 cup soy milk
Toppings: almonds, blueberries, brown sugar, splash of soy milk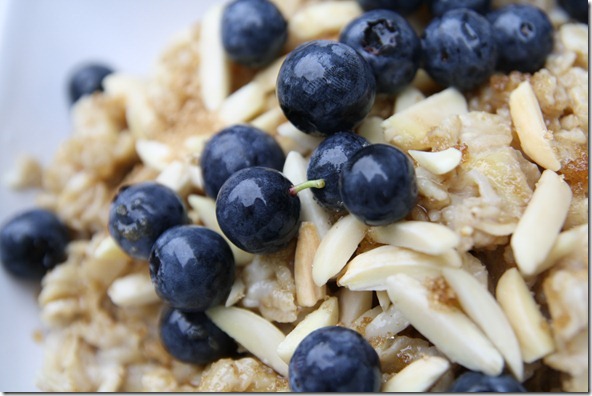 One lone stem.
FAQ Mondays
Describe a random moment of your weekend.  Yesterday, we went to Barnes and Noble to buy my father-in-law a gift card for his birthday and look at parenting books.  While we were there, I decided to  see if they had the Healthy Tipping Point book in stock.  There are so many books on the market that even just-released books aren't always available in every store, but mine was!  It was a fun moment.  I also found Peas and Thank You, an excellent vegan recipe book by another blogger, on the same shelf.  In the parenting section, I couldn't find the book I wanted to buy (Jo Frost's Confident Baby Care) – boo!  On the way out of the store, I was very tempted to purchase the Game of Thrones series but I don't want to spoil the excellent HBO show by reading the books.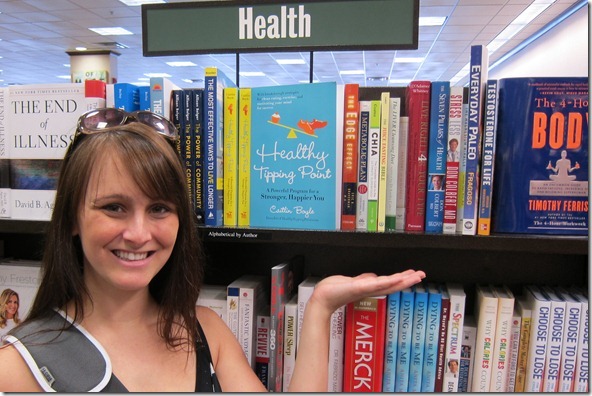 Do you have any tattoos or piercings? Do you regret them?  I have two holes in each ear.  I also had my ear cartilage pierced and the upper and lower belly button skin pierced, but I removed those about eight years ago.  I have my mom's middle (and my middle name) tattooed on my hip – Joy.  I don't regret my tattoo at all and actually really want another one.  I regret piercing my upper belly button skin because it is now a mass of scar tissue that constantly hurt when stretched out the last trimester of pregnancy. 
Describe a really memorable present you received for Christmas or Hanukah as a child.   My Skip-It.  Do you remember that toy?  So cool – especially the Skip-It with the counter so you could see how many skips you had done.
Your turn!  Describe a random moment of your weekend, tell me about your piercings and tattoos, and let's wax poetic about awesome childhood toys.  Moon shoes, anyone?