Hey, hey.  How's your Friday going?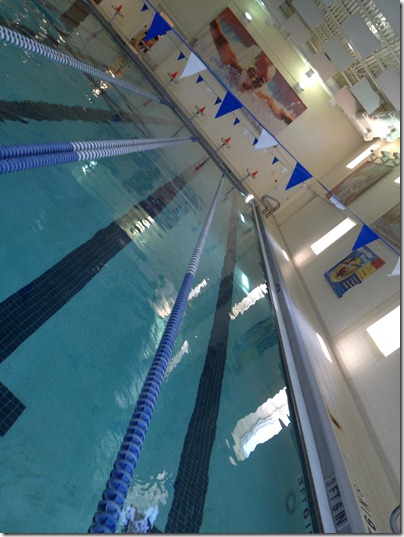 I MADE IT TO THE POOL.  My buddy was not very thrilled that I dragged him to the gym.

Sorry, Dad.  But we made it, and we swam about 650 yards.  I think 650 is my new current 'normal' – 900 yards is just too far these days.  I'm still pretty proud of 650, though.
While swimming, I was thinking about how much I've fallen in love with the activity.  When I first started this blog four years ago, I had never swam for fitness, ever.  After a few years, I wanted to do a triathlon, so I taught myself how to swim freestyle by watching YouTube videos and getting a friend who was an accomplished swimmer to give me some real-life pointers.  I sucked at swimming at first.  My form was terrible, and I found it to be very grueling physically.  I couldn't swim more than two or three laps without needed a long, long break, despite being in pretty good cardiovascular shape.  But I didn't give up.  And then… one day… it kind of just clicked.  I figured out how to swim! 
Of course, then I did my first triathlon… and had a nasty panic attack in the lake and quit the race.  It took me over a year to get over the horror of open water swimming, and when I tried again, I had another terrible panic attack in the lake, but I trudged on.  I didn't want to quit.  And slowly but surely, I figured out lake swimming.  And now swimming – whether in the pool or the lake – is one of my favorite things to do, period.
In hindsight, I am so glad that I have swimming now.  Not only is it the only exercise (besides walking) that I can comfortably do at 39 weeks and 2 days pregnant, but it's really fun (when is pretending to be a mermaid NOT fun? <—yes, I do this).  And it's refreshing and invigorating.  It makes me feel so good – never drained. 
I'm not just swimming because I can't run or bike or spin.  It's not my second place sport.  Swimming isn't my back-up.  It's my favorite sport.  I'm glad I gave it a few chances.  Just because it wasn't love at first stroke doesn't mean it's not meant to be. 

Write an ode to your favorite sport!