Missed Part I?  Here it is!
Where did we leave off?  Oh yes.  My water had broken, I had been contracting for seven hours, and I truly believed I'd be holding my baby soon.  That's when things started to get intense.  Truthfully, the beginning of labor isn't so bad.  Contractions aren't long and are far apart; you're more excited than anything.
Case in point:  Look how pulled together I look in this picture.  I was four centimeters.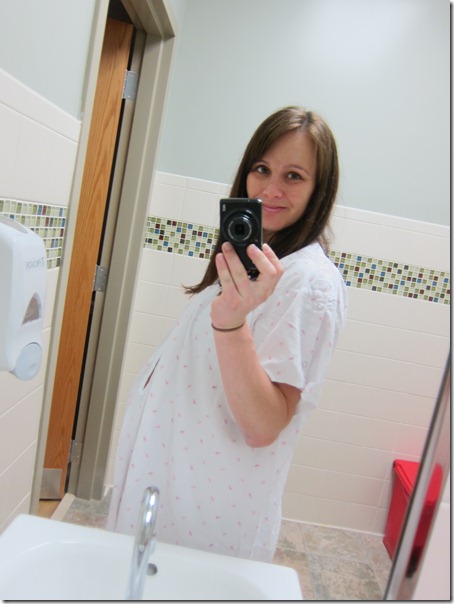 A few hours later, labor had begun to pick up steam, and I looked like this: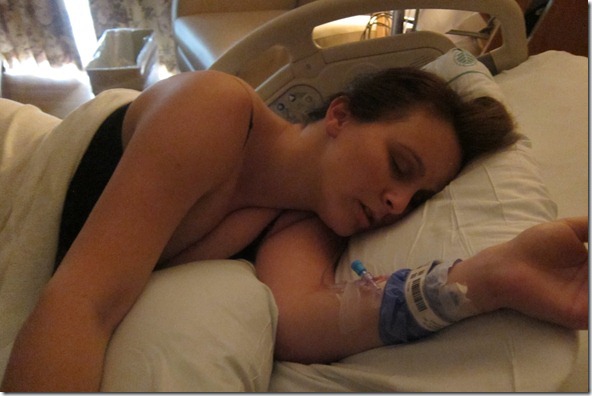 So, Part II of Henry's birth story is pretty different from Part I.  Part I is fun and games.  Part II is serious stuff.  I can't imagine discussing my natural birth without addressing the 'too much information' details because that's what childbirth is – it's not pretty, it's real.  So if you don't care to read about all my cervix, blood, and other realities of birth, you've been forewarned. 
Around 11:00 AM, we returned to my delivery room, and I continued to labor in bed for another half hour or so.  Kristien was a great coach, talking me through each contraction and rubbing my lower back to relieve some of the building pressure.  He was full of positive encouragement, saying things like, "You are doing great; your body is doing exactly what it should be; soon we will find out if we're having a boy or a girl!"  In the movies, women always scream at their husbands, "YOU DID THIS TO ME! I HATE YOU!" but I really could not imagine laboring without Kristien there beside me. 
My pain really started to pick up, so he turned on some music (I listened to the Dave Matthews Band station on Pandora for hours) and suggested that I get into the Jacuzzi tub.  The idea of getting out of the bed to move to the bath wasn't appealing, but so many women have told me that laboring in a tub feels a lot better, so I decided to give it a shot.  He filled the tub with lukewarm water, and I climbed in.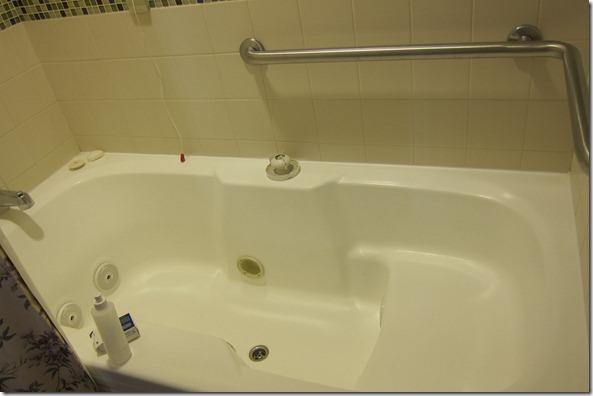 It was amazing.  The water took away so much of the pressure associated with each contraction. 
I got into the tub at 1:00 PM, and soon enough, I started to go through transition.  I am extremely glad that I went through Bradley Method classes because I knew what was happening to my body – otherwise, I would've been really freaked out by how much labor suddenly picked up in intensity.  Transition is the last stage of active labor – when your body goes from 8 to 10 centimeters – and contractions are fast and intense, coming every two minutes or so and lasting a minute.  There's basically no break in the pain level.  Although it doesn't happen to every woman, many women will vomit during transition (thankfully, I did not).  It's so overwhelming; Bradley taught us that transition was the moment you'd begin to doubt your ability to give birth without medication. 
As I went through transition, I truly felt like an animal, not a human.  That's the only way that I can describe it.  I was moaning and screaming and cursing and arching my back.  I felt trapped.  There was no way out except to deliver.  I began to say things like, "I can't do this; make it stop; I just want to go home," which signaled to the Husband that I was definitely in transition.  He ran to grab my wonderful nurse Debbie, who joined us in the bathroom and helped me cope.  At first, I was just riding out the pain, trying to get through each contraction, but soon enough, I began to feel an urge to push.  After watching me go through several more intense contractions, Debbie told me that I needed to get out of the tub so my midwife, Sage, could check my progress and see whether I was ready to start pushing.
I began to cry and begged them to check me in the tub.  "Please, please, please check me in the tub," I said. "I cannot stand up; I cannot get out of the water."  Sage explained that I could not deliver in the tub, which I already knew, and that any cervical checks wouldn't be accurate from that angle anyway.  So I got out of the tub; the pressure on my perineum (the space between your vagina and anus) was so overwhelming that I cried out and stumbled into the bed.
Sage checked me and regretfully informed me that I was nine centimeters, not the ten required for true pushing, and that the problem was a portion of my cervix was not effacing (a 'lip').  If you remember from Part I of the birth story, effacing is when your cervix thins out and disappears completely.  The cervix must entirely efface or the baby can't get past it and through the birth canal.  She suggested that I push through several contractions to see if the pressure would make it efface, but it didn't.  This was around 4:30 PM.  I spent the next hour pushing through each contraction as Sage held a finger on the lip, trying to push it down so the baby could slip past.  Sounds painful, but I couldn't tell that from the contractions.
I tried to push in a variety of positions to help remove the lip.  I squatted through one contraction; it was horrendous.  I labored on all fours but it didn't make a difference.  I was so sure throughout my entire pregnancy that I'd want to labor and deliver in an alternate position that the medical model's 'flat on your back,' but it and a position that combined being on my back/right side were the only ones that were actually comfortable.  After an hour, Sage got the baby to move past the lip, and I could really start pushing.  I was so happy.  I thought it would be smooth sailing after that.
On average, the pushing stage lasts an hour for a first-time mom and twenty minutes for a woman who's had a previous vaginal delivery (it generally takes longer if you get an epidural).  I ended up pushing for two additional hours – not outside the realm of normal but far longer than I had expected to push.  I had about twenty contraction each hour and pushed three times per contraction, so that meant I pushed about 180 times.  Pushing is NOT like the movies.  It was an intense abdominal crunch combined with pulling my thighs back with my arms, over and over and over again (my upper body was SO sore for days afterwards).  I have zero idea how I would've gotten through natural labor if I hadn't stayed active through pregnancy. 
It took so long because the baby moved so, so slowly down the birth canal.  Instead of moving inch by inch, he moved millimeter by millimeter.  Debbie was monitoring his heart rate the entire time, and it was completely stable, so the baby's safety was never a concern.  Everyone was more concerned about me tuckering out!  Every time I had a break, I would beg Sage, Debbie, and Kristien to tell me that I was making progress.   At one point, Sage told me that I'd be done in half an hour – I watched as the clock ticked out another hour and a half.  I became convinced that everyone was lying to me and that the baby wasn't moving down at all, despite my best efforts.
With about an hour to go, my ability to push was diminishing.  Instead of pushing three times per contraction, I could only muster out two.  Kristien pulled out two packets of Clif Shot Bloks and told me to take them.  I inhaled them all – it was glorious.  Twenty minutes later, I had a huge burst of energy – just like in a marathon!  My midwife was fine with me eating the Shot Bloks because it wasn't true solid foods, and I highly recommend that everyone pack glucose shots in their hospital bag.  It was truly a lifesaver.
The pushing continued; the baby was finally close to crowning but I couldn't get him out no matter what I or the birth team did (in addition to putting me in different positions, Sage used other midwifery techniques to get him out, including perineal massage).  Finally, Sage looked at me and said, "Caitlin, I think you should get an episiotomy."  An episiotomy is when the doctor or midwife makes a surgical incision between the perineum and vaginal wall.  It is extremely controversial, used to be performed way too often, and generally takes longer to heal than natural tearing.  Bradley classes basically told me almost all episiotomies were unnecessary and to avoid one at all costs. 
While we were considering our options (in between contractions), the supervising OB-GYN walked in.  I overheard him tell Sage that he would use a vacuum to pull the baby out.  Sage politely disagreed and he left.  At that point, I turned to Kristien and wailed, "What do you think? Do you think I should get the episiotomy?"  He nodded yes, and that's when I knew I really needed one.  Kristien would never agree to an episiotomy if he didn't think it was really needed. 
Sage gave me a shot of local anesthesia and performed the episiotomy.  I couldn't feel a thing.  I pushed twice more, and Kristien yelled that the baby's head was out.  "Look, Caitlin!" nurse Debbie said. "Look at your baby!"  I was so exhausted and delirious that I felt like I was completely outside of my own body, watching someone else give birth.  But I looked down and there the baby was – I could see a head, shoulders, and a torso.  One more push, and the baby came out.  I knew right then that, for me, the episiotomy really was medically necessary and the right decision.
"What it is?" I cried out to Kristien.  "Is it a boy or a girl?"  He just stared at the baby with a shocked look on his face.  It was probably only a few seconds, but I felt like I waited forever for him to say….
"It's a boy!"
Henry began to cry, and it really was the most beautiful sound in the entire world. 
I held Henry to my chest for over an hour.  No one moved him to weigh him or measure him.  His Apgar tests were performed while he laid on my chest (he got two 9 out of 10s).  Kristien cut the cord, which was a great moment.  However, when my placenta didn't deliver within fifteen minutes, my birth team got anxious about the risk of hemorrhage and gave me Pitocin to urge my uterus to contract.  After an hour (which is a long time in a hospital setting), I finally delivered the placenta.  I handed Henry to Kristien, who held him for the next hour, and Sage sewed me up.  I ended up with a third degree tear.
After several hours, Henry was weighed and measured.  The baby nurse asked if I wanted him bathed, but I declined because I didn't want him to get cold.  Instead, all three of us snuggled on the hospital bed and relaxed.
Labor was, by far, the most emotionally and physically intense moment of my life.  But I look at Henry now and know it worth it.  The entire pregnancy, the labor – it was worth it.  I really believe that all women should be very proud of themselves no matter how they deliver; there's no right or wrong way, just what is best for each mother and baby, including their physical and emotional needs.  I am very proud of my birth story.  But I could not have done it without Bradley Method classes and without the support of Kristien.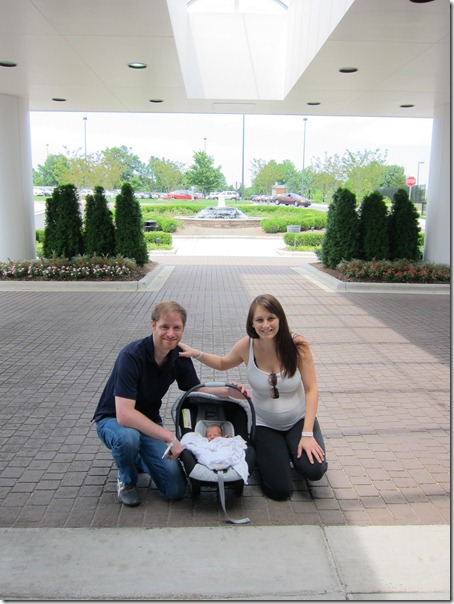 Our labor wasn't the exact delivery that I had envisioned, but it was perfect for me.  It was perfect for Henry.  And even though the birth story is important, it's just a blip on the radar.  Henry's birth is really just the beginning.