Do you ever look up dream interpretations?  The Husband and I always do.  Last night, he dreamt that he was attacked by a black widow spider; apparently, this means that he is dealing with an overbearing female figure (um, not me, hopefully!).  I think he dreamt about a black widow because he's scurred of spiders, and we found one under the house last month. 
I dreamt that my uterus was like a tub of hummus, I peeled off the lid and the plastic cover, and I pulled my baby out like it was no big deal.  Then I popped the lid back on.  Sounds like the easiest c-section ever.  NO idea what it means that I envision my stomach as a tub of hummus!  Beyond the fact that I love hummus. 
Oatmeal for breakfast.  It was HOT.  Not the ideal summer breakfast!
On the stovetop:
2/3 cup oatmeal
2/3 cup soy milk
1/3 cup water
1/2 banana
Chia seeds
Toppings: brown sugar, almonds strawberries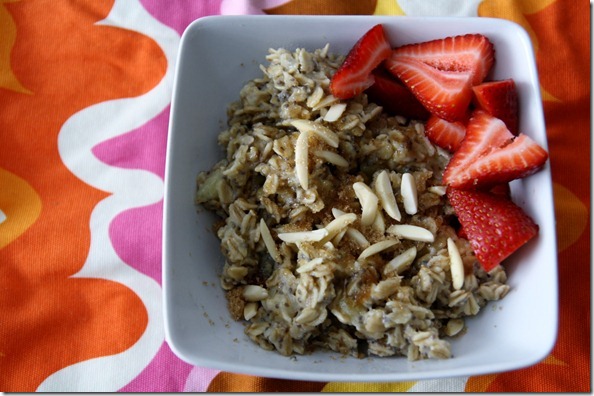 Another random question for you:  What's one song that you've listened to this morning?
Mine:  Dave Matthews' Stay or Leave.  It gets me every… single… time.  Wahhhhhh!