At the checkout at the grocery store, the clerk held up my packet of basil and said, "I bet you have big plans for this," and I replied, "Oh yeah."
When I told him what I was going to do with the basil, he didn't believe me.  But trust me – this combination is amazing.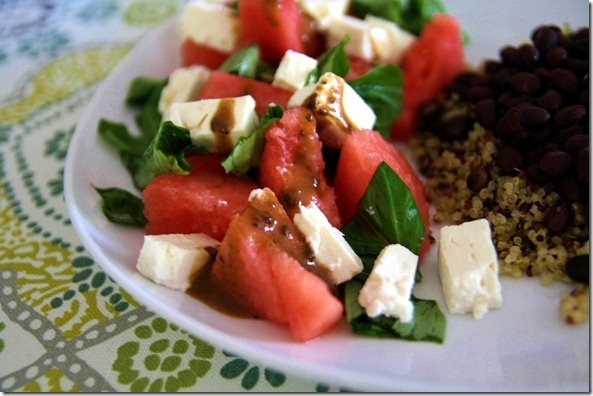 Yup – a basil, watermelon, feta, and balsamic salad.  So refreshing.  It tastes like summer on my lips.
With black beans and quinoa.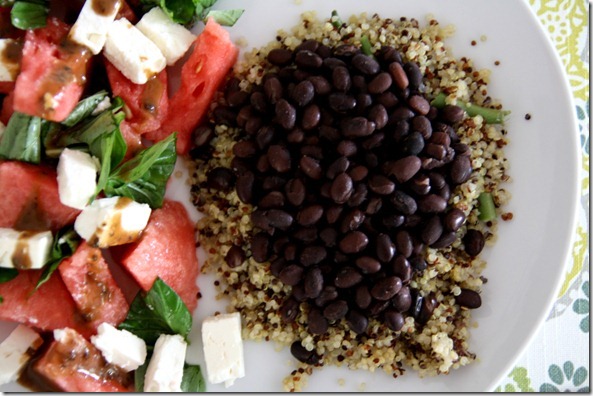 One of our goals (and my 'our,' I mean the Husband's) for this upcoming weekend is to gut our backyard.  It's covered in weeds and rocks.  Once everything is cleared out, we hope to put down grass and start a herb garden.  The first thing I'm going to plant?  BASIL!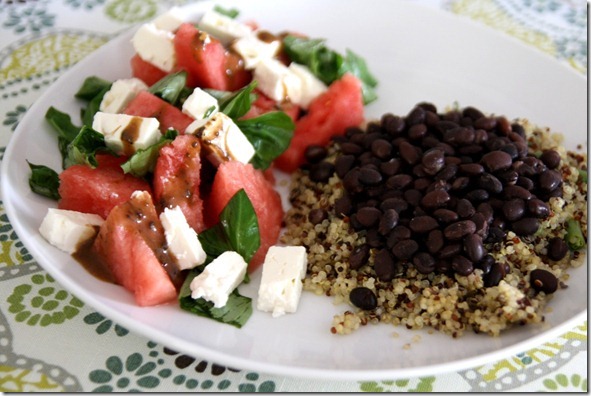 In other news…
Went to the doctor's today for a prenatal check-up.  When you're at my point in pregnancy, you usually go to the doctor's every two weeks.  After next time, I'll start going weekly.  I was sitting in the waiting room when it hit me –  I'm going to go into labor in anywhere from 3 weeks (full-term is 37 weeks) to 8 weeks (my midwife will allow me to go to 42 weeks before inducing).  LABOR!  I really cannot believe it.  I'm really, really excited and happy but still don't feel like it's happening.  Like, actually happening… to me… to us.  It feels like it's supposed to be happening someone else!  Obviously, I know there's a baby inside of me, and we've been preparing for her or him on one level or another for nearly a year, but I don't know.  Is this a normal feeling for your first child?  I just cannot wrap my head around the entire experience (do you ever fully grasp it?).  It's like trying to imagine how infinite space is – that the stars go on forever. 
I treated myself to frozen yogurt after the appointment and ate it in my car as I contemplated the stunning fact that a nurse called 'Mom.'  I just can't process it.  Please make me feel more normal! 
Mmm kay?  Thanks.