I slept rather horribly last night.  I think it was because I had sore shoulders from swimming laps yesterday – it was extra hard to get uncomfortable.  I kept waking up and, although I generally try to resist looking at the time when I'm struggling to snooze, at one point, I snuck a look at the clock.  Right before I turned on my cell, I thought, "I bet it is 2:13," and it was 2:14.  Is that not the weirdest thing?  Kind of like waking up mere seconds before the alarm goes off. 
Sometimes I wonder if my cell is sending off weird vibes that my brain subconsciously picks up (scary!)… aaaand then I remember the 345 days of the year that I sleep through two presses of the snooze button.  Hah.
Breakfast is served!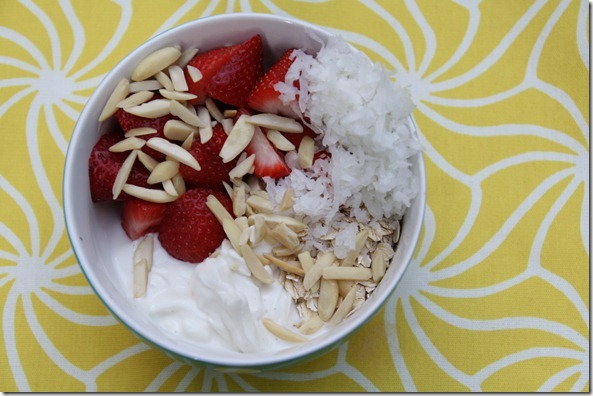 This combo was really, really tasty.
Vanilla Greek yogurt
Raw oatmeal
Silvered almonds
Coconut
Strawberries
Does anyone else say 'strawberries' like 'snozzberries' from Willy Wonka?  The classic version, not that new-fangled movie with Johnny Depp.
Whoever heard of a snozzberry?
Anyway, like I said, delicious.  Strawberries and all.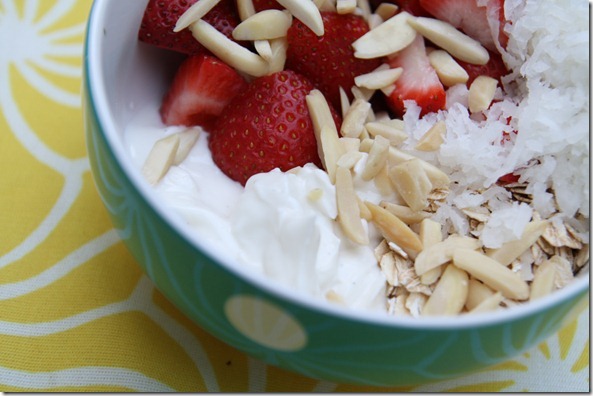 Have a wonderful Friday!  It is Friday, right?!  (I had to double-check!)