Make way for Anne P's Peanut Butter Bars!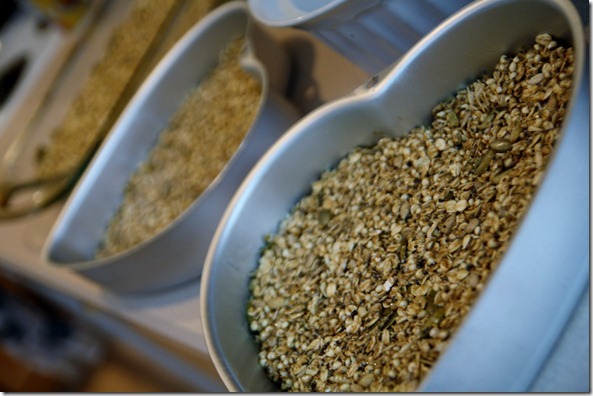 The Husband has been searching high and low for a gluten-free, diary-free, non-disgusting bar that is relatively low in sugar and higher in protein.  He just can't seem to find one he really likes, except certain KIND bars, which tend to be very pricey.  I suggested we try making our own; Anne's recipe is the best and easiest that I've ever tried (I like it so much I asked her to contribute it to the Healthy Tipping Point book; it's one of the sole guest recipes!).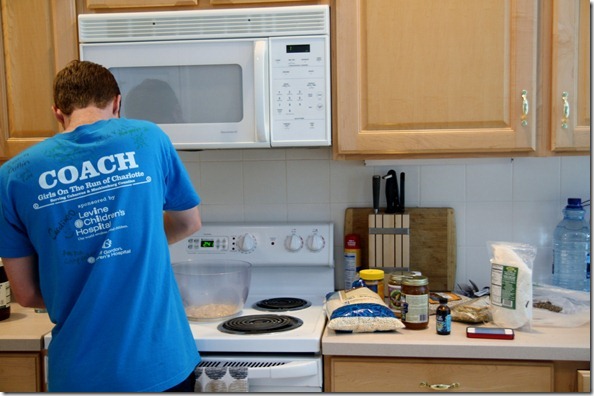 We tweaked Anne's amazing bar recipe to include lots of protein powder – the bars haven't fully set yet but so far – so good!  You can't really taste the powder powder in the mix.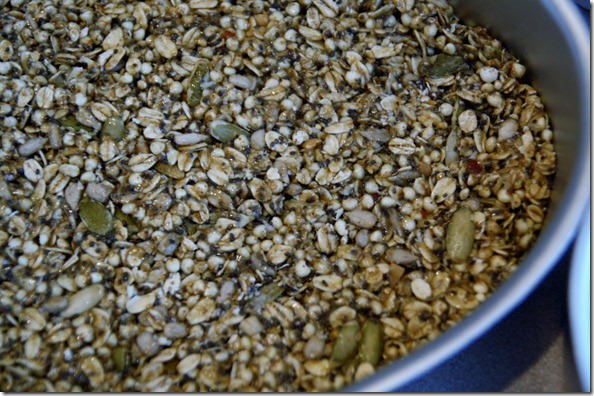 We made a huge batch – over 36 bars.
Lunch was takeout Thai.  Dad brought it over when he heard that I wasn't feeling too hot.  What a guy!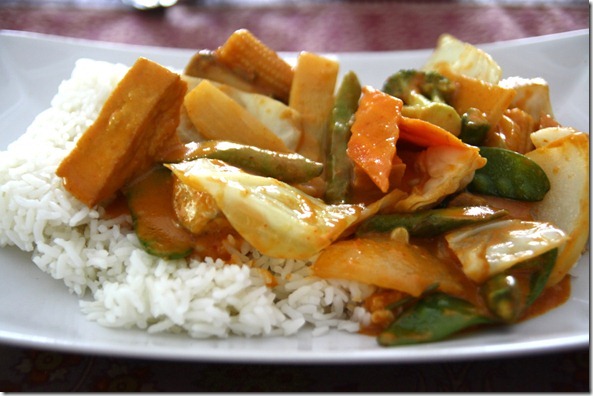 Best Fitness Apps
My favorite fitness app is, of course, GymPact, which I waxed poetic about this post –> I Heart GymPact.  Basically, GymPact is an incentive-based program to motivate you to go to the gym.  Each week, you pledge to hit the gym a certain number of days a week (one to seven) and you 'stake' a cash amount (starting at $5 for every workout you miss).   If you meet your goal, you get paid via PayPal by the other GymPacters who didn't meet their goal.  I still use GymPact to motivate me to get to the pool! (Side note: GymPact is still working on the Android version.)
As far as other fitness apps, I don't really have much to recommend!  So I thought I'd ask HTP Facebook friends for their suggestions.  Here are some of the most-recommendation fitness apps (all descriptions are from the linked sites):
iMapMy (for iPhone and for Android)::  "iMapMy is a fitness tracking application that enables you to use the built-in GPS of your mobile device to track all of your fitness activities. Record your workout details, including duration, distance, pace, speed, elevation, calories burned, and route traveled on an interactive map. You can even effortlessly save and upload your workout data to any of the MapMyFITNESS websites where you can view your route workout data, and comprehensive workout history."  Beki said the app is really easy to use and it's encouraging for her to see her statistics.  "It automatically syncs with your account on their website to store all your data," she adds. "This way, friends and your public network can see your progress."
Couch to 5K (for iPhone and for Android): "This software accompanies the Couch to 5K aka C25K running plan from Cool Running.  It times your workout and lets you know through audio clips when it's time to switch your pace (from walking to running, or from running to cool-down for example) while listening to your own music or podcasts." Debra says this app "changed her life.  I never imagined I could run.  If I can do it, anyone can."
Endomondo (for iPhone and Android):  "Use your mobile as a free personal trainer and fitness partner! Using the built-in GPS, Endomondo Sports Tracker tracks your fitness – running, cycling, walking and any other distance based sport. On top, you get audio feedback on your performance during your workout and your friends can follow you live and send you peptalks in real-time."  Sarah says this app is ideal for multi-sport athletes and likes the social aspect of it, too. 
GymBoss (for iPhone and Android):  The Gymboss Interval Timer is a programmable interval timer perfect for cardio workouts and HIIT training.  Erica commented, "I'm just getting into GymBoss and I love it so far.  I set up a timer specifically for planks."
MyFitnessPal (for iPhone and Android):  "Reach your weight loss goals with MyFitnessPal, the best calorie counter on the iPhone. Set a daily calorie goal, then record your daily food and exercise to make sure you stay on track."  Amanda said, "I use MyFitnessPal, which is a calorie counting app. I love it because I can scan barcodes on any food, it's free, and the computer version syncs with the mobile app.  It also includes a full community message board area."
RipDeck (for iPhone): "RipDeck is a workout generator modeled on a deck of cards. Each suit is a different exercise and the number of repetitions is based on rank. The cards are shuffled and displayed one at a time. The workout ends after the last card has been completed."  Meagan says it's great for at-home workouts when you can't make it to the gym.
DailyBurn (for iPhone):  "Do workouts wherever you are. Keep track of your challenges and progress on the go. You don't need to be around a television and DVD player."  Debi uses this for strength training workouts, including a wide variety of workouts with video demonstrations that you can do at home.
100 Push-Up Challenge (for iPhone and Android):  This app follows the 100 Push-Up Challenge program and "offers the ability to change reps at the end of each day, adjusts the program to suit your level after exhaustion tests, and Twitter integration."  Gillian says this workout is hard but it's really challenging and fun.
Nike Training Club (for iPhone):  "Nike Training Club gives you your own personal trainer, anytime, anywhere. Get lean, toned and strong with more than 85 custom-built workouts. Unlock exclusive extra workouts from celebrities like Lea Michele, professional athletes like Shawn Johnson, and Rihanna's personal trainer, Ary Nuñez."  Lots of people loved this app!  Sarah says, "This is my top fitness app, period.  Not only are the workouts super hard (especially in advanced mode!) but if you're not sure how to do the move, there's a video you can watch that breaks it down. You can sync it with your workout playlist and it encourages you along the way. Not only that… the workouts are endless and the more you use the app, the more workouts you can unlock.  There are so many choices and it never gets old.
You can see all the app recommendations and feedback here.
Do you use any of these fitness apps?  Did I forget to include one of your favorites?