Morning.  I would say GOOD morning but I feel all sorts of yucky today.  And by yucky, I mean 'extraordinary pregnant.' Hah.
Flower pictures to cheer me up, of course! I still can't believe we haven't killed every single flower that I planted.  We're proving to have less of a collective black thumb than I originally feared.  There's flowers in the front and grass in the back (sounds like the gardening version of a mullet).
Breakfast: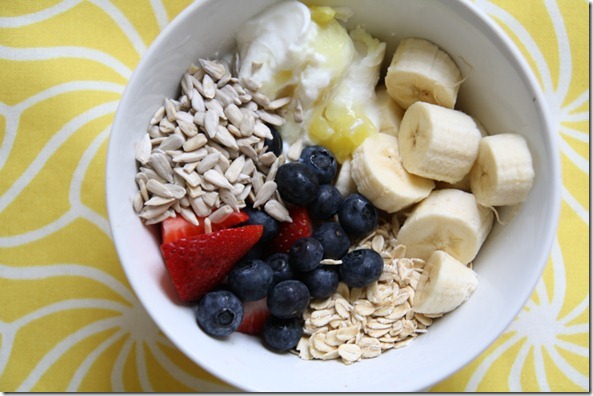 Pineapple Greek yogurt (mmm!)
Berries
Banana
Sunflower seeds
Raw oats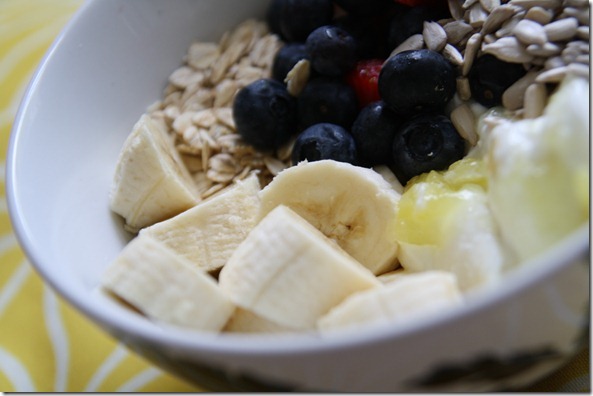 Race Pace
Thought I'd pass along this great Runner's World article on determining your ideal race pace, especially for the start.
In the marathon, going out too hard forces your body to use glycogen at a higher rate early on. You may hit the wall earlier, or end up burning a higher percentage of fat later in the race, which will slow your overall time. In the 5-K and 10-K, an explosive start hastens the accumulation of lactic acid. This causes your form to deteriorate. No matter the distance, when you start too fast, you end up hurting earlier and running a greater percentage of the race in pain.  Conversely, the trouble with going out slower than optimal race pace is that it is difficult to make up the time that you give away early in the race. Sure, you'll run more comfortably initially, but the effort required to make up time lost in the early dawdling would push you beyond the physiological limits of fatigue and the psychological barriers of pain.
That is what I look like when I start off too fast. I end up feeling and looking absolutely miserable.  I was so beat by the end of 9.3 miles that I was walking half a mile from the finish line (and I was fully capable of running the entire distance at that point – I was literally just too wiped out to run, even though I could see the end).  The Miracle Miles 15K in 2009 was a huge lesson for me.  I learned that, when racing with friends who are way faster than I am, I need to separate myself from them at the start.  Out of sight, out of mind.  If I can see them, I try to keep up – and end up going out way to fast, crashing, and burning. 
Another trick I use to keep myself from going out too fast is listening to a slower song on my iPod.  If I started off with a fast-paced club jam, I'd be tearing out of the gate.  "We are the Champions" by Queen is a good one. 

I rarely go out 'too slow' – or maybe I'm just on the slower side naturally! Hah! – but I get what the article is saying.  If you don't come out at the ideal pace and know you've got a lot left in the tank at the end, it can feel pretty frustrating… like you could've done better.
How do you keep an ideal race pace at the start?  Any epic crash and burn stories?