Did you read Pat the Bunny when you were a kid? Seriously – most terrifying book ever.  I couldn't make myself pat the bunny as a kid, and I can't do it as an adult.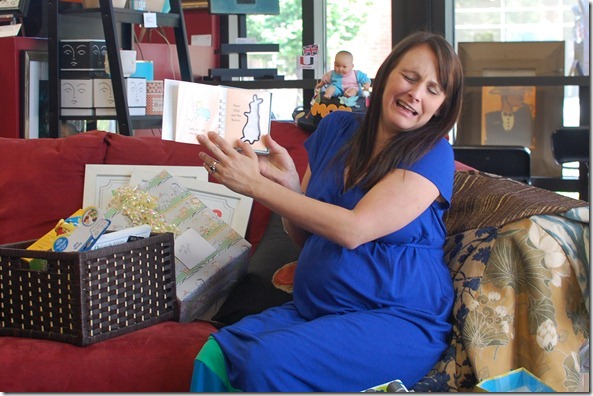 I am not faking that face of fear.  Pure. Fear. 
Today was BabyHTP's shower, and not only were the Husband, BabyHTP, and I gifted with love from our wonderful family and friends, but we were also showered in BOOKS!  Each guest was asked to bring us a baby book for our collection, and suddenly, the nursery book shelves went from bare to overflowing. Such an awesome shower idea.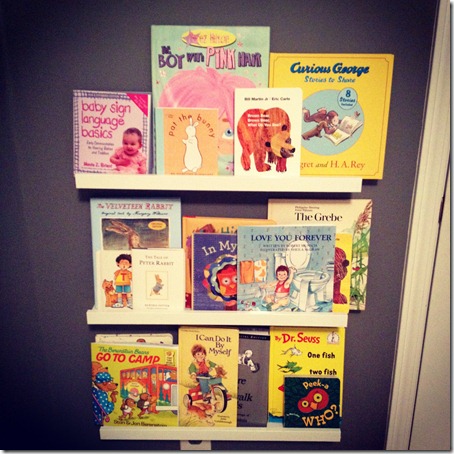 I was also showered with this ridiculous hat.  I'm a huge fan of gentle humiliation for bachelorette parties and showers and whatnot, so my mother made me a wonderful hat, complete with a creepy baby doll waving a British and Miami flag on top.  What more could a momma-to-be ask for?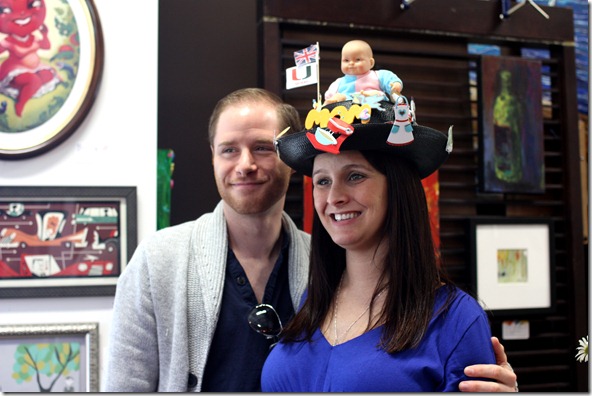 (And yes – Kristien came to the shower!  I was so happy he really wanted to come because I really wanted him there.  I think he enjoyed eavesdroppin' on the girlie talk.)
First up: GAMES!  Love me some shower games.  Jen pulled 'new baby' items out of a bag, and Kristien and I had to guess what they are used for.  Let me tell you – mommahood is going to be a whole new world.
Can you identify these four items?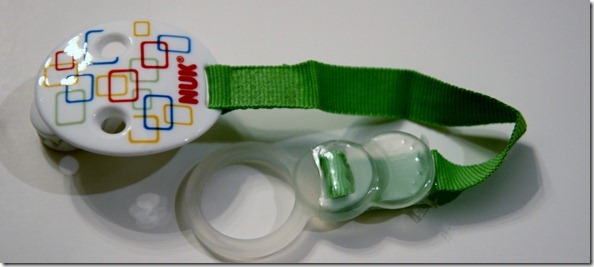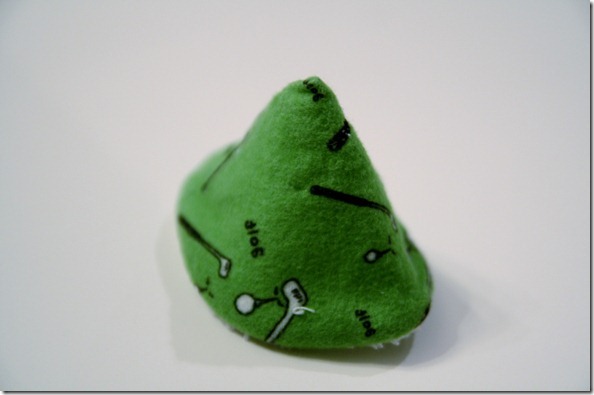 (Answers at the end of the post!)
Time to eat!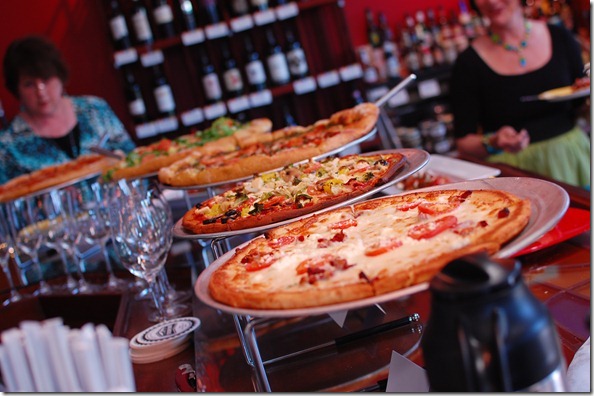 The shower was held at my favorite Charlotte coffeehouse – the always epic and dog-friendly FABO Café, Mellow Mushroom donated the entrees, and the dessert was from Polka Dot Bakery. 
There were so many types of pizza – even gluten-free options – and a yummy salad.
Red velvet cupcakes and cookies for guests to take home.
And then it was time for gifts.  So, so, so many sweet gifts. 
It's fun to get BIG baby clothes and crazy to imagine that Little Bee will one day fit into all these outfits.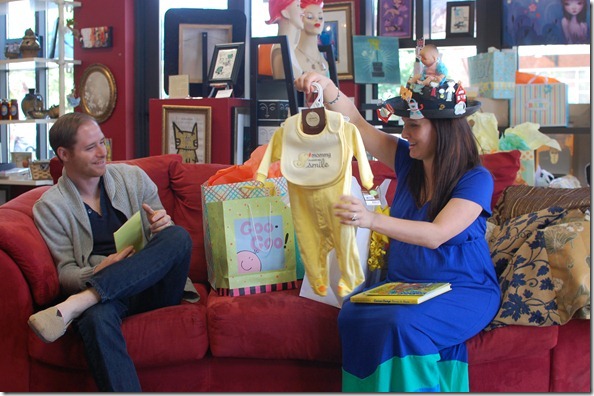 And it was very nice to have an unwrapping partner.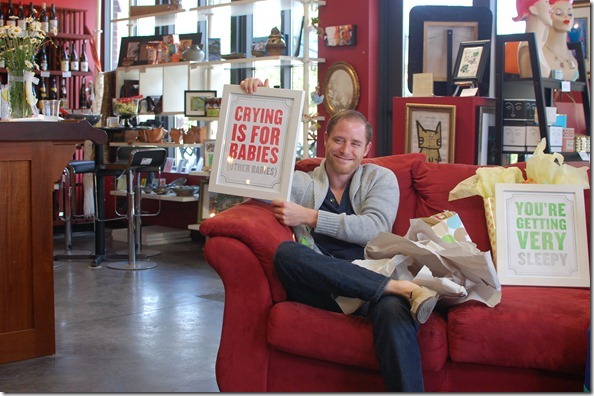 Baby KERF gave BabyHTP these epic prints for the nursery!
The Hus even got his stylin' diaper bag (and happily modeled it for everyone).  It was my evil master plot to have him choose the diaper bag so he'll actually want to carry it.  Bawhaha.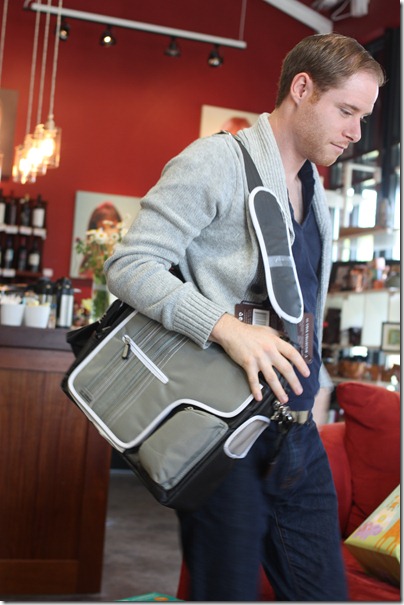 All in all… a truly amazing shower, hosted by my sweet friends Jen and Nicole and my momma.  You know – traditionally, you only get one baby shower, even if you have multiple children, and I have to say – if this is our one and only shower, it was the perfect one.  Couldn't have asked for more.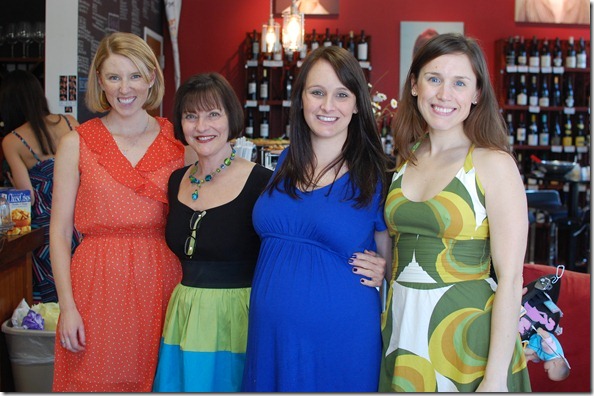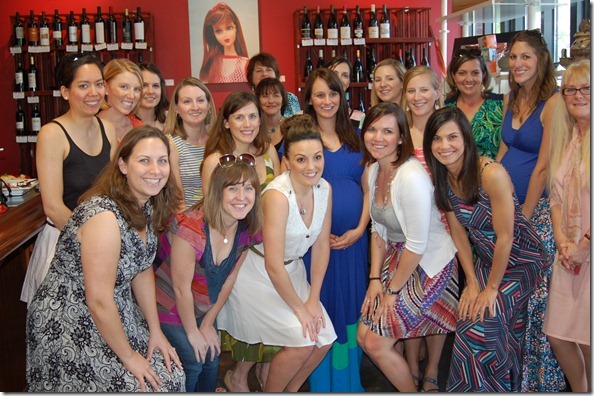 Shower Game Answers: 
A PaciGrip to keep the baby from dropping the pacifier on the floor, a nipple shield, a hospital-grade pad, and a PeePee Teepee to ensure you don't get sprayed by a little peepee if you're changing the diaper on a boy.  We decided a PeePee Teepee makes an excellent Husband Hat.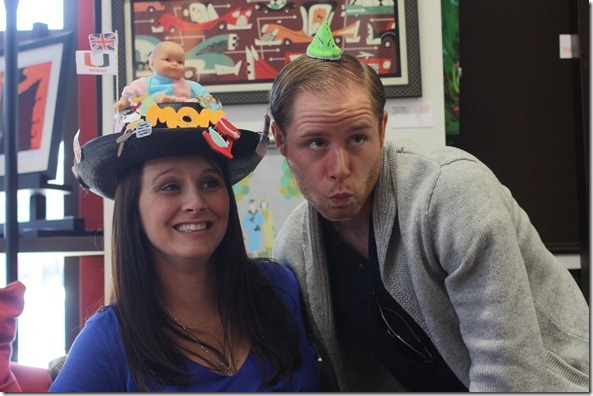 Hey, if I've got to wear a silly hat, he does, too.