I have the post-weekend blues.  I looked forward to this past weekend for so long; and now, just like that, it's over! 
Side note: A few people asked if BabyHTP was a boy because some of our shower gifts – but we really don't know the sex and won't until birth!  Popular vote amongst family is overwhelmingly leaning male, however.
I've also suffered from post-marathon blues – you train so hard for one event and then – suddenly – POOF!  It's over.  I hear some women get post-wedding blues, but I don't think I did.  I was too relieved to have the stress of planning a wedding over!  Hah. 
More blues: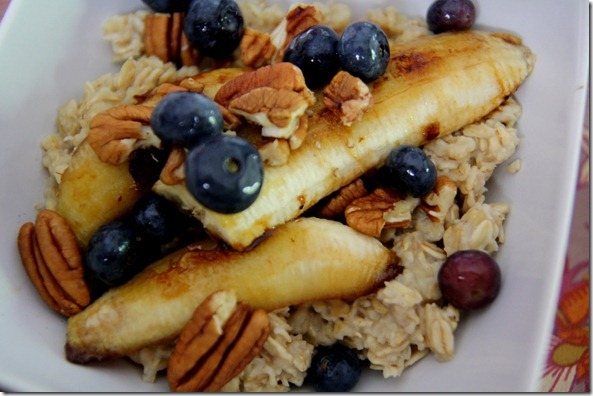 Stovetop banana oatmeal
Pecans
Blueberries
Caramelized bananas (throw 'em in a hot wok with a little maple syrup until brown)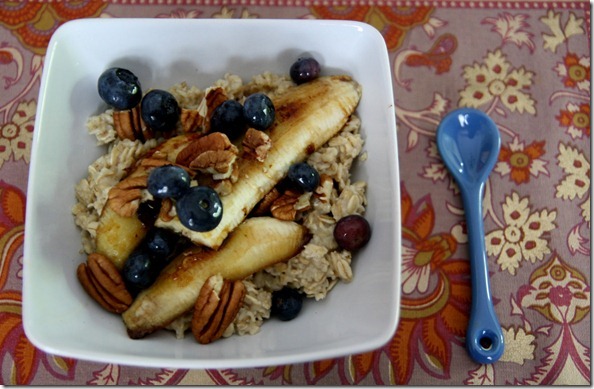 FAQ Mondays
It's that time again… FAQ Monday!  Reading your fun answers makes my Monday a little brighter.

Have you ever won a giveaway or prize?  Once, I won $50 on a scratch-off lottery ticket!  And another time, I won a sweet giveaway that another blogger was hosting – I got mailed a ton of running supplies.  But the coolest that I ever won was the Amway Positivity Project Awards.  It was an online contest that was entirely voter-driven; I begged y'all to vote for me and, since you are all totally awesome, I won!  I got a $10,000 check, which I used to created a scholarship fund for Girls on the Run of Charlotte.  Because of YOU, at least 70 local girls who couldn't have afforded the program got to experience the magic that is GOTR!  Plus, I got to meet John Tesh (that radio dude).  Pretty neat.  I still have that giant check in my garage. 
What is one piece of workout equipment or clothing you swear by?  I love the Moving Comfort Fiona Bra (it's my personal pick of sports bras for large-chested women).  I also really love my CamelBak, a hydration backpack, which means I don't have to carry my water bottle with me when I run.  I got a ladies' fit CamelBak so the profile is a little slimmer and it's more comfortable on my back.
Do you believe in psychics?  Have they ever correctly predicted your future? When I first started dating the Husband, his mother paid for me to go see a psychic.  Even though I didn't believe this guy was legit, it made me SO nervous!  Anyway, he was completely wrong in all of his predictions (and I noticed that it was easy to subtly lead him into certain predictions).  I won't say that legit psychics don't exist; I've just never actually met one.  Also, I'm not sure how much of our future is pre-determined; I always wonder if things are 'meant to be' or 'fate' or if they just happen the way they happen. 
Your turn!  Ever won a big prize?  What workout gear do you love?  And has anyone correctly predicted your future?