On Consumerism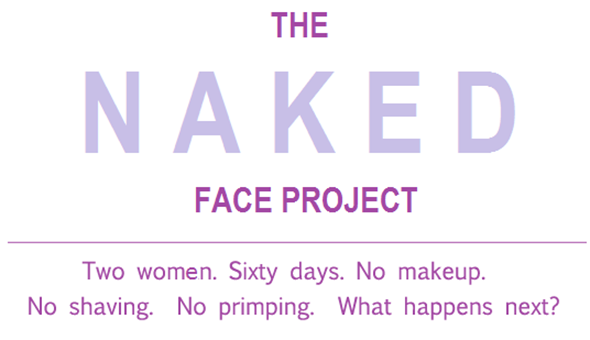 New to this series?  Please check out The Naked Face Project website and my introduction to TNFP to get a complete understanding of the intention behind the Project.
I was recently thinking about how The Naked Face Project relates to consumerism.  I believe that the primary goal of advertisements is to make you feel like you're lacking … because then you'll feel compelled to buy the product.  Your car isn't cool enough, your hair isn't shiny enough, your food isn't gourmet enough.  Solution:  Buy a new car, a new shampoo, a new brand of cereal.  But especially when it comes to beauty products, marketers want you to feel badly about yourself. They don't want you to be happy with yourself the way you are – because then you wouldn't have a need to buy their product! 
Check out this CoverGirl commercial – it starts at the 10 second mark:
The part that Sophia says, "I want to look natural, not naked" really caught my attention.  Basically, the commercial is saying that the truly natural version of a woman (not Sophia's version of natural, which looks like she's wearing a pound of makeup) isn't acceptable.  You DON'T want to look natural.  According to CoverGirl, just being yourself is a bad thing.  Well, of course it is – they want you to spend money on their makeup!
Advertisements try to make us feel that we're lacking in a variety of ways.  Beyond the sales pitch language, a very common technique is the liberal use of Photoshop.  This is especially prevalent in beauty product advertisements because Photoshop creates an ideal that is so perfect that it's totally unattainable. And if the ideal is unattainable, the consumer is always lacking.  Perpetual consumers, yippeee!
This is one of my favorite Photoshop examples: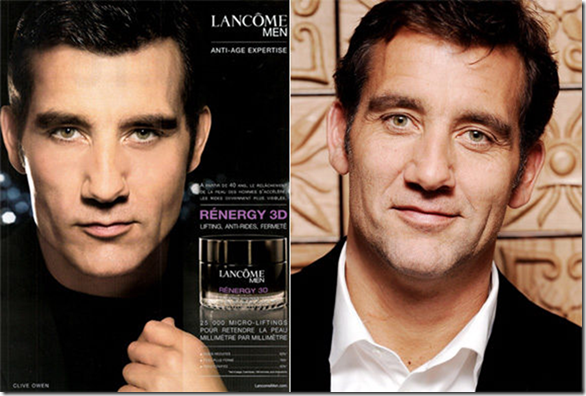 Photoshop Clive Owen is on the left.  Real Clive Owen is on the right.  What's the big difference between the two Clives?  No wrinkles – and a man his age has wrinkles.  And what's the ad for?  Yup.  Anti-aging cream.  Talk about creating a completely unattainable ideal.
The statistics don't lie – our nation has a serious confidence crisis.  90% of women are dissatisfied with their appearance in some way.  Over 3/4 of a typical women's magazine includes at least one message about how to change your appearance through diet, exercise, or cosmetic surgery.  88% of young girls say they feel the need to "look perfect."  Four out of ten Americans either suffered or have known someone who has suffered from an eating disorder (there are complex causes for EDs, but societal pressure is certainly one of them).  Over 1/2 of teenage girls and nearly 1/3 of teenage boys use unhealthy behaviors to control their weight (including skipping meals, fasting, smoking cigarettes, vomiting, and taking laxatives).
If you've read my first book, you know that I also suffered from a major confidence crisis as a teen. I went through a horrible stage of depression and self-harming.  I always thought I was a total oddball for engaging in this behavior and was so nervous to write about it in my book, but I can't tell you how many people have emailed me or come up to me after Operation Beautiful presentations to say they went through something similar (1 out of 200 teen girls self-harm).  I engaged in this behavior because I didn't feel good enough and had no way healthy way to process my emotions.
Do I think beauty products are inherently evil? Not at all!  Do I think issues in advertising are the cause of our self-esteem problems? Certainly not.  The causes of these issues, both on a larger societal scale and on a personal level, are very, very complex.   But I really think it boils down to this: so many of us, in so many different ways, are struggling to figure out who we and whether we are intrinsically good enough. And it's often very hard to imagine that we are actually good enough when so many people – both in our real lives and via the pages of a magazine – tell us that we aren't acceptable… that's we're lacking. 
It's been really exciting for Molly Barker and me to see the Project grow, evolve, and touch other people – it was featured on ABC News and The Daily Mail.   During one of the interviews, I was asked if I still "like myself the same" now that I'm Naked Faced. When I started this Project, I wasn't sure if I would like myself as much during the Project.  I'm not going to lie.  The beginning of the Project was rough.  I've been so socially conditioned by my upbringing, my community, and the media to think that a nude face and prickly legs is the opposite of attractive.  And even beyond the attractiveness factor, I've been 'trained' to think that primping and shaving signals that you're neat and clean.  So at first, when I would look at my nude face, I felt like something was off, like I was doing something wrong (or just not doing what I was supposed to do). 
But once I got over the hump – the initial shock of doing it differently for the first time in my life – I really began to understand that I am the same person either way.  Regardless of whether I buy into the consumerist hype and use all these beauty products for one reason or another, I am the same Caitlin.  I liked myself before the Project began, so – yes.  I do really like myself the same, hairy pits and all.  And truthfully, I am surprised that not only do I still like myself this way, but I feel sexy.  I guess this goes back to one simple truth – real confidence comes from within.  Our consumerist culture wants to convince us that we need to buy, buy, buy things to achieve confidence, but that behavior is just a Band-Aid on a bigger problem.  I became healthier mentally not by using a better shampoo or driving a nicer car… but by getting my ass to therapy, drawing boundaries in toxic relationships, and giving myself a break.
As I near the end of The Naked Face Project, I find myself coming to many – sometimes contradictory – conclusions about beauty products, self-confidence, and womanhood.  One of these conclusions is that I do actually find many beauty products, like makeup, to be FUN!  It is fun to smear on a crazy color of eye shadow, pull on a slinky dress, and pretend to be dark and mysterious on my date night.  This type of consumerism adds something to my life.  But it's so sad to me that so much of the consumerist messaging is inherently negative and harmful to our sense of self. 
At the end of the day, I guess it's up to us, as the consumer, to look past the hype and glitz.  It's up to us decide what society is really trying to sell us… And whether we want to buy into that at all.