Last night, this was me:
Fuel 'er up!  Sunflower butter + banana smoothie and toast with cottage cheese: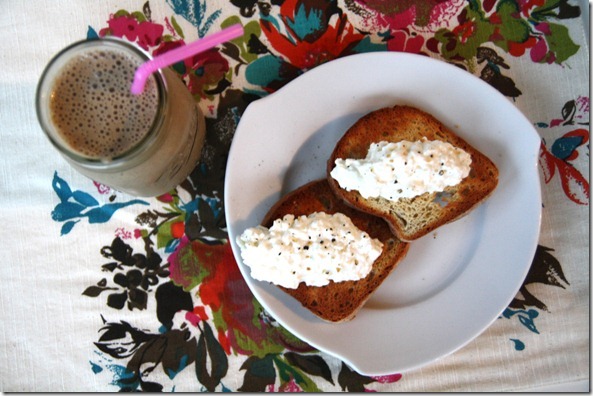 Today is a very special day….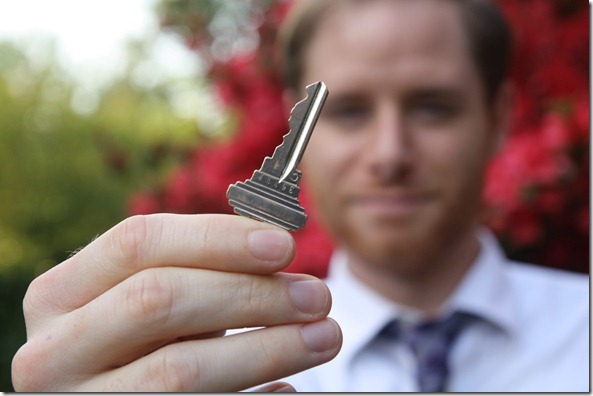 We are closing on our first home! 
If you've been reading for a while, you may remember we went through a horrible house buying experience this past summer.  After searching high and low for weeks, we found a house we loved, got pre-qualified for a mortgage, negotiated a sales price, and went under contract.  And then… we discovered $10,000 worth of mold damage in the house's garage and master bedroom.  We managed to resolve that extremely troubling issue with the seller.  However, just a few weeks before closing, our mortgage crumbled because of strict lending laws for self-employed applicants.  We made a last-ditch effort to save the mortgage by getting a co-signer (and, seriously, no married couple wants to put a parent on their mortgage), but no dice.  We lost our home and thousands of dollars in the process.  It was grueling.  I would truly not wish what happened to us on my worst enemy. 
After licking our wounds, drying our tears, and filing our 2011 taxes, we decided to house hunt once again.  Thanks to nicer regulations and another year's worth of taxes, we were able to easily qualify for a mortgage – with no crazy hoops to jump through, Hail Mary passes, or cosigners required.
You know the phrase, "Everything happens for a reason"?  I've complained about this phrase many times on the blog.  I hate how people always say it to you when the poo hits the fan in an attempt to make you feel better.  My response has always been, "UGH! Sometimes, crappy things just happen!"   But you know what?  I believe in the phrase now!  At least when it comes to this house hunt.

For once, it appears that everything really does happen for a reason.  Our house isn't perfect, but it's so much better than the previous house.  It's a safe, clean, and healthy house (no mold!); it's positively ginormous and lovely; the sellers are kind and agreeable; and for the most part, the entire process has gone exactly the way it should.  Plus, our interest rate is significantly lower than it was this summer, making this house more affordable. 
If you're going through the house hunt process, I just urge you to HANG ON!  I know it's draining, but at least when it comes to real estate, I believe everything does happen for a reason.  Although the offers, contracts, inspections, and paperwork can be exhausting, it is worth it in the end.  This process started for us nearly a year ago, but I truly feel like this house is our home. 
I can't wait to show the dogs – and BabyHTP – the place we'll all live in for many, many years.