One of the strangest aspects of pregnancy has been how much my body has changed but how little I notice the different on a day-to-day basis.  I guess the growth happens so slowly that I haven't really noticed it… until I look at the belly shots, of course.
Whoa, momma!  Week 25, and I am really and truly preggers.  Hah.  Well – you know what I mean.  Been pregnant for a while, but only really starting to feel that way now.
Mid-kick: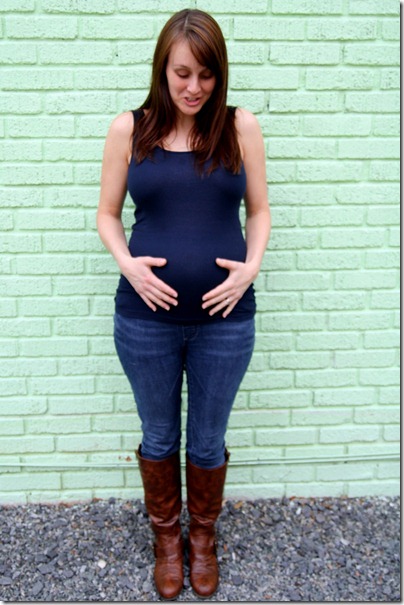 The kicks come hard and fast all day long now.  I can see my belly moving from the outside, too, which is a brand-new development. 
Here's what BabyHTP is doing this week:  Baby is now 13.5 inches long and weighs about a pound and half.  And she (or he) has HAIR.  I am dying to know the hair color.  I'm pulling for a redhead.  Vocal cords are forming.  Air sacs are developing in the lungs. And Baby has established regular sleeping and playing cycles, which I can anticipate.  She wakes up in the morning, at lunch, and right before bedtime.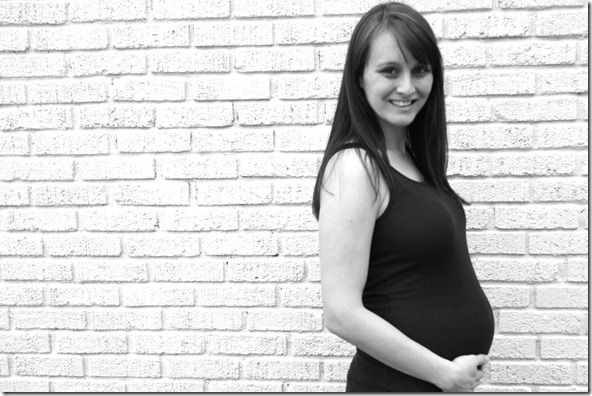 So, just like last week's update, today's post is going to be more of a baby brain dump than a post on a specific topic.  Life is a bit crazy this week with travel and work – I can barely collect my breath, let alone my thoughts!
We finally bit the bullet and purchased

a stroller and a car seat

.  I feel quite accomplished.  I wrote about our specific purchases over on Babble.com (

We Bought a Stroller!

and

We Bought a Car Seat

!).  We're very excited to put the baby in the stroller and walk him around!
One thing we cannot figure out is the

glider / rocker / nursing chair

(

We Did NOT Buy a Glider!)

.  MomHTP is gifting us a glider for our baby present, but I can't find one that fits our requirements (comfy, pretty, not insanely expensive).  I'm scouring Craigslist – you guys know I love a good deal…

especially

if someone else is paying!
This week, we started Bradley Method classes.  Bradley Method is basically a 10 – 12 week program that prepares you for natural, non-medicated, husband-coached childbirth.  There are some things that I can tell I'm really going to like about the program.  But one thing that I didn't love was the exclusive focus on breastfeeding.  My goal is to breastfeed for at least six months, but I also know that it's not always physically possible for the mother or the baby, no matter how badly you want it.  So I want to educate myself on other options, too, just so I am prepared either way – guess I'll have to do my own research!  That being said, I know there's a strong link between 'exposing' mothers to formula informational brochures or samples and a reduction in the duration of breastfeeding time, so maybe Bradley is onto something…
On a similar note, I really feel like I need to read a pro-natural childbirth book that doesn't freak me out about delivering in a hospital.  As you all know, we're a rather 'holistic' family and usually choose natural/alternative medical options.  We considered a birthing center, but I decided against it because they have a 25% first-time mom transfer rate, and then we'd be stuck with the birth center bill and the hospital bill.  I was also concerned about what would happen if there was a rare but serious emergency at birth since they don't have the same equipment as a hospital's neonatal intensive care unit.  So I chose to deliver in the 'friendliest' hospital in our area with a midwife.  However, so many of the books and movies that I've been watching about natural childbirth are scaring me about the hospital setting…. that I'll be pressured to take certain medications, that my labor will be 'timed,' and that I won't be able to do certain things.  Either what I'm reading is insanely biased or insanely true – or a bit of both, I guess.  I'm thinking that writing a birth plan for my midwife will help reduce my concerns.  I've began to pen one on my iPhone and feel like I'm writing a lot of "Please do not…" sentences.  But, like I said, I would really love to read a "hospitals aren't horrible" natural childbirth book.  Or hear stories from women who had happy natural births in a hospital setting.  Or stories from hospital nurses!  Any book suggestions or stories to share?
File this one under "awkward encounters:"  A women in the airport asked me if I knew the baby's sex.  I said we were going to wait.  She replied, "Well, do you want it to be a boy or a girl?"  I wasn't sure what to say back, so I said, "Well, we're not going to find out until birth!"  And she pressed back, "I know, but what do you WANT it to be?!"  I had no idea what to say to that.  I felt like I was potentially betraying BabyHTP.  What if I said girl and the baby is a boy?!  Or I said boy and the little person thumping around in my belly is a girl?  It seriously gave me anxiety.  
And last, but not least, we are going on our BABYMOON this weekend!  Well, it's not really a true babymoon because it's also a work trip.  I'm speaking at the University of Miami on Monday, and we're flying down a few days early for some South Beach time.  Working or not, I cannot wait to get back to my hometown!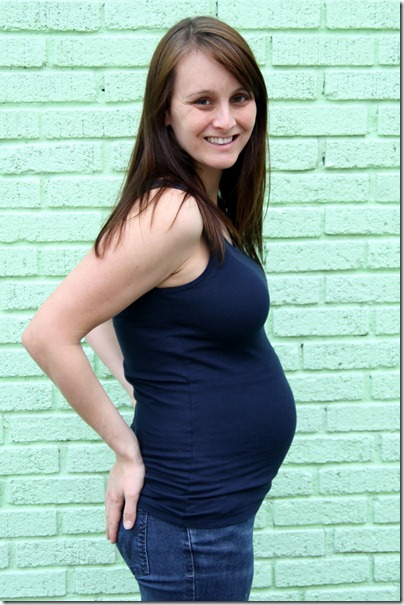 Some other Week 25 factoids:
Total Weight Gained: 17.5 pounds. 

Weeks Until The Third Trimester: ONLY TWO!  Ahhhhhh.

Workouts:  Much better this week.  I swam 750 meters, went on three long walks, and hit the elliptical up for 20 minutes for a total of four workouts.

Exciting Happenings:  DadHTP (soon-to-be GrandpaHTP) is moving to Charlotte TOMORROW!

Number of Pants that Fit:  Two jeans, one nice pair of dressy pants, and one pair of sweatpants (all maternity).
And now, it's time to get this pregnant booty in bed!