One of my really good friends is also pregnant with her first child, and this weekend, she called me to rant about the insensitive things that people say to you when you're pregnant.  Her rant was about how a family member told her that she was going to gain all this extra weight, her breasts would be permanently destroyed, and she'd never get her body back.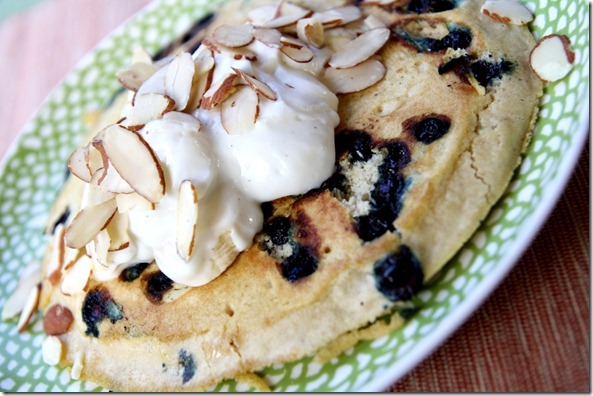 Her rant prompted a discussion about how so many people in our real lives seem to be so negative about pregnancy (which is one of the many reasons why it is so nice to hear your encouraging and sweet comments on my weekly updates – thank you so much!).  If I had a dollar for every time a friend (well, mostly an acquaintance) or relative told me to, "Sleep now! You'll never sleep again," "Better have sex now, while you actually still want it," or "Are you sure you want a kid? You can borrow mine for a week and see what parenthood is really like," I could buy that dream mansion in the Bahamas. 
It gets worse when people ask about my birth plans, and I say that I'm planning on a natural, drug-free birth.  "Oh sure," a few have said. "You just wait. You'll be begging for the drugs because it will be the worse pain you've ever imagined."  Then I get to sit through a gruesome birth story in which their friend or friend's baby traumatically died (I've since learned to interrupt and politely state that I don't want to hear bad birth stories).  And – even worse – right after we announced the pregnancy to family and friends, I had two people say, "You know, you might have a miscarriage.  You shouldn't get so attached."  Gee, thanks.  I never knew people had miscarriages!
Part of me gets why people say these things about pregnancy and kids… I do get it (well, kind of). Pregnancy and kids are hard. Maybe they are just blowing off steam. But I have to say, I have a few friends who are very positive about their children, and it is so refreshing!  "You are going to love it," they say. "Sure, we wake up earlier and, yes, our lives are different, but it's usually a good kind of different."  Not sugarcoating but not doomsdayin' it, either.  These conversations are so nice.  I mean – we're already knee-deep in this life change.  Can't turn back the clock.  I'd rather focus on the positive, you know?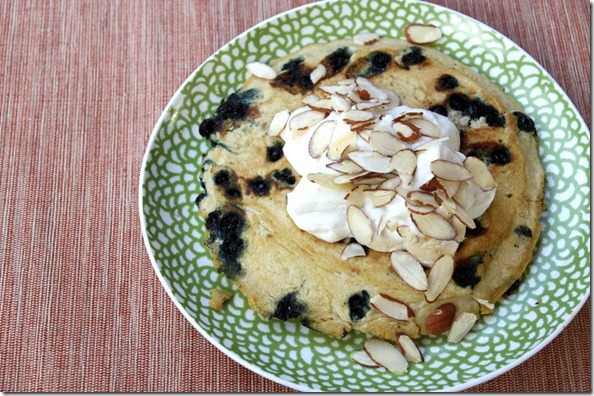 I was thinking about how this relates to healthy living.  When I first started to make healthy changes, so many people told me, "It won't last," "You're not a real runner," or "Oh, ha!  This month's fad, huh?"  I noticed that the people I cared most about – and I was sure cared about me – were more likely to get down on me.  It was almost like they were trying to protect my feelings in advance if I failed.  But all that happened was I felt a bit down and unsupported. 
Not sure if this post has a point, but the Negative Nancies of pregnancy and healthy living have been rolling around in my brain since that conversation with my friend.  I've come to two tentative conclusions:
Happiness is about seeking out positive people and drawing firm lines with the people who are unnecessarily negative.

Love is about going out of your way to say something positive and supportive, even if you know your friend's tits are going to hit the ground after breastfeeding.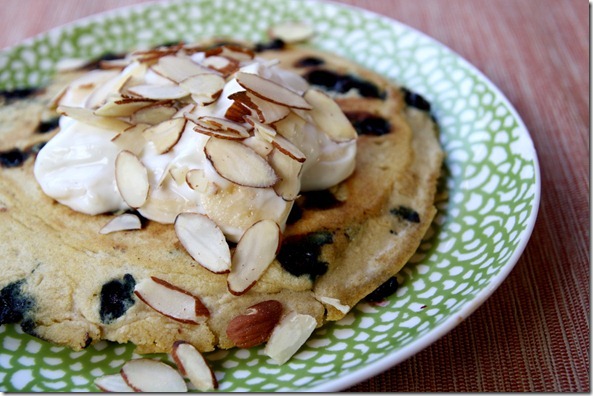 Breakfast:  1-2-3 Gluten Free Pancake with blueberries, Greek yogurt with 1/2 a banana, and almonds