When we moved to Charlotte, the Husband took up running.  He had never really joined me on runs before, but suddenly, he wanted to run with me all the time.  At first, I really liked having him around for my runs.  After a few months, however, I started to get really cranky when we ran together and couldn't figure out why. 
One day, I realized what was bothering me – he ran about three steps in front of me.  All the time.  At the same pace.  But just three steps ahead.  And it really, really fried me. 
That's when I realized:  I have totally irrational 'rules' about running with a buddy.  None of my 'rules' were ever a problem before because my two other weekly running buddies (Megan in Orlando and Nicole in Charlotte) happened to operate under the exact same rules as I did.   And the other buddies that I ran with regularly pretty much followed the same procedures.
Maggie is a good buddy, although she is not a good running buddy.
Anyway – here are the five running with a buddy rules that I follow – whether rational or not, they've been ingrained in me since I began to run.  I'm not sure where I picked up these preferences (oh, and for what's it's worth, I explained Rule #1 to the Husband and he happily obliged his crazy wife, and now we run quite happily together).
Rule #1:  Run next to your buddy, at the slower person's pace.
If you're running together, I think buddies should run next to each other.  The reason that I hated the Husband running slightly ahead of me is because it made me feel incredibly rushed.  It also made it difficult to talk (see Rule #2).  I am also a firm believer that running buddies should run at the slower person's pace.  If you want to work hard and push yourself, you should probably do it alone so there's no pressure on your buddy to keep up (if they don't feel so great that day or are sore, running too fast can lead to injury).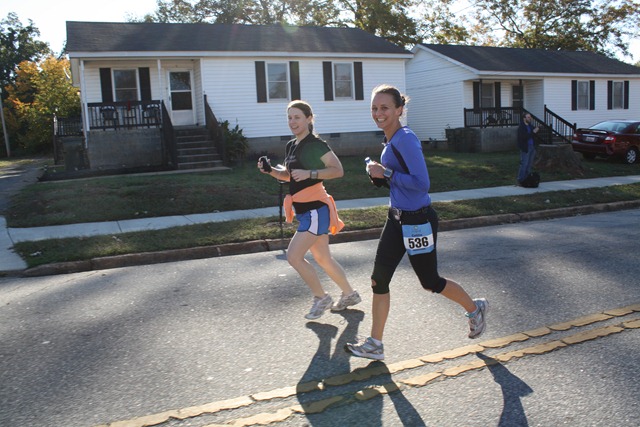 Rule #2: Agree to either talk the entire time or listen to music.
A long time ago (pre-blog), a friend asked me to go on a run with her.  I showed up without my iPod because I thought we were 'running together.'  She had music and popped in her earbuds.  Either you both run with music or you talk to each other.  And personally, I prefer to talk to my buddy.  Music is for solo runs!  Every buddy that I've ever ran with can attest that I love to hear every single intimate detail of their life on our runs.  Just keep up the constant stream of chatter so I can forget how much my legs hurt!
Rule #3: Don't cut corners.
Okay – this is one of my slightly crazier rules.  If you head out with a buddy and agree to run a certain distance together, don't cut corners while the other person runs the complete distance… meaning, if the turn-around point is just up ahead, don't say, "Oh, you run up and turn around, I'll wait right here for you."  This one drives me BONKERS because it makes me want to slack, too.  Of course, if you really need a break, ask for it (I am more than happy to walk; see Rule #4), but there's just something about cutting corners that gets to me.
Rule #4: Be willing to walk.
I have ran a few times with people who made me feel really, really bad about taking walking breaks.  I would say, "Whew! I really need to walk," and they would groan or roll their eyes.  I am a HUGE fan of walking breaks and, quite honestly, simply need to regularly take breaks.  Again, I don't think buddy runs are for pushing yourself, speed-wise.  If you're running with a friend, it's a social experience!  Don't make them feel bad for walking. 
Rule #5:  Don't make a promise you can't keep.
It inevitably happens… you train with a buddy for weeks on end, decide to sign up for the same race, and then, in a moment of excitement, decide to RUN THE RACE TOOOOGETHER!  The Race Promise.  Now, I have ran many races with buddies and many races solo, and I have to say – it's really fun both ways.  But it's important to discuss the down-and-dirty details of your race plan with your buddy in advance.  How fast do you want to go?  What if one of you gets cramps?  What if one of you gets runners' trots and needs to spend 15 minutes of the race in the bathroom?  Is the other person going to wait?  Basically, decide in advance in what situations you will or will not abandon each other – otherwise (trust me), there will be some hard feelings!  Also, if you are running a race together, cross the finish line together.  Don't be that person who ditches their buddy with 100 yards to go and sprints across the finish line first!
Want more?
Do you have (occasionally crazy) rules about running with a buddy?  Have you ever made the Race Promise with a buddy and regretted it?