Pomegranates are my favorite fall/winter fruit.  They taste amazing and look so lush.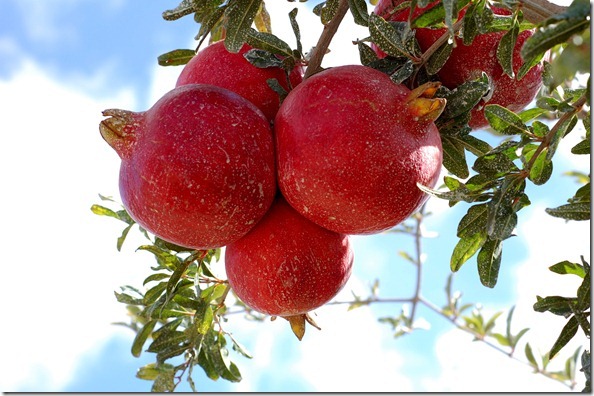 A few years ago, I got to tour the POM Wonderful groves.  After eating one straight off the tree, warm and juicy from the sun, I have loved pomegranates ever since.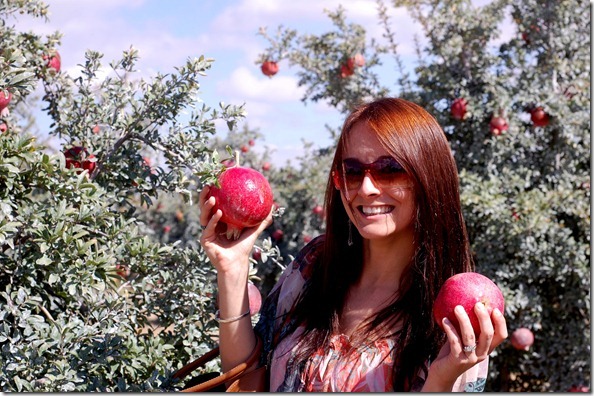 (There is some controversy about POM's labeling practices and as well as some practices by their sister company, Fiju Water, but I have to say that all the people I met at POM – from the directors to the factory workers – were pretty awesome and loved their product.)
Anyway – the tricky thing about pomegranates, of course, is opening them without ruining your shirt. The edible part (the arils) are little juicy seeds that burst when handled roughly. 
The key is to opening a pomegranate is to do it underwater.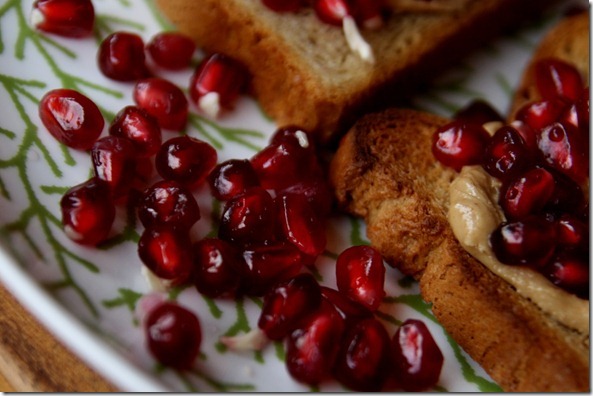 Step 1:  Select your pomegranate.  The fruit should be heavy for it's size with no serious bruising (the skin is pretty tough so cosmetic bruises aren't a big deal).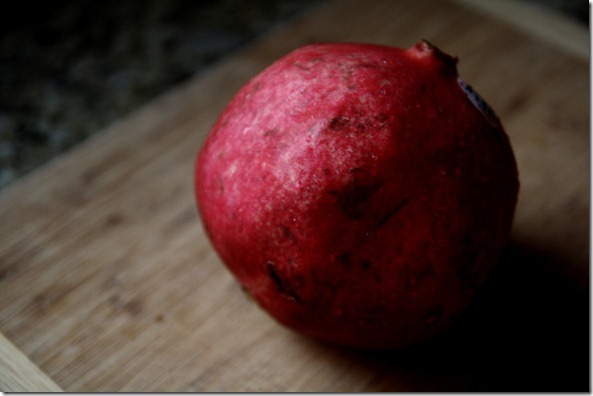 Step 2:  Turning the crown away from you, slice off the top.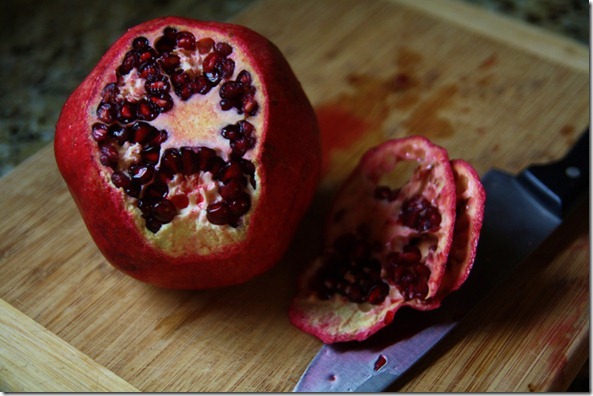 Step 4: Score the fruit.  Cut through the skin to the white webbing all around the fruit.  You'll be able to tell where to cut because you can see the webbing through the topped-off crown.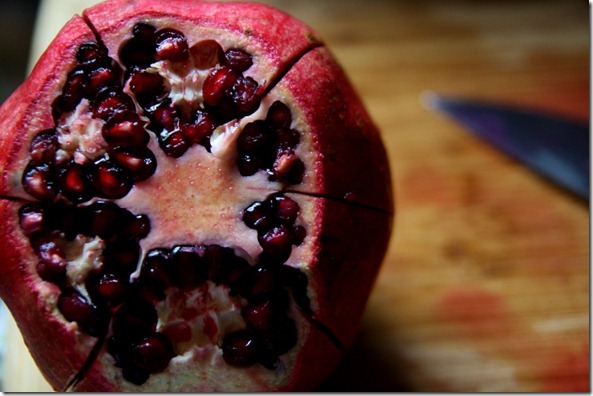 Step 5:  Submerge the fruit in a bowl of water.  With the wedge under water, rock it back and forth until you can pull it away from the rest of the fruit.  Repeat until all the wedges are separated.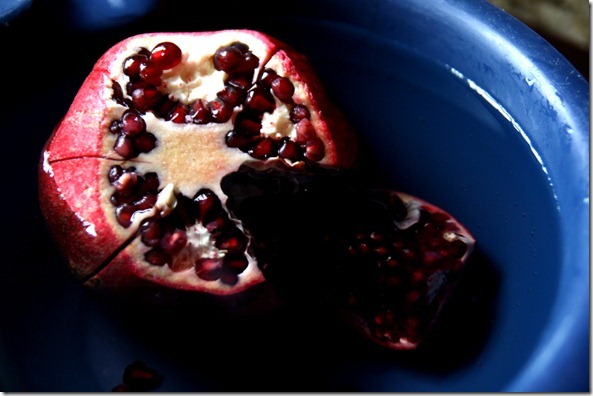 Step 6:  Keeping the wedge under water, use your fingers to loosen the arils from the white webbing.  The white part will float to the top and the arils will sink to the bottom.  Repeat.  The whole process takes about 10 minutes, but I promise it's worth it.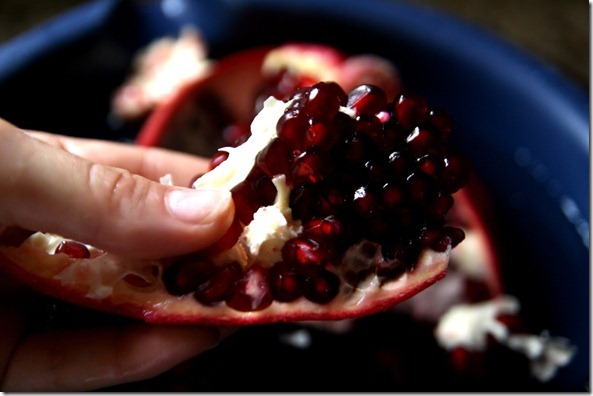 Step 7:  Scoop the white parts off the top of the water, and then drain the arils.  Store in tupperware in the fridge.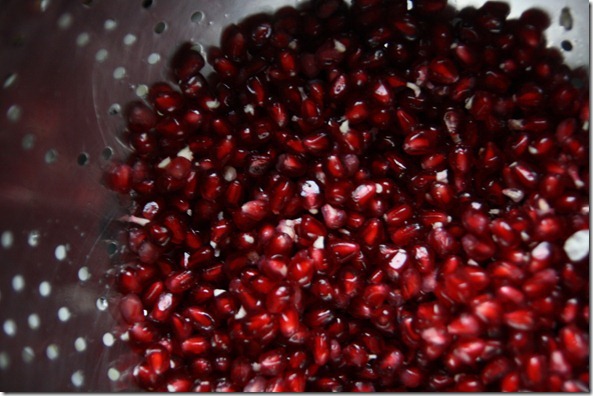 Like little rubies!
I love to eat arils in oatmeal, in yogurt, cereal, on top of peanut butter toast, or just by the handful.  Yum!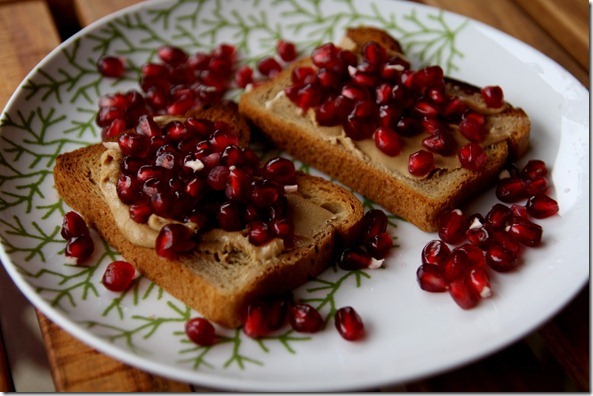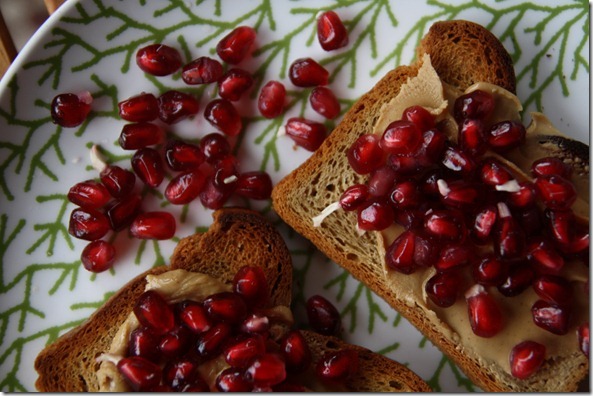 Thought of the Day:
"Truth is always revealed at the right moment and at the right place. You don't need to be concerned about proving it. You need only to be concerned with being it and living it. Trying to prove truth reveals stubbornness. When you find that someone is not believing what you say, ask yourself if you believe in it. if you do, then you need not be concerned of proving it to others. Where there is doubt in yourself you'll want to prove it to everyone." – Brahma Kumaris