Real clothes = real work.  Pajamas are not as conducive to productivity (or appropriate at the office).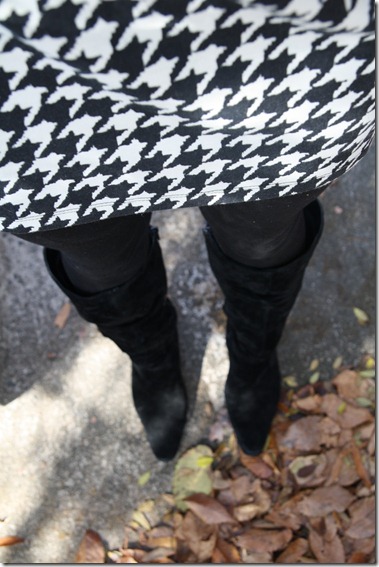 Just a Tupperware lunch: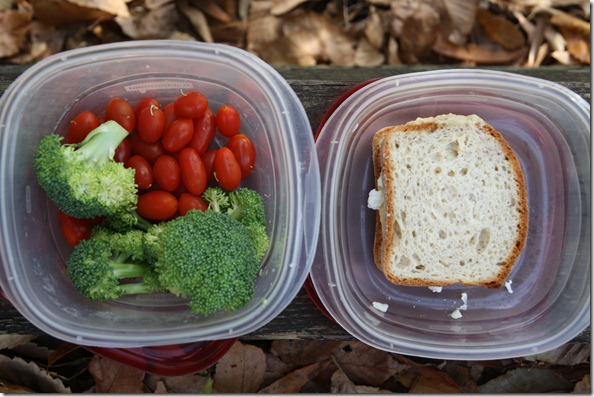 Goat cheese and hummus sammie:
Plus raw veggies for lunch.  This was a desperate toss-in.  I don't even like raw broccoli.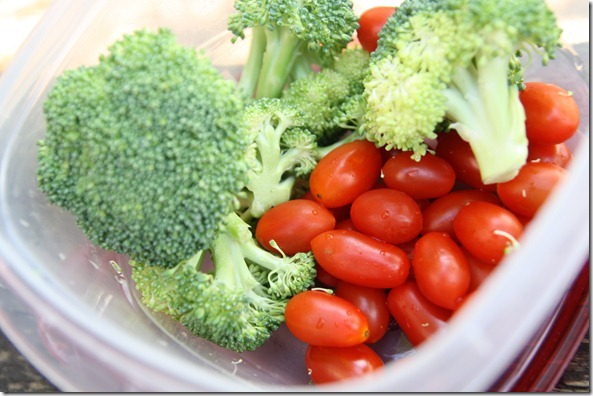 Yesterday, I was thinking about my exercise habits through pregnancy (10 weeks on Wednesday – wahoo! Double digits!).  My habits have been all over the place.  One week, I'll run 4 times and cover 15 miles.  The next, I'll run once and lay on the couch the rest of the time.  While I'm certainly not beating myself up over my lazier weeks, it's really NOT the way I want to behave through pregnancy.  I'm really committed to staying active, and I have grand dreams of doing a sprint tri in October, a few months after the baby is born (please don't crush my dreams right now if this is unrealistic).   
Anyway – yesterday, I realized the problem.  This is one of the first times in the last four or five years that I have exercised without a race in mind and, therefore, without a training plan.  I know some people LOVE the lack of structure, but I really thrive under a training plan and knowing that I *have* to meet minimum goals.  It keeps me committed.  Not having a race to work for – or a plan to follow – is  making me lazy.
While I'm not comfortable signing up for longer races while pregnant (I am eyeing an upcoming 5K), I CAN exercise under a 'training plan!'  And I use that term pretty loosely.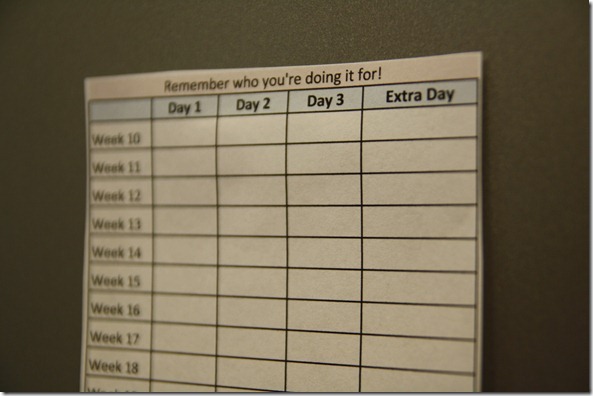 My goal is to workout at least three times a week throughout my pregnancy.  Why three days a week?  I used to exercise 5 – 6 days a week but think that is currently pretty unrealistic for me (if you can do that pregnant, more power to you!).  I think four days is a good goal, but I don't want to feel like I didn't achieve something if I only do three.  So, by setting my minimum at three, I'm hoping to always look back over my 'training plan' and feel accomplished.  My #1 healthy living mantra, after all, is DON'T SET YOURSELF UP TO FAIL!
Also, I didn't identify any specific workouts because my workouts will be based on how I feel, given the day.  Hopefully, I will continue to run throughout my pregnancy, but some weeks, I might just go on three long walks.  And again, I never want to feel like a failure.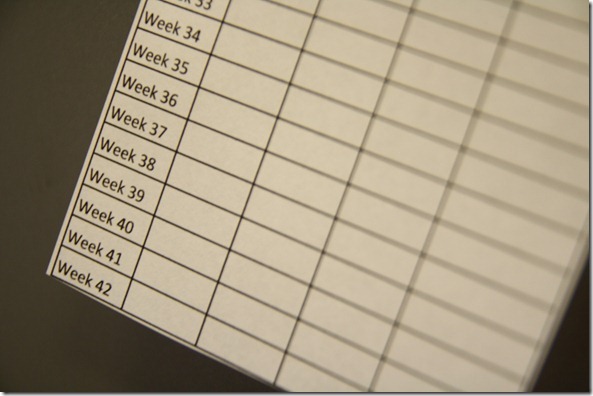 And yes – I have zero delusions about my due date. I have a sneaking suspicion this baby will not be completely baked in 40 weeks.
Just wanted to share because I thought this 'training plan' concept would be fun for loads of people – not just pregnant ladies!  It will keep me accountable, help me reach goals, and give me a confidence boost.  A very good training plan, indeed.