One week to go!  One week to go!  (Until the second trimester, that is!)
I hear the second trimester is a period of increased energy, happy contentment, and an actual desire to do normal activities, like the dishes, exercise, and the horizontal polka.  BRING IT ON.  And I'll admit – looking at the Week 11 to Week 12 photos tells the complete story of the last 7 days.  Last week, I wasn't feeling so hot – physically or emotionally – and it kind of showed.  But today, I am feeling much more 'normal'… and I like it.  Is this the beginnings of the second trimester? I hope so!
Here's what BabyHTP is doing this week, "The most dramatic development this week: reflexes. Your baby's fingers will soon begin to open and close, his toes will curl, his eye muscles will clench, and his mouth will make sucking movements.  His intestines, which have grown so fast that they protrude into the umbilical cord, will start to move into his abdominal cavity about now, and his kidneys will begin excreting urine into his bladder.  Meanwhile, nerve cells are multiplying rapidly, and in your baby's brain, synapses are forming furiously.  His eyes have moved from the sides to the front of his head, and his ears are right where they should be. From crown to rump, your baby-to-be is just over 2 inches long (about the size of a lime) and weighs half an ounce."  (Source)
So, every week, I discuss one pregnancy topic that's been on our minds, whether it's where we'll give birth or books that I've been reading.  This week, a hot topic is up for discussion:  Team Pink, Team Blue, or Team Yellow.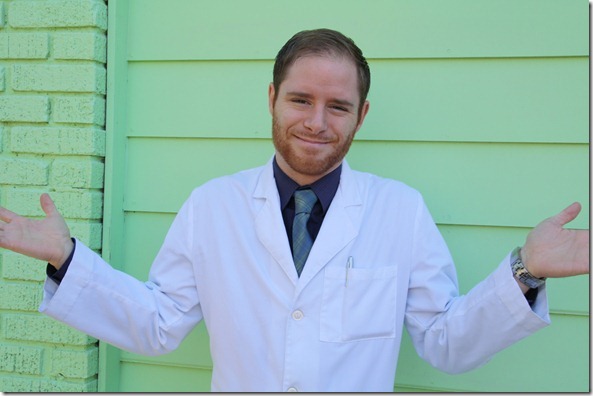 (Photo shoot at work, obviously!)
So many people have been asking whether we'll find out if we're having a boy or girl at our next ultrasound (around 18 – 20 weeks).  The answer?  Nope!  We're staying neutral – Team Yellow.  When we tell people that we're going to wait until birth to find out the sex, we get a range of reactions: "WHY?!" or "Are you serious? You must be joking!" or "What about clothes?" or "How are you going to decorate the nursery, then?"
I've always wanted to wait to find out the sex of our children.  I understand why some people would want to know – curiosity, making shopping easier – but I really have zero desire to find out in advance.   I think it will serve as a good 'carrot' during labor – "What are we having?!" What are we having?!"" – and I get teary eyed whenever I imagine the Husband holding up the baby and announcing, "It's a ____!" (I'm going to ask the doctors and nurses to let him say it.) 
Plus, to a much lesser degree, we're really interested in raising our kids without specific 'Girl Box' or 'Boy Box' attitudes (a term I'm borrowing from Girls on the Run!).  The 'Girl Box' is all the expectations that little girls absorb from society and believe they should act like to be a 'good girl' – quiet, pretty, good at writing but not at sciences, appealing to boys, not too loud.  The 'Boy Box' is tough, not emotional, not good at art, not interested in playing dress-up, etc.   We begin to project these expectations on children from a very, very young young, and I buy into the theory that it begins in utero.  "My baby boy kicks like a football player!" v. "My little girl is twirling around my belly like a ballerina."  I once even read a study (which, unfortunately, I cannot find right now to link to, so you're going to have to take my word for it) that moms describe their babies' movements in feminine v. masculine tones if they know the gender, while moms who don't are much more neutral.  I'm certainly not suggesting that people who treat their babies in gender specific ways are doing any emotional harm!  It's just a goal of ours to show our kids that girls can be tough, like pink, hate dresses, and play with dolls, and boys can be sensitive, watch football, enjoy dress-up, and play with trucks, and maybe… just maybe… that mindset starts REALLY early!  Even if we're totally wrong, and it has no impact at all, I think it's a fun theory to consider!
And, like I said, I know this 'expectation theory' is kind of far out there for most people, and most new parents just want to know what color to paint the damn nursery, but I've always been intrigued by the idea of waiting.  Although MomHTP did give me a little girl dress the other day, so we know what she's gunning for…. Heh.
Here's Week 12, neatly summarized!
Total weight gained:  Unknown.  Haven't made it to the gym this week so no scale action.

Current food craving:  There was a lot of pie-eating associated with Thanksgiving… but that's normal this time of the year!

Workouts:  Two workouts for a total of 6.2 miles. 

Heartbeats Heard:  I'm trying not to overuse the at-home doppler, but we listened twice with family members over Thanksgiving!  That was fun.

Food Aversions:  The smell of hard boiled eggs haunts me.

Baby Items Purchased:  None.

Number of Dress Pants that Can Button:  TWO!  Last week it was zero, so I think my bloat is going down.

Latest TV Craze:  Supernanny.  I have zero child care experience so I'm learning everything I can from the Supernanny.  Rule #1:  Be consistent.  Rule #2:  There are no bad children, just bad behavior.  Rule #3: When you say "that is unacceptable" with an English accent, it sounds much, much more serious.