"The 23rd Psalm replays in my head all the time," Tonya says.  "Though I walk through the valley of the shadow of death, I will fear no evil for thou art with me… I wake  every morning and I think, 'BRING IT ON!'"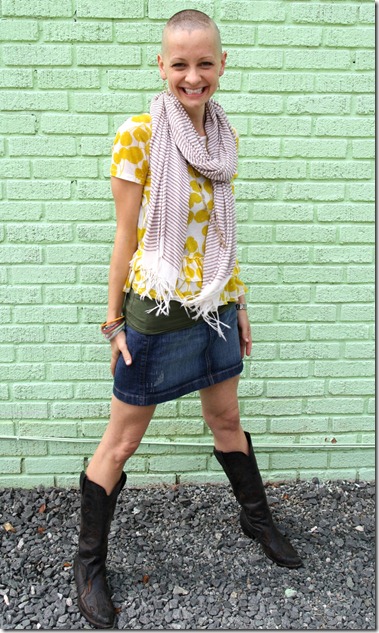 So many of you have asked for an update on my neighbor, Tonya, who was diagnosed with an inoperable brain tumor earlier this summer (if you don't know her complete backstory, read Lost and Found in the Garden). 
Recently, Tonya has experienced a resurgence in her health.  This summer was rough – to say the least.  In addition to having a brain biopsy, she suffered from eight severe seizures, a blocked bowel, and went to the emergency room four times.  It has been very stressful on Tonya, her husband, and their children, who are still too young to really understand what is happening to their mommy.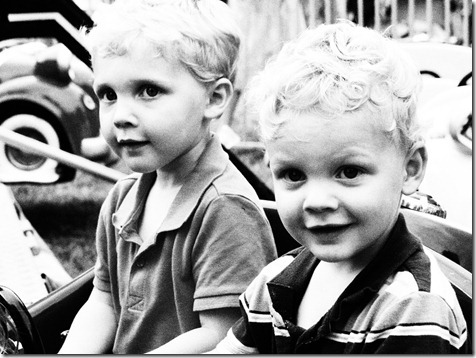 However, the money raised on Healthy Tipping Point – nearly $20,000 – helped them tremendously.  Tonya and Kevin could afford to hire a nanny, which was absolutely necessary as Tonya was instructed by her doctors not to engage in any heavy lifting (like picking up a toddler).  The money also allowed Kevin to take time off of work (he works on commission) and take care of Tonya when she was very sick.  And lastly, the money paid for Tonya to travel to three different medical centers to get opinions on her treatment plan.
Their final consultation at Duke sealed the deal – Tonya will not be getting chemotherapy or radiation.  Experts believe her tumor, which is the size of an egg and located above her right eye, is at a Stage 2 and is very slow growing.  In fact, her doctors think that she might have had the tumor for years and never realized it.  Chemo and radiation have been deemed 'too aggressive' and capable of causing irreversible damage to her brain.  She will probably get chemotherapy or radiation if the tumor grows to a Stage 3.
Duke also told Tonya that most of her health issues, like the seizures, lethargy, and brain fog, are actually a side affect of all the drugs that she's been put on.  NOT the tumor!  Tonya says she regrets just blindly taking all these powerful drugs (mostly anti-depressants and anti-seizure drugs) without really investigating the consequences.   So her doctors are taking her off most of the drugs, and as a result, she's feeling better than ever.
Now – if you recall – Tonya shaved her head in anticipation of getting chemotherapy.  She didn't want to watch her hair slowly fall out.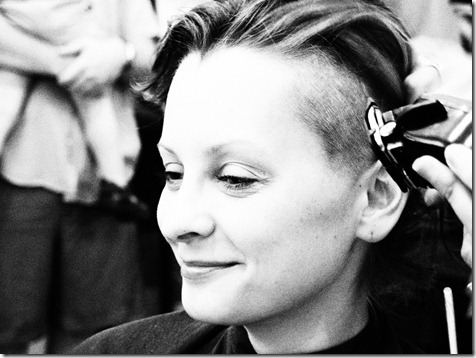 Does she regret going bald now that she isn't getting chemo?
Short answer – HECK NO!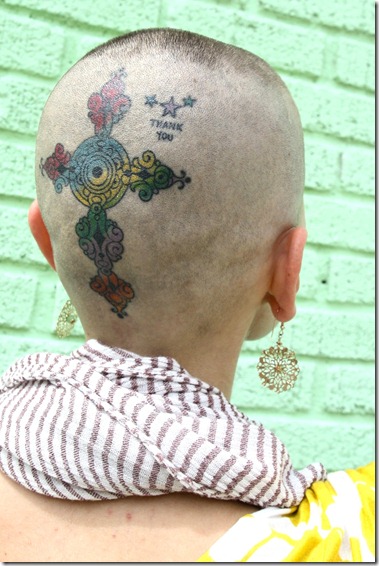 First of all, I think Tonya likes not having any hair.  She says it's very easy to get ready in the morning.  Secondly, and more seriously, the main reason why she shaved her head is because she wanted to signal to strangers what she was going through.  Tonya loves to talk to others about their faith and hardships, and people do really just open up to her. 
Her doctors cleared her to get a beautiful tattoo on her scalp.  It's a colorful cross.  In the upper-right corner are three stars, for the Father, Son, and Holy Ghost, and the words, "Thank you," because she feels blessed by her faith, family, and support network.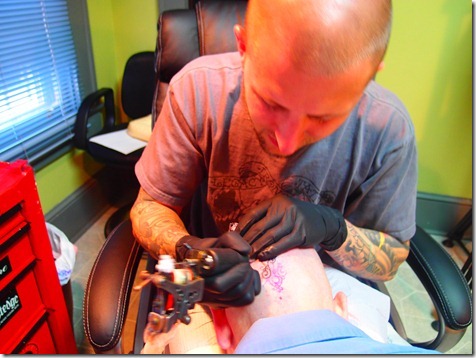 The tattoo is also a "Thank you" to the experience of having the tumor.  The diagnosis has really opened Tonya's eyes to what's important and valuable in her life.  It has reaffirmed her commitment to sobriety (she's a recovering alcoholic) and strengthened her faith.
"This whole summer has been a nightmare in so many ways," she told me.  "I have been plummeted into the depths of chaos and craziness and madness.  But I feel like, with Duke's opinion not to pursue chemo, I am finally coming out on the other side.  I have an answer.  I have a plan.  I feel like I'm back in the state of mind that I was in before my diagnosis.  I feel strong and focused."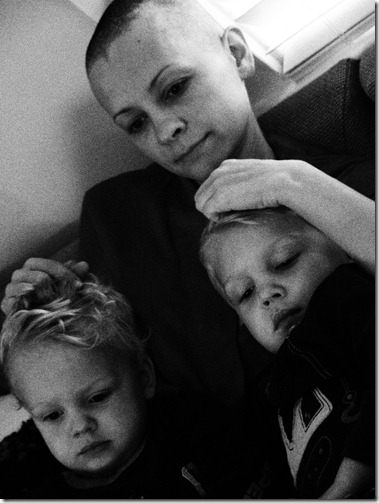 I asked her if she feels 'like a sick person.'  And she smiled.  "I am not sick," she says.  "I am happy and filled with a positive spirit."
"If you're not getting chemotherapy," I asked, "Then what's the plan?" 
She smiled again.  "My plan is to pray my butt off.  Stay sober.  Get off all of these drugs.  Be centered.  Ask God to take this tumor away.  Get acupuncture.  Keep my cell phone away from my head.  Eat organic vegan food."
The tumor has really transformed the way that Tonya, Kevin, and the children eat and live.  No more fake food.  Lots of veggies.  No toxic plastics leaching off to the foods.  No more chemical cleaners in the house.  Tonya is really committed to cleaning up their food and home environment, not just for her, but for her entire family's health.  "So many people that I know have changed the way they eat, view medicine and medical care, and live because of my tumor," she says.  "It's been a rippling effect of health, a pebble that drops in a pond.  It's bigger than me now."
She was so proud to show off this picture – vegan, organic lunches for the boys, packed in glass and BPA-free containers.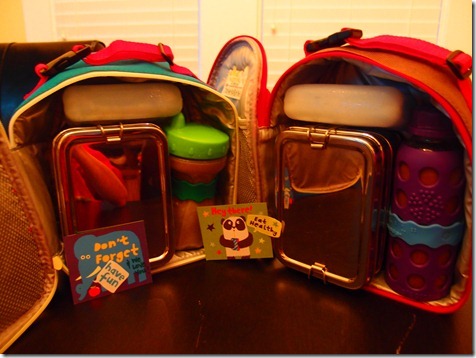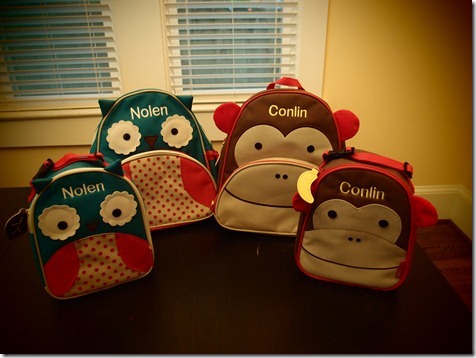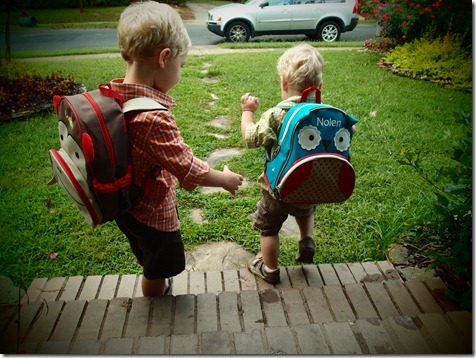 "When I got diagnosed," she concludes, "The first thing my father said to me was, 'What are you going to do about it?'  And it's so true.  What are YOU going to do about it?"  She stops and looks at me.   She waits. 
I replied, "What do you mean, Tonya?  I can't do anything about your tumor."
She laughs.  "Oh no.  I didn't mean my tumor.  I don't think my dad meant my tumor, either.  I think he meant – What are you doing to do to make it the life you WANT to lead? What are you going to do to be healthy and happy?  What are you doing to do about YOUR LIFE?" 
Tonya smiles and looks right at me, almost through me.  And then she concludes, "I don't know about you, but I'm going to live it."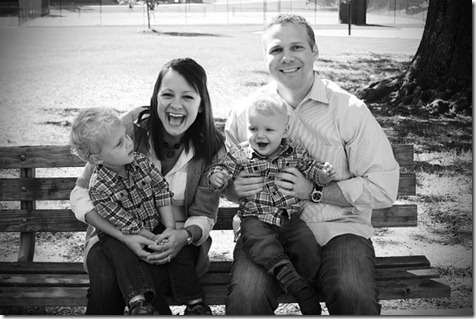 To learn more about Tonya and how you can help, click here.