Thanks so much for the very thoughtful comments on the Planning Parenthood post!  I really learn so much from hearing other people's stories. 
And speaking of babies, guess who strolled into the clinic today?  A very overdue Brittany. She's heard that acupuncture can help speed along delivery and figured it was worth making an appointment with the Husband!
Here's to hoping she's in labor right now…
After closing up the clinic, we headed out to get some of my work done.  I've been commissioned to do a series of freelance articles on wine for a supermarket chain.  All I know about wine is how to drink a lot of it.  Heh.  I needed professional help – which meant the Husband and I were headed to Petite Philippe, my favorite wine bar in all of Charlotte.
We pulled up to the bar, I opened my laptop, and we picked the sommelier, Jessie's, brain.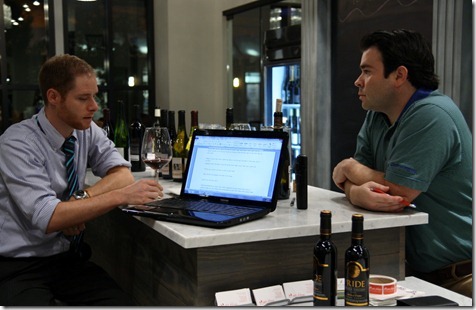 As we talked with Jessie, the Husband and I split a flight of wine.  The flight included:
Antech Emotion
Four Mile Creek Red Wine 2009
Domaine les Ondines Mis en Bouteille au Domaine 2008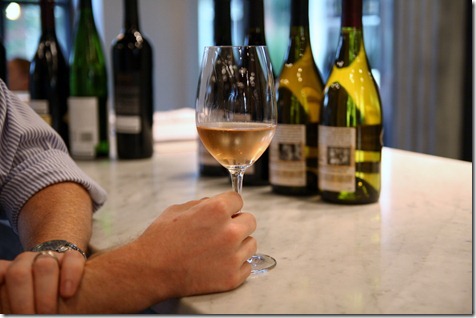 All delicious.  Obviously.   I'm an equal opportunity wine drinker.
Jessie explained the topics in a way that everyone can understand – a sign of a great sommelier!  Here's one tip we learned:  Those devices that vacuum the oxygen out of the wine bottle to 'preserve' it for longer?  They don't really work.  The plastic topper isn't effective enough to hold the vacuum seal.  Jessie says it's better to gas the wine with nitrogen or argon or to just put it corked in the fridge.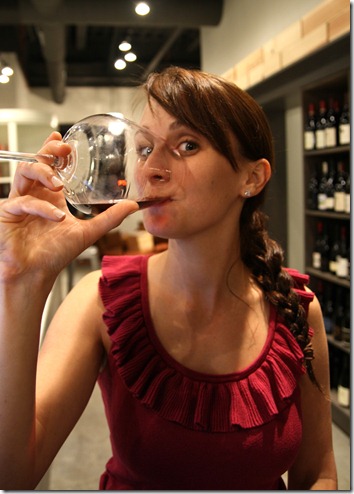 Fun fact:  More people have walked on the moon than are currently female master sommeliers.
While tasting and learning, we had a few of Petite Philippe's chocolates, which are made by the owner's wife.  We split the Nuttmel, the Got Milk?, and the Banana Split.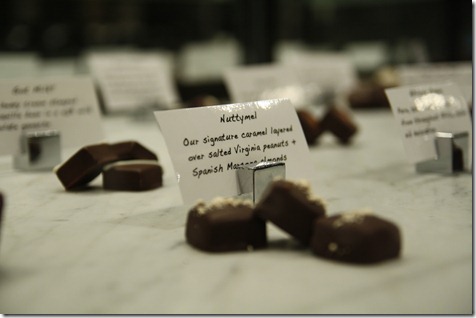 Before dranking, we had pizza at Mellow Mushroom.  Did you know they now have gluten-free pizza crusts and vegan cheese?  It's tasty.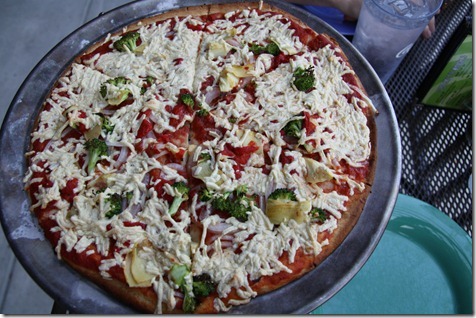 And, amazingly enough, it actually tastes like 'real' pizza.  Even the Daiya cheese is good – and I'm normally afraid of faux cheese.  It was stringy and melty.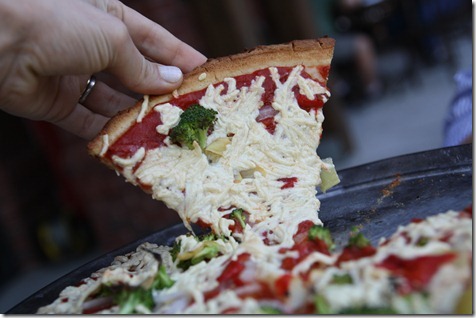 Now – that is what I call a great dinner.  Pizza, wine, and chocolate.  All in the name of research.