I am not sure whether to be intrigued by this or totally weirded out.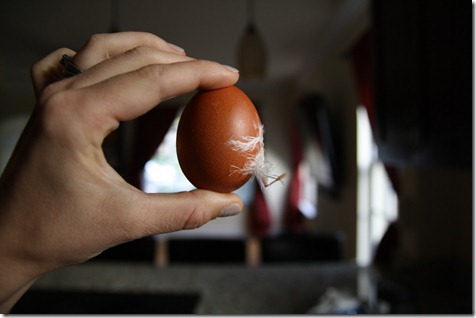 Dinner, obviously, included eggs.  Feathery eggs.   But no feathers made it into the final dish.
But first:
Books were written.  Patients were scheduled.  Conference calls were had.  Errands were run.  Operation Beautiful notes were posted.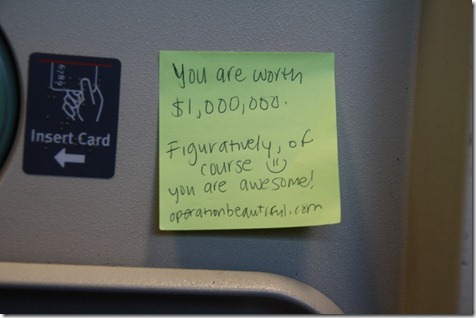 Smoothies were consumed.  I'm lovin' the Peanut Butter Slam (frozen yogurt, banana, peanut butter, chocolate drizzle) from Carolina Smoothies.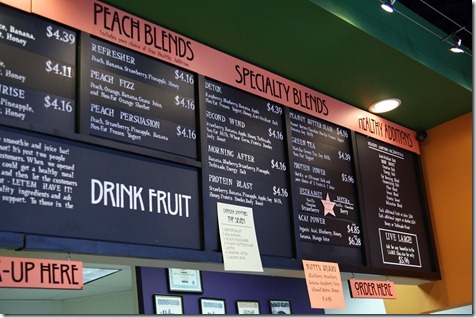 So – have you ever made a frittata?  If you like quiches, I promise you'll like frittatas.  There's no crust, so they're a bit healthier than a traditional quiche., much easier to prepare, and bakes more quickly.  Basically, frittatas are the ultimate dinner recipe.  Kitchen to table in less than 20 minutes!
You'll need a cast iron skillet, which you first use on the stovetop and then put in the oven.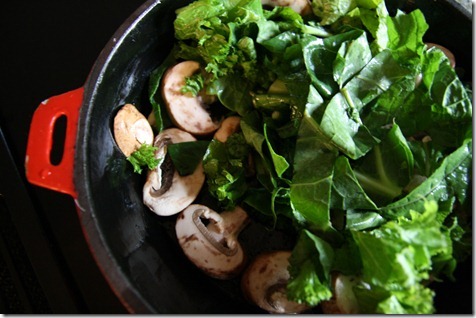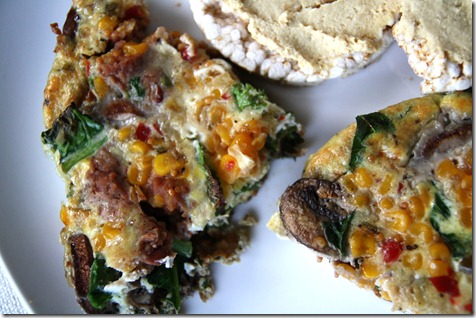 Refried Bean Frittata
Ingredients (for two servings):
5 eggs
1/4 cup almond milk
1/2 cup portobell0 mushrooms, sliced
1/2 cup packed chopped mixed greens (I used collard greens and kale)
1/2 refried beans
1/2 tablespoon salt
Sprinkle of pepper
1/2 cup corn relish (or 1/4 cup canned corn, drained, and 1/4 cup salsa)
Directions:
Preheat oven to 400 degrees.
Grease cast iron skillet (I used a small pad of butter) and place on stovetop.  Turn heat to high and add in greens and mushrooms.
Wait until veggies have cooked for a few minutes, and then mix in beans.
In a small bowl, beat the eggs and almond milk.  Add salt and pepper.  Pour eggs on top of veggies and bean.  Do not mix again!
Sprinkle corn relish on top of the eggs.
Let the frittata stand on the stovetop on the high heat for 5 minutes, or until the eggs start to firm up.
Transfer frittata to oven and let bake for 8 minutes, or until the top starts to brown.
Remove, slice into quarters, and serve.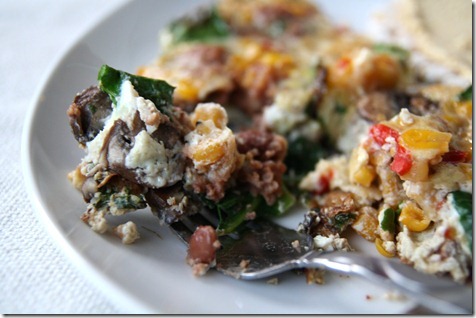 Really delicious and very easy.  What more do you want from a weekday dinner?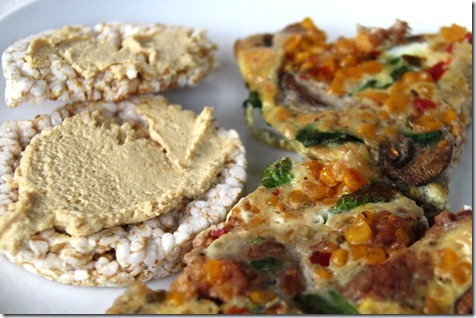 Yes, I currently am going through a brown rice cakes stage.  I used to think they were 'weird diet food,' but now I realize they are actually a yummy and tasty alternative to crackers.  Trying to eat less gluten (per doctor's orders) is hard but rice cakes make it easier.  Rice cake lovers, unite!
Ramblin' Rose Half Marathon Giveaway
I completely spaced out and forgot to choose a winner for the Ramblin' Rose Half Marathon Giveaway.  Forgive me!  The winner is… Allie!