DadHTP penned a lovely guest post about shifting bicycle gears.  This is a topic that cofounds many cycling newbies.  After four years of riding, I'm still trying to figure out gears.  Hopefully, his wise advice will help us both!  (Here's a fun little interview with DadHTP about his cycling history.)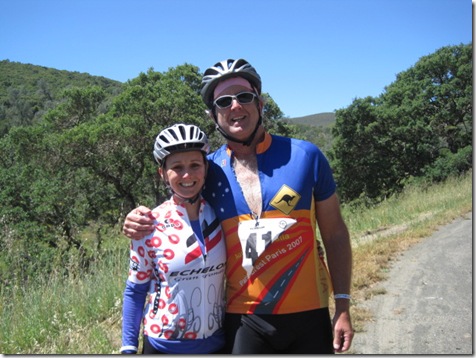 I'll admit the first time I rode a bike with gears, I was clueless. Pedal?  Don't pedal? Shift?  Don't shift?  Being young and a guy, I learned by not asking. It's a technique that works – just not very quickly!
Here's what you basically need to memorize:
Left shifter:  Front gears
Right shifter: Rear gears
Everyday / Flat Riding: big gear in the front, small gear in the back
Hill Riding: small gear in the front, big gear in the back
Never use the big/big or small/small gear combination as you'll pop your chain off.
In most situations, you'll want to do big in the front, small in the rear, and shift the rear gear as necessary to account for rolling hills.  If you anticipate a huge hill, you'll want to shift to small in the front, big in the back.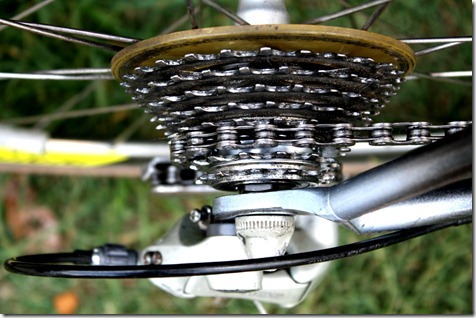 Most road bikes have three gears on the front (some have two), which are controlled by your left shifter. The rear gears usually have 7 – 9 gears.   The reason a bike has gears is that most people are comfortable with a pedaling cadence ("leg speed") around 80 – 90 rotations per minute (RPM).  Depending on the different surface, your cadence will naturally increase or decrease if you don't change gears. 
There are simple ways to tell if you're pedaling in the wrong cadence (and therefore, in the wrong gear):
If you're short of breath and your legs are going really fast, you need to shift to a harder gear (first using the rear gears and then shifting up front, if necessary).
If your leg muscles are killing you and your knees hurt, you need to pedal at a higher cadence with less effort.  Switch to an easier fear (first using the rear gears).
Or, you know, you could always get off your bike and walk it up the hill…..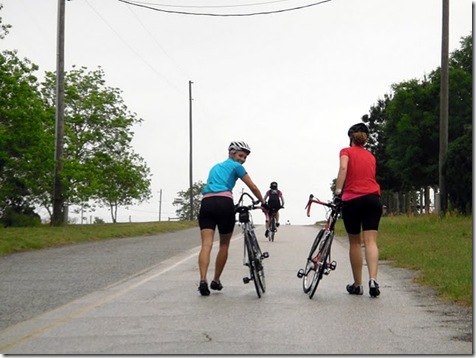 To figure out your cadence without a computer, time six seconds on a watch and see how many times your right knee comes up.  Add a zero to that number.  That's your approximate rotations per minute.  If your cadence is much higher or much lower than 80 – 90 RPM, you'll want to play around with your gears to figure out how to get your pedal stroke more efficient.
I love hills, but there are basically two ways up – power or time.  As you tackle a hill, shift to a gear that allows you to keep your cadence up, and in the hills, a little higher is better for most people.  Intervals (hard ones) and gym work are the only ways I know to develop power.  The other approach is time – go to an easier gear, keep your cadence up, and go slowly.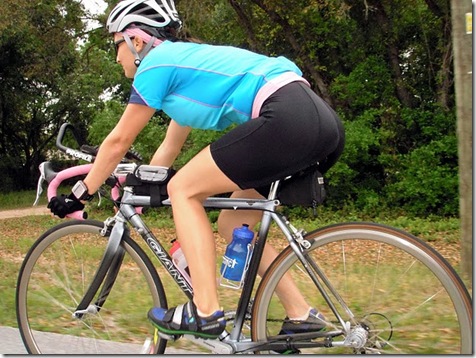 Some other miscellaneous tips about gears:
You must be pedaling when you change gears. The chain has be in motion for the derailleurs to move the chain from sprocket to sprocket.
While you must keep moving as you shift, lighten the pressure on the pedals while shifting. 
Downshift at the bottom of a hill.
Downshift as you stop so it's easier to start.
Also, at a coffee break, sneakily put a friend's bike in the hardest possible gear to pedal. This is really very funny. Trust me.
I realize this is touching the surface of a very complicated subject – I'll follow the comments and answer questions if I can.
Confused yet?  I sure am!  If you have any questions about shifting gears – or cycling in general – for DadHTP, ask away in the comments section!