Hurricane Irene did manage to rain on our bachelorette parade, but we still had fun.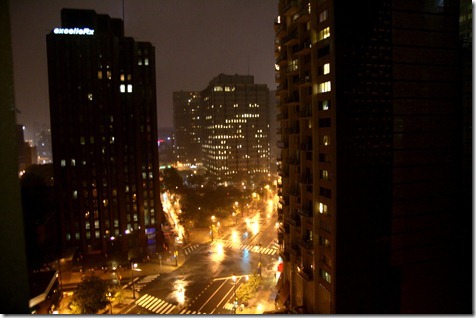 The rain and winds really began to pick up around 10 PM in Philadelphia last night, so we opted to just stay put.  Trooping around Center City and bar hopping just didn't seem like a very smart idea.
So, we ordered in pizza and played games.  So tame!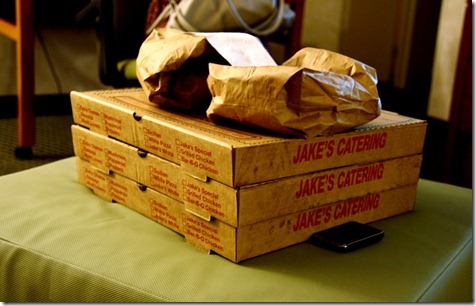 Here's a really fun bachelorette game that I highly recommend – it's so silly.  Everyone attending should bring a pair of panties that 'represents' them or would somehow remind the bride of them.   For example, my friend who loves cats brought a Hello, Kitty! thong, and I brought plain white panties that I drew the phrase "No chafing!" on the waistband (an inside joke).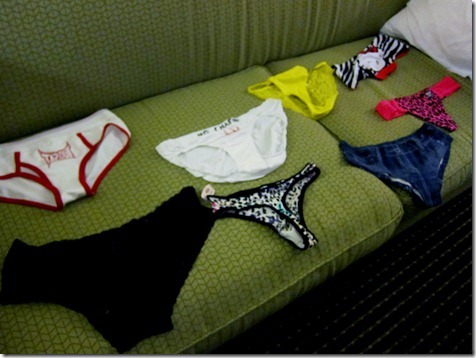 Then, you lay out all the panties and the bride must guess which panties belong to each guest.  If she's wrong, she has to take a drink.  If she's right, the guest drinks.  The bride gets to keep all the underwear as a souvenir. 
We hung out, talking and laughing, until 1:00 AM.  We finally turned in to the sound of 45 MPH winds against the window.  A memorable evening, for sure.
Every single flight coming out of the Philadelphia airport was grounded for the day, so I decided to carpool back with the bride's little sister and her friend.  Alison and Jamie live in South Carolina and were driving by Charlotte; it worked out perfectly!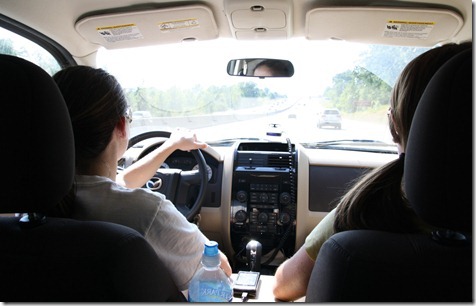 We checked the news before leaving, and it sounded like the highways were all clear.
It was very gloomy out, though.  Once we got past Virginia, the weather drastically improved.
Alison is a driving machine.  She only makes efficient, multi-purpose stops (so gas, food, and pee breaks at the same time).  I could learn a lot about road trips from Alison!  It seems like the journey absolutely flew by.
I made an effort to eat healthy on the highway.  It's been a fun weekend, but it's time to get back on track (and eat a vegetable or two).  Breakfast was a banana and a mini-Larabar from the depths of my purse.
Other eats included a packet of dry roasted almonds (from Starbucks) and the leftover salad from last night's pizza party.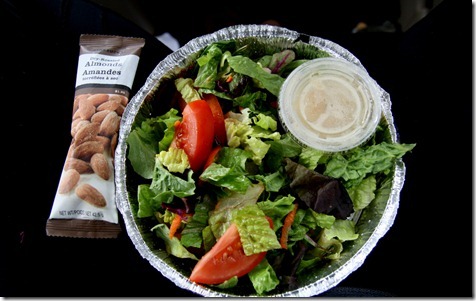 We stopped at Wendy's, and I grabbed another side salad and a baked potato.  Smothered it with sour cream – so good.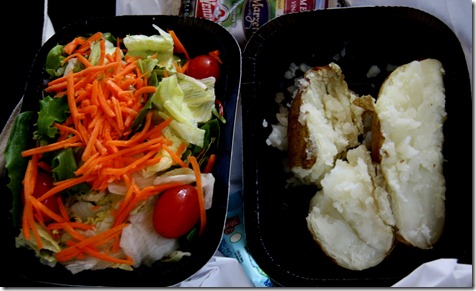 I passed the time in the backseat by editing the Healthy Tipping Point book…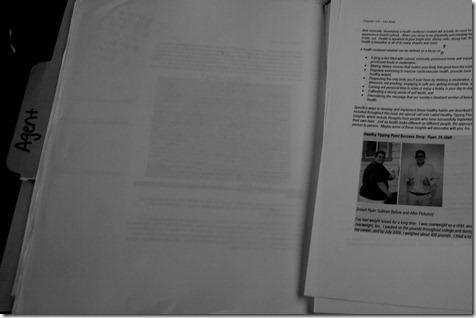 And texting the Husband.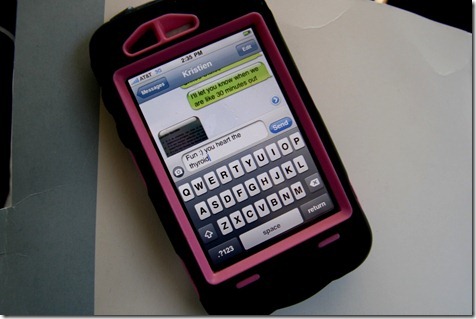 Since Alison and her friend still had to drive so far, I told them to just drop me off at an exit near Charlotte, and the Husband came and picked me up. 
As what is rapidly becoming a tradition when I go away for the weekend, he took me out for Thai.  This time, we went to a place called Thai Taste.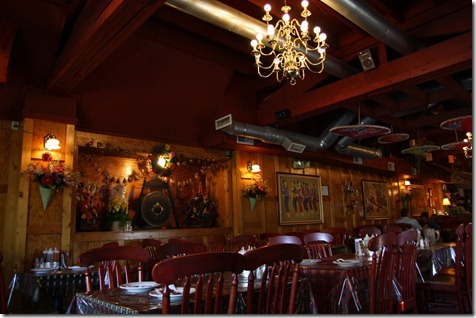 I feel like there's a direct correlation between excessive knick-knacks and how tasty the food is at a Thai restaurant.   The more wooden structures, the better the food.
Thai Taste delivers!
We started off with the veggie spring rolls.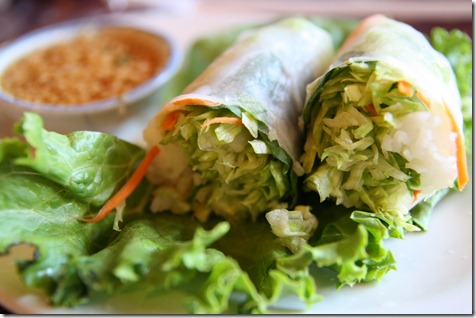 And for my entrée, I ordered the cashew nut tofu.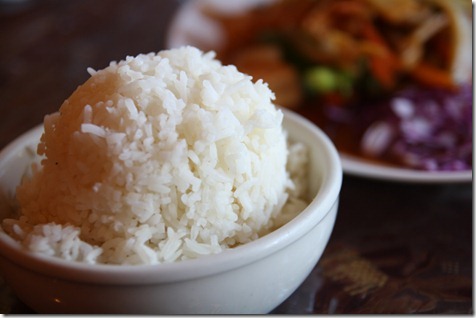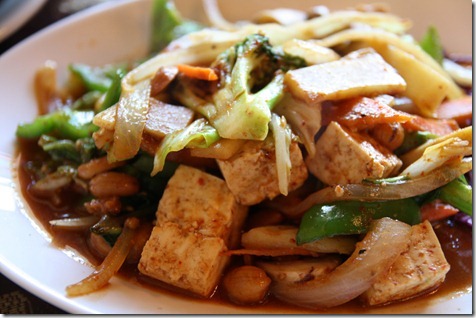 Mmm mmm.
Well, that was quite the weekend.  It was fun to see my college girlfriends, and it wasn't so bad to say goodbye since we'll see each other again in two weeks for the wedding.  That's why I love weddings – a perfect excuse to see old friends.
Happy Sunday!