I read blogs for many reasons, but #1 is undoubtedly… to learn.  I have learned so much from blogs.  Food blogs taught me to cook, mommy blogs taught me what not to say to a pregnant woman, political blogs confirmed all my pre-existing biases (kidding!), and fashion blogs taught me about color blocking (although I still can't do it in real life).
Young House Love is my favorite home design blog, and John and Sherry taught me 1) a room makeover doesn't need to occur overnight, so you shouldn't just add pieces in to finish the room ASAP – hunt for goodies!  And 2) you can spray paint pretty much anything and make it look pretty.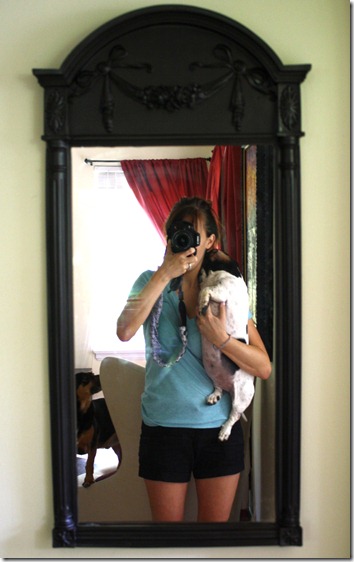 Ever since we lost the deal on our first house, I've been making an effort to spruce up our apartment.  As I wrote in this post, "Don't let the future steal the present.  Enjoy what you've got right now.  Find something to love about your too-tiny apartment, your current running pace, your body, your family, your job.  Even if it's something small, embrace it."  Home is where the heart is!  And my heart wants to decorate.
So – I have two fun Young House Love-inspired projects to share.  And trust me – if I can do it, so can you.
First up:  this old mirror.  My mom Goodwilled three matching mirrors, which apparently used to hang in an old restaurant.  She kept one, gave one to my aunt, and gifted the other one to me.  I loved the detailing but the color was blah.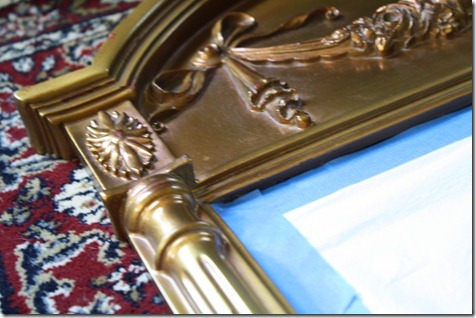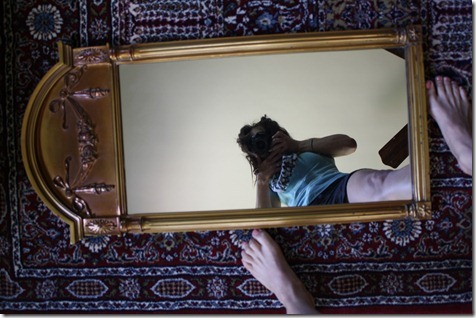 I used painter's tape and a garbage bag to cover the mirror, and then I sprayed it with a generous coat of Oil Rubbed Bronze spray paint.  All I could think was, "If you're a-sprayin', your arms better be a-swayin'."  Wise words from YHL.
An hour later, I had a 'new' pretty mirror to hang near my front door.  Handy for checkin' hair and teeth.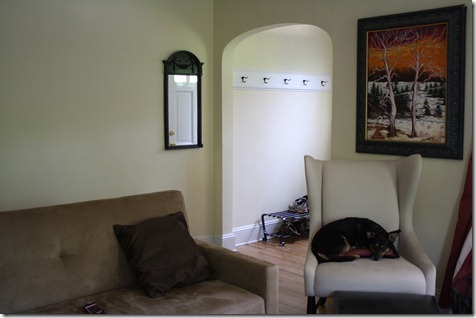 (Side note: my mother-in-law painted that picture above the white chair.  Incredible, right?)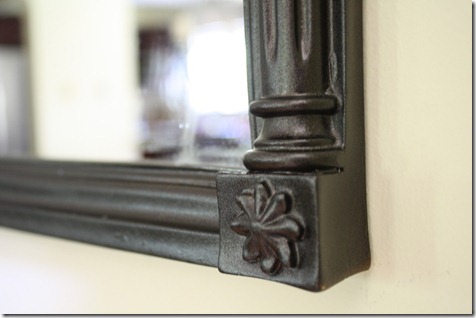 Now – time for Project #2.  I feel so handy!
We are currently re-designing our bedroom, and I really wanted to swap out this fake orchid plant for something more… me, I guess.  The plant was a (very nice) gift, and while I like it, I wanted a change!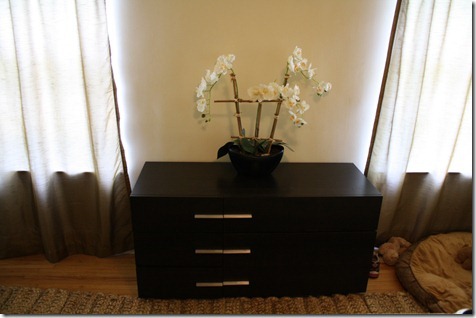 Out with the plant, in with some art!  I spray painted a frame (originally a plain black frame from Target) with Oil Rubbed Bronze, which made it match with our dark wood dresser.  And I found this neat National Geographic map of Britain + Ireland for only $11 at a local store call The Map Shop.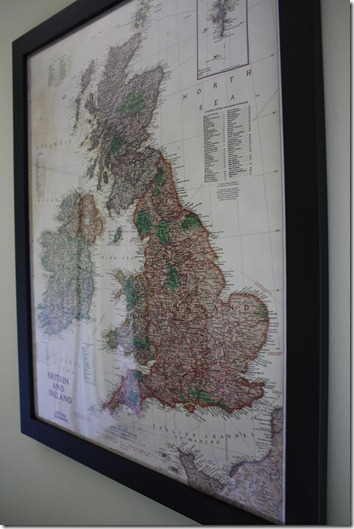 I found two fun vases at Home Goods for $45 total.  YHL has also taught me to not only combine colors, but also textures!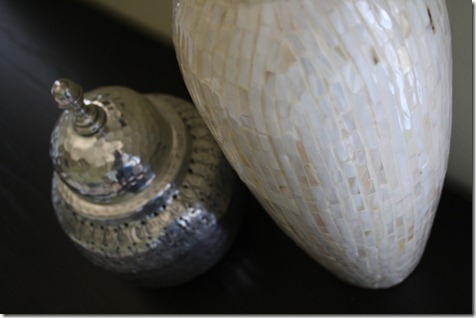 All together now: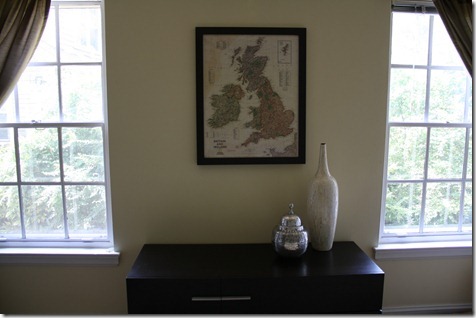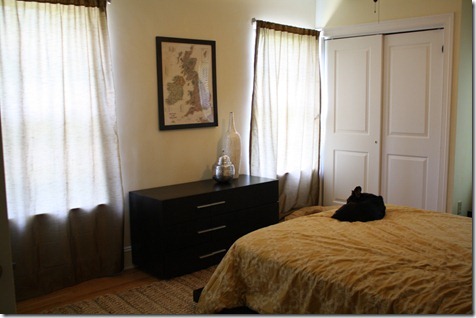 I just hung the frame, so I'm hoping the Husband doesn't read the blog before coming home!  He's British, and I think he'll really like the little homage to his native country.
Now, if I could just figure out what to do with the wildebeest above our bed…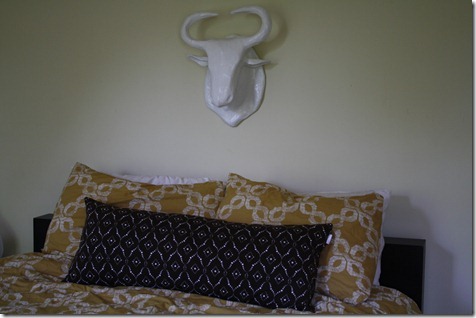 That's a topic for another post.
Okay – it's your turn!  What have you learned from reading blogs?