Breakfast was pretty simple – a bowl of cereal: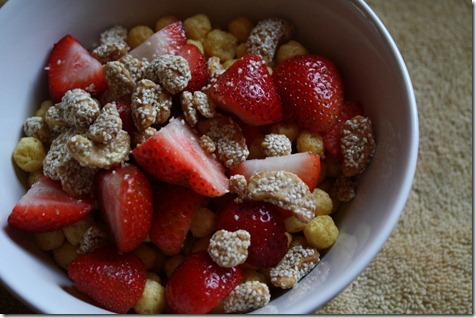 So let me tell you a funny story.  And then, we'll have a great debate!
This weekend, we moved our friend Isaac into Nicole's apartment – AKA his wife's (legally but not spiritually) place.  It was pretty cute to be there for such a momentous event.  Two people, melding furniture and sheets into one household.  Very romantic.
After the move, everyone came back to our house and we ordered pizza.  We started to chat about cohabitating, and the Husband and I began to reminisce about when we first moved into together.  We opted out of the traditional route and moved in when we were just dating, at 22. 
"What pet peeves do you guys have about living together?" asked Isaac.
"Hmm," the Husband pondered.  He then listed a few peeves that I already knew about, like leaving the toothpaste in the shower and not locking the top and bottom of the front door.  "You turn, Caitlin."
"I really can't think of any pet peeves!" I protested.  Everyone urged me on.  "Okay, okay… I can think of one, but it's kind of stupid."  And then I explained:
It irritates the crap out of me when the Husband leaves the shower curtain open.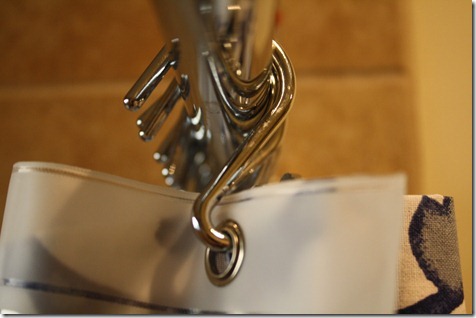 The proper thing to do is to close the shower curtain after showering.
I passionately debated my case:
The shower curtain and the entire bathroom looks prettier when the curtain is closed.
Everyone who comes into the bathroom can tell if the shower is dirty if the curtain is open.
If the curtain is closed, bacteria and mold will grow in the folds because it can't air out.
"Wait, wait!" said the Husband.  "For the past five years, I've intentionally left the curtain open because I thought you preferred it that way – so the shower can dry out."  Seriously.  SERIOUSLY!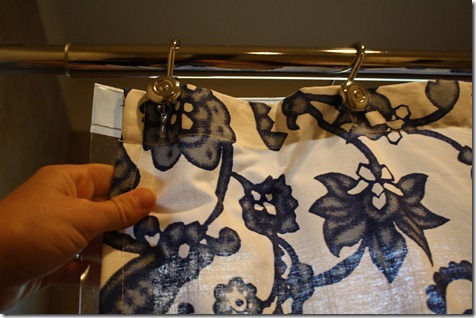 And this, my friends is why you should discuss your pet peeves with your spouse.  Now all the curtains in my house are closed.  After five years, it feels so good.
And actually, in regards to the mold issue, WikiHow takes a moderate approach to the "Open or Closed" debate:

So – now it's your turn to weigh in.  
Shower curtains – open or closed?  Do you find yourself snapping the curtain into position after your partner or roomie gets out of the shower?  Or could you really not care?
Other great debates (some serious, some not-so-serious):