I must say… I love reading the responses to The Shower Curtain Debate.  And although I'm still on Team Closed Curtain, I have to agree with a very valid point from Team Open Curtain – if it's open, you know for sure that no zombies are hiding behind it!
Lunch was simple and delicious: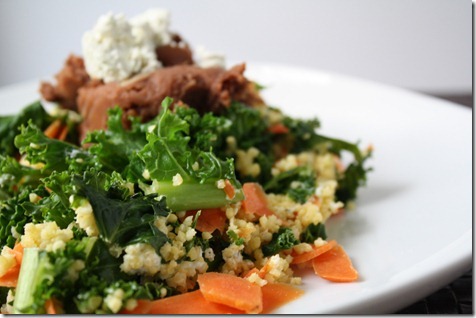 I steamed some kale and tossed in sliced carrots and millet (leftover from last night).  Topped everything with a big hunk a hunk of fried beans and goat cheese.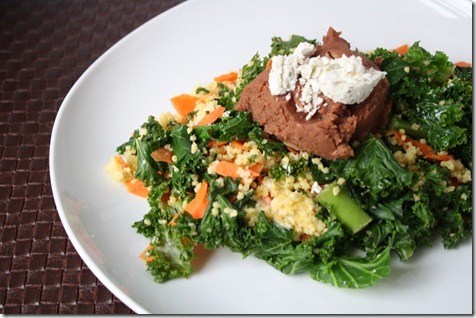 My name is Caitlin, and I'm addicted to goat cheese.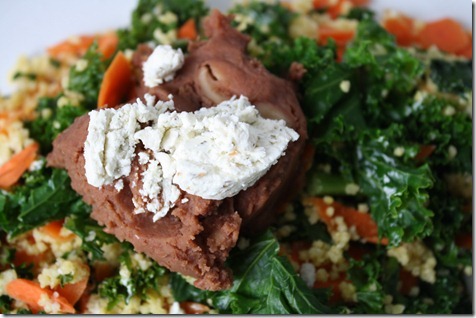 On a writing break, I came across this little video on Runner's World.  It details what the cost of a marathon race entry covers.  I thought this was a very interesting breakdown!  It's easy to get to an event and think, "Now, WHY does this cost so much money?"  Now I know!
I estimate that, over the last four years, I've spent probably $2,160 on race entries… or more.  Gulp!  That's a lot of money!  Recently, someone asked me in the comments section how to fit racing into your budget.  Here are some tips:
Sign up early:  By signing up early, you can save $25 or more.  The longer you wait, the higher the price.  Grab those early bird specials – just know you run the risk of getting injured and having to miss the race altogether (and very few races will let you delay entry until the next year).
Check out volunteer programs:  Some races will give you a free entry for next year if you volunteer at the race THIS year.  Volunteering is fun!
Don't Buy a New Outfit: I know it's tempting to buy a 'special outfit' for a race (wait, you don't do this?) but try to resist the urge.  It's not wise to wear new clothes on race day, anyway.
Train Exclusively Outside:  Ditch your $40 a month gym membership and train exclusively outside (weather permitting, of course).  The money you save over just two months would pay for most race entries.
How do you make racing work in your budget?