A while back, DadHTP passed on an interesting series on Wired – Simon Wheatcroft, a blind runner, was training for the Cotswold 100, a grueling 100-mile ultramarathon in England.  Simon was diagnosed with a degenerative eye disease when he was just a teen.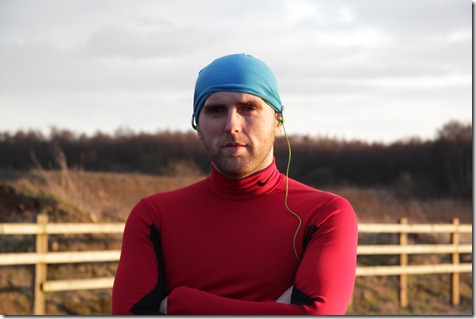 Simon always had to rely on friends – guides – to help him workout.  But a short time ago, he decided to begin running outside on his own, with the aid of talking GPS devices and other electronic guides.  He worked his way up from a half marathon to beyond what most people could even imagine bike riding.  And then, running alongside his guides, Simon tackled 83 miles of the Cotswold 100 before pulling out.  He plans to do many more ultras and do Cotswold again in 2012. 
Here's our interview!
You said you had never run a race before doing the Cotswold 100. What was the furthest distance you had run before you decided to train for Cotswold?  What made you think you were capable of running such long distances? 
Before I began training, the furthest I had run was around the 13-mile  mark.  At the beginning. it wasn't simply a thought of being capable of  running the 100 miles… I just wanted to run beyond the marathon distance.  Doubling my current distance sounded far too easy.  Why spend my time working  towards something I considered easily achievable?  There is more fun in finding your limit.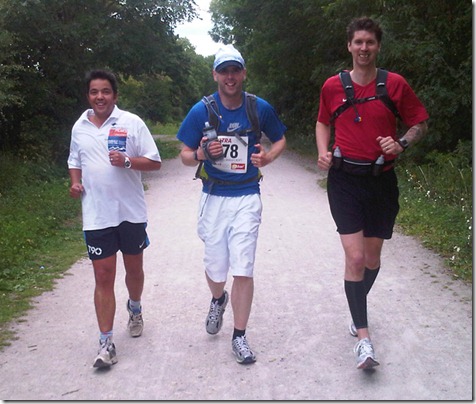 (Source)
What are your favorite songs to run to?
I mainly listen to hip-hop and soul while running.  For ultra training, these are my two favorite songs:
What is your favorite mid-run fuel for really long runs?
If I am heading out on a 30-mile run, there are two foods that I always look forward to eating: PB&J sandwiches and salted crisps (potato chips).  Those crisps are literally the best thing I have tasted after a long run – potato and salt what more do you need?  A very talented runner once told me "food is mood," and I know hold this quote dear.  Eating your favorite food can elevate you and push you forward.  It doesn't have to necessarily be performance food – it can be  anything, anything that elevates your mood is what makes the biggest
difference.
Do you think blind runners have any advantages over seeing runners?
This is a tough call.  Most  blind runners rely on guide runners during training or resort to the treadmill.  Personally, mastering training alone created a high level of mental hardiness.  I began to believe anything was possible and knew I could push my body to the absolute limit.  So if other people – blind or not – choose to take my route of training alone, I believe it gives them  a distinct mental advantage.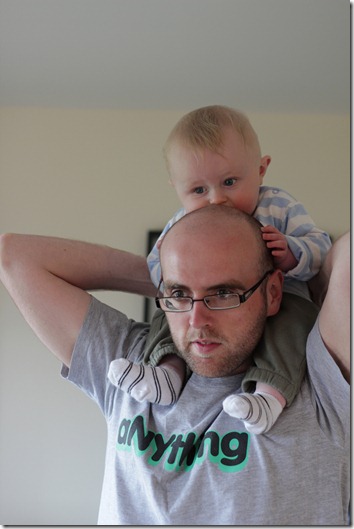 How do you prevent injuries and stay strong?
Injuries are always something that are at the back of my mind and are incredibly difficult to avoid when you are running such distances.  Because I am blind, tripping is a big problem and minor injuries are inevitable.  I try and negate this by icing after all runs over 5 miles.  Then, I take a hot shower.
What's your favorite post-run meal?
Burger King… I just ran for 6 hours, after all!  I also like shakes from SiS and
Juice Plus.  
How did you cope with your diagnosis?  You were just a teenager – how did you deal with the lose of your sight?  What do you think seeing people should know about blind people and how to interact with them?
When I was initially diagnosed, I didn't handle it well.  I was told at the age of 13 I would eventually be blind and then registered blind at 17.  Certainly not the best time to be told! It took a number of years before I could strike a great balance and create a positive outlook. Emotionally dealing with the loss of my sight is a process.  For example, to prevent myself from misplacing my keys, I have to memorize where I put everything, which is a drain.  I lose things a lot.  Not being able to find my running gear is at the top of the frustration list!   A lot of sighted people seem to struggle with interacting with the blind.  It can be difficult for a sighted person to understand what is going on, especially regarding mobility, but overall just treat the blind like you would anybody else and don't be afraid to offer assistance!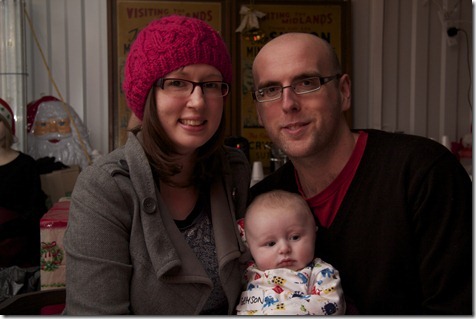 What is your must-have runner's gear?
Running socks, for the price they have had the biggest effect on the comfort of my running.  Oh and Buff headwear, love the stuff, rarely run without it.
Why do you run such incredible distances?  What do you get out of it?
As any disabled person will probably agree, we are easily labeled.  We can choose to operate within the perceived boundaries of our label or exceed them.  Running long distances and choosing to train the way I do demonstrates to other people that these boundaries only exist as long as we choose to comply with them.  There is always a possibility to adapt and move forward.  I also get the opportunity to find and explore my personal limits.  Operating within something I perceive to be easily achievable offers no fulfillment… I need to be exploring.  If I discover a limit – be it mental or physical – I adapt and surpass that limit to find the next limit.  And then I break that, too.