The Husband cannot make a decision to save his life.  He will stare at a menu for five + minutes (even if there's only two vegetarian options) and he looked at engagement rings for six months before settling on one.  He's indecisive.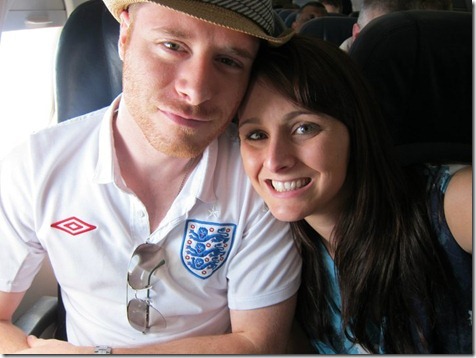 On the other hand, I am very decisive.  I make a decision quickly and stick by it.  That doesn't meant that it was the best decision – I just make a decision.  Any decision!  
However, this combination actually works out quite well because the Husband hems and haws for a bit, I can tell that he really thinks that A is a better choice than B  but doesn't want to say it aloud yet, so then I say, "You should pick A," and he does.
Which is why when the Husband and Isaac went to Blockbuster by themselves last night, I knew we were in for a doozy of a movie selection.  No offense, boys.
Here's the story, as they told it.
They were standing in Blockbuster and had two choices:  Chronicles of Narnia: The Voyage of the Dawn Treader or The Kids are All Right.  They looked up them on Rotten Tomatoes and saw this:


However, Isaac said he really liked fantasy movies, and the Husband agreed, so they bumped Chronicles' rating up 20 points, to 70% .   They debated back and forth which would be a better choice, and of course, the Husband couldn't decide (even though I know he refuses to watch movies rated less than 75%), so he suggested they flip a coin.  All they had was a credit card, so they ended up flipping a VISA.  The Chronicles won.   Apparently, at this point, a 'really hot girl' down the aisle started to laugh aloud at them. 
Anyway – of course, Chronicles was pretty bad.  Not a good movie at all… not even a good kid movie, in my opinion.   All I can say that the graphics were good.
In honor of being indecisive and getting' stuck with a kid movie, we brainstormed and cooked this amazing kid breakfast:  Panda Puff French Toast.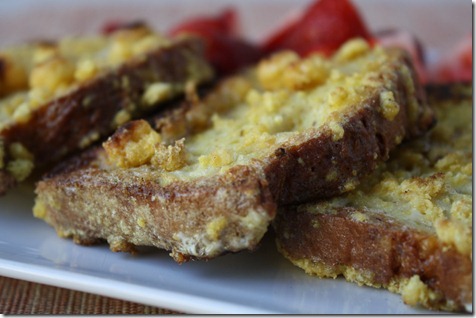 For once, there was no debate:  this breakfast is definitely a winner!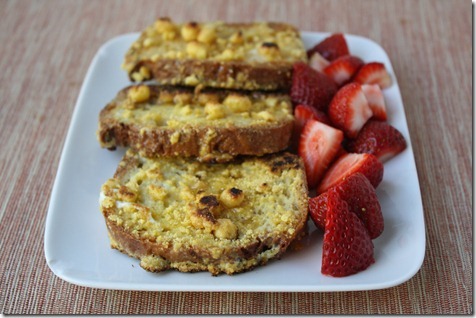 Ingredients:
1/2 cup Panda Puff cereal, or other kids' cereal, crushed
1 egg, beaten
2 – 3 slices bread (I had three because the Glutino slices are miniature)
Syrup
Fruit for topping
Directions:
Heat and grease griddle to medium-high,
In shallow bowl, beat egg.
In separate bowl, spread out crushed cereal.
Dip both sides of bread in egg, then cereal, and then place on hot griddle.  Repeat with other slices and cook until golden brown on each side, 2 – 3 minutes.
Serve with syrup and fruit.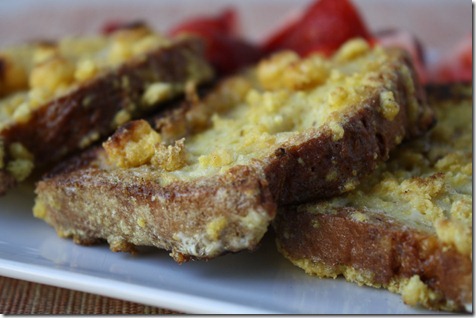 Oh yeah.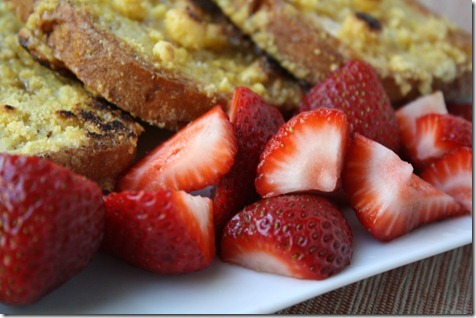 Kids' stuff isn't always so bad!