How did people live before the Internet?  I have learned so many totally random skills from the Internet, including:
How to take apart a road bike
How to change a bike tire
How to remove a tick
How to clean hardwood floors
How to say "You are beautiful" in five languages
How to brush a dog's teeth without them biting your fingers off
And now, I can safely say, I can make a bridal bouquet.  Thanks, Internet!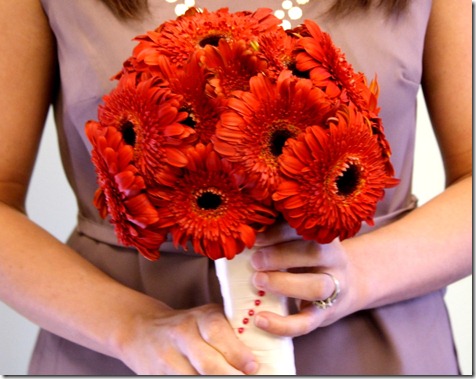 Someone is getting married at the courthouse today, and I offered to make a bouquet and a boutonnière.  The  boutonnière was easy – insert pin in the back of a flower, but the bouquet required a little more work.
Here's how I did it!
Last night, I bought 18 red Gerber daisies from Trader Joe's.  When I got home, I snipped 1 inch off the ends and placed in lukewarm water with plant food.
Today, I put the bouquet together.  First, spread out your flowers on a table (massage table not necessary) and pick the largest one for the center piece.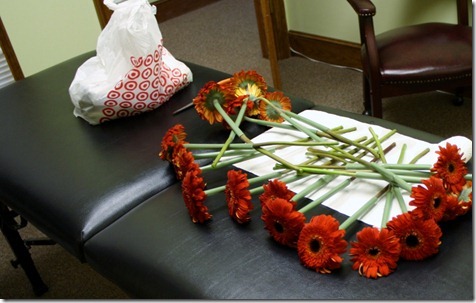 Work your way out, taping each flower to the center flower as you go.  I just used regular old clear tape.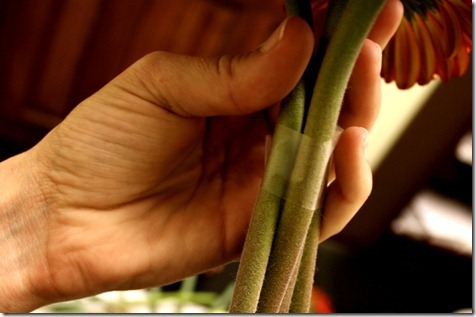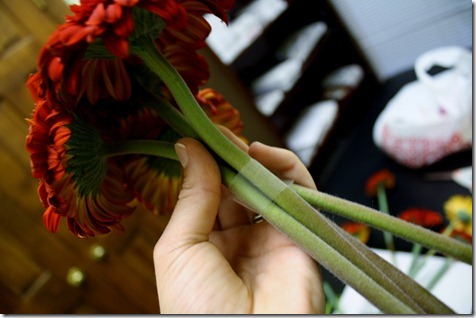 Because Gerber daisies are so big and beautiful, I used the last eight to create a ring around the base of the bouquet.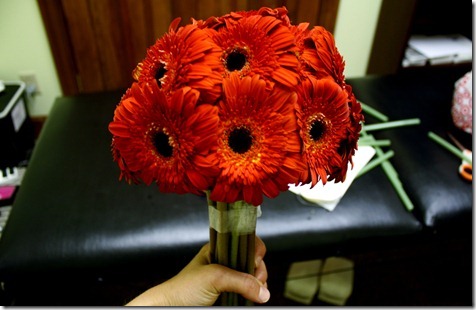 Then, run tape up and down the length of the stem (two fists' worth at least).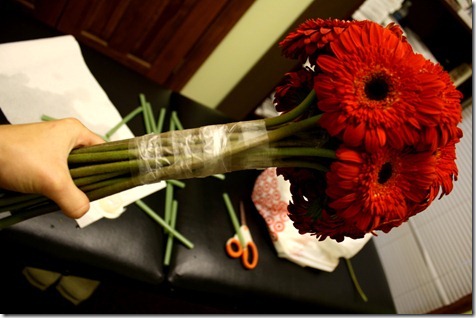 Now it's time to add the ribbon!  Start at the top.  Use a little piece of tape to secure the end of the ribbon to the stems and wind the ribbon down and back up.  I used 9 yards in total.  Secure the end with a push pin.  You'll want to push the pin in and up – make sure it doesn't stick out the other side!
I created a fun little swirl with a bunch of red pins.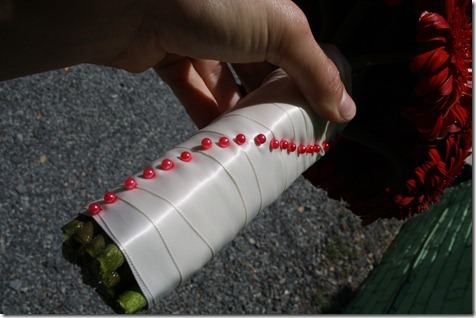 Cut off the remaining stems.
Last, but not least, spray the flowers with some hair spray.  This will help preserve them!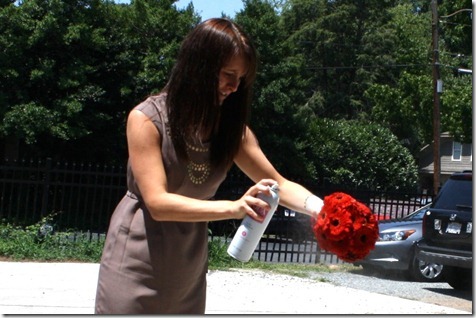 And that's it!  A bridal bouquet for less than $25 – finished in 45 minutes.  I paid $100 to have someone else make mine for my wedding – I wish I had thought to make my own!  It would've been a fun pre-wedding activity with my bridesmaids.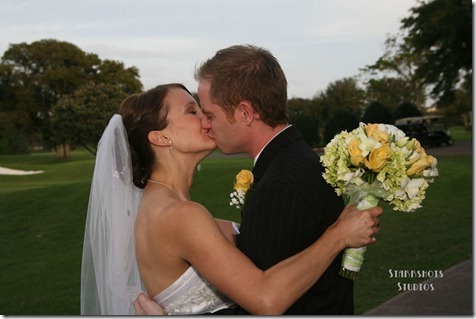 Now – the BIG question is… "Who's getting married today, Caitlin?!"  My lips are sealed for now, but in just one hour, the wedding bells will be ringin'!