Today is one of those "hurry up and wait" kind of days.  We had an early patient at the clinic, so we rushed out of the house!  And now I'm doing the secretarial thing. 
Busy mornings call for cereal.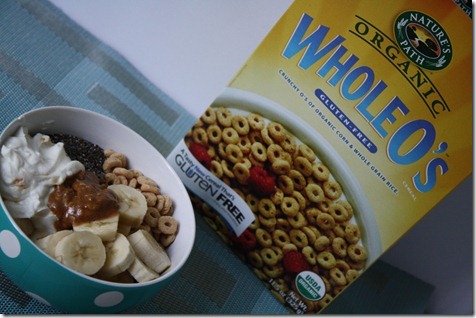 Lovin' this Organic Whole O's from Nature's Path.  It's a gluten-free cereal that actually doesn't taste disgusting! Wahoo.  Maybe people have asked me how I've been feeling since switching to a lower gluten diet (I took a saliva test that revealed I may be sensitive – saliva tests definitely aren't the final word on gluten sensitivities, just an FYI).  Honestly, before the test, I never would've guessed that I was sensitive.  I ate gluten all day long (literally) and never had any of the telltale signs. 
But I have to say that I feel so much better since I stopped, which confirms to me that I am sensitive.  I haven't had a single headache since reducing gluten.  What I thought was "my body shape" was actually minor bloating – hah!  And really, eating mostly GF hasn't been that hard – I've been filling on quinoa, millet, GF oats, Udi bread (LOVE!!!), and other tasty GF alternatives, like this cereal.  Once I stopped focusing on what I "couldn't" eat and focused on all the yummy stuff that I could eat, it stopped feeling like torture.  I think that's true for any eating style, really!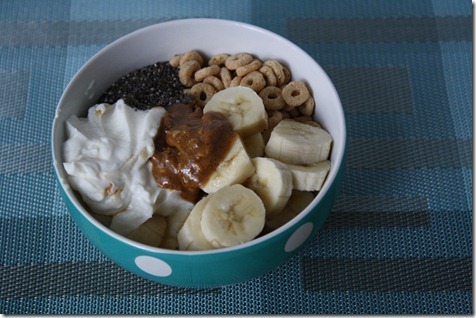 In the mix:
Whole O's
Banana
Greek yogurt
Chia seeds
Almond buttah
Oh yeah.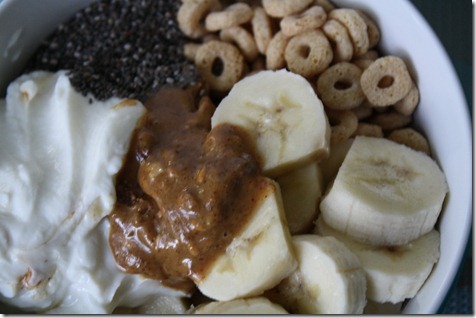 Back to work I go!  HAPPY FRIDAY!!!
PS – Love horses?  Want fun English treats?  Yes and yes!  Check out Brit Chick Run's awesome international giveaway.