Confession:  I actually DID go back to sleep after my workout this morning.
Don't hate me.  Please.  I'll pay for the loss of work hours later, trust me.
Short on time = a fast lunch.  This was deeeelicious.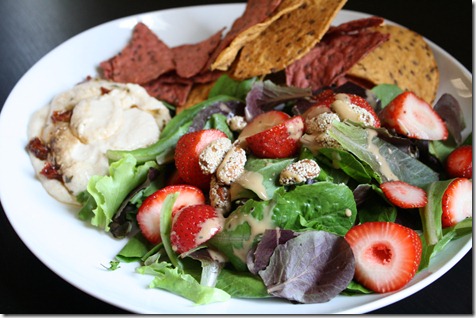 Last night, my mother-in-law and I were at the grocery store, and she kept picking things up and saying, "Is this gluten-free?  Is this gluten-free?" because she's trying to eat less gluten, too (here's why I am eating less).  I was like, "No, no, no… nope, sorry."  Finally, she picked up tortilla chips and said, "Bet this isn't gluten-free either, right?"  And I said, "Well, actually – YES!"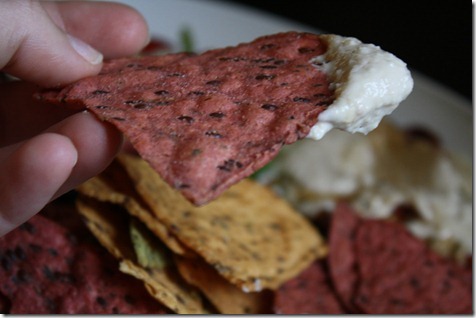 With hummus.  A smooth and creamy white bean variety.
And a strawberry, sesame-covered almond, and balsamic dressing salad: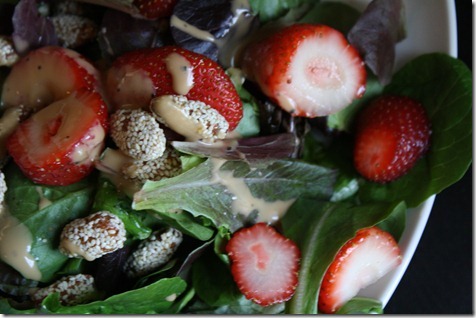 Oh – and lots of wise triathletes have remarked that they can't believe the water in my pool is 70 degrees – it sounds too low.  I actually asked not one, but two people, and they looked at a chart when they told me; I think they take a reading every morning.  So I think 70 is legit, but I'm going to take a thermometer to the pool with me next time and measure it myself just to be sure.  Thanks for anyways having my back, friends!   Wouldn't want to turn into a Caitlin popsicle in the middle of the swim.