I completely blew off my Tuesday and Wednesday workouts.  Life – and work – just got in the way.  Also, I was feelin' pretty lazy.  I'll admit it.  But laziness is NOT an option at this point!  My Olympic triathlon is in just over a week.  And trust me – I do not feel prepared! Eck.
Thus, a double workout this morning.   Getting in a good double makes me feel so much more confident.  And really, feeling confident is half the battle… especially when it comes to tris!
First up: a 1,200 meter swim.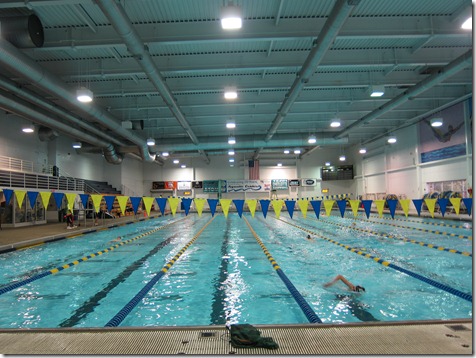 In regards to the Wetty or Not, Here I Come! debate (whether I should rent a wetsuit for my triathlon; the lake is going to be in low 70s), I've decided to go suitless and brave the cold.  Why?  I asked the lifeguard what the temp of the pool was this morning, and he said 70!  And really, it's not that cold at all.
I know a wetsuit helps you during the swim by making you more buoyant, but I hate feeling constricted, the rental would cost $50, and I would lose at least a minute in transition getting that darn thing off.   I hope I'm making the right decision… I hate to be cold.
After swimming, I came home, grabbed the Husband, and went on a run.  I did about 3.5 miles.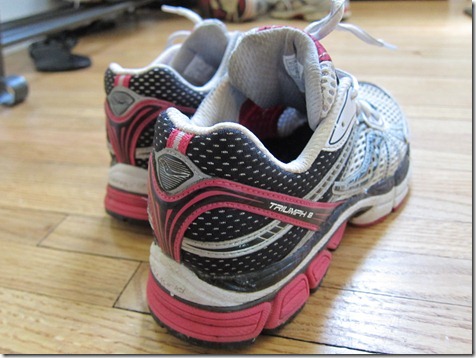 What a morning.  Can I crawl back in bed now?
Pre-swim fuel was PB toast: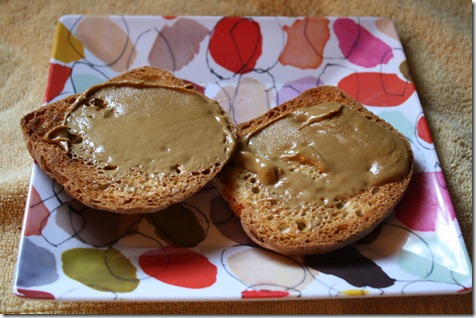 And afterwards, Panda Puffs, banana, and Greek yogurt.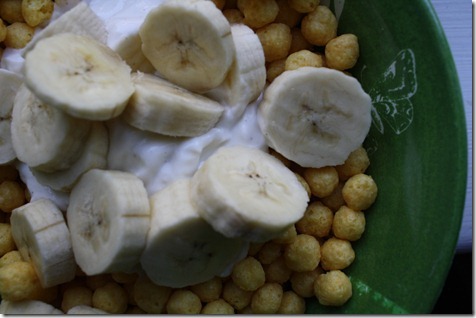 Mmm.
Have a good day!