Want to know the most physically challenging moment of last month's sprint triathlon?
Hint:  it wasn't the swim!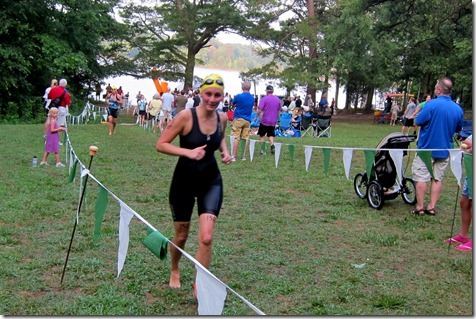 It was the transition from the swim to the bike.  Actually, both transitions sucked, but T1 sucked the hardest.  My legs were SHOT coming out of the swim, I was shaking from nerves, and generally, I felt weak.
My goal before my next triathlon (two weeks!) is to do more back-to-back workouts.  Even if I don't do them 'in order' (i.e. swim and then bike or bike and the run), I know it will be extremely beneficial for me.  And, truthfully, I should be doing back-to-back workouts anyway – I'm only really getting away with it because I'm doing shorter distance triathlons.  If I was doing an Olympic, I definitely couldn't squeak my way through on single workouts!
Anyway – so today I ran-swam-ran.  This was also a good opportunity for me to practice transitions, since I was so slow in transition last time.  I really want to improve my time, and making transitions faster is an easy way to do that.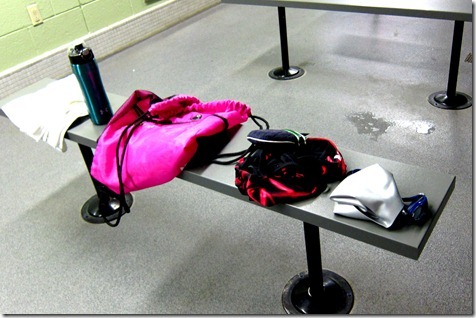 I ran to the pool, swam 1,000 yards, and then ran home (probably 2.5 miles in total).  Can I just say that I'm really falling in love with swimming?  So ironic because I used to HATE the whole experience.  But I find it so relaxing these days.

Of course, this meant that I had to carry all my gear with me!  I find the key is tying the straps of a drawstring backpack around my waist.  And bringing as little stuff as possible, of course!
Came home and munched on some dates + almond butter for a post-workout snack.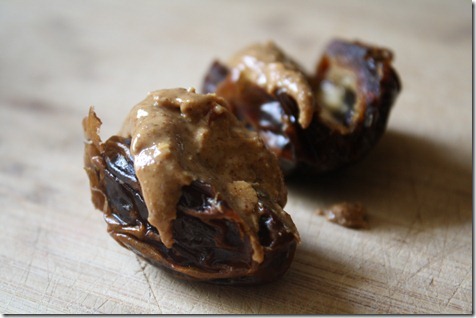 In order news, I had a temporary moment of insanity this morning and checked out upcoming Half Ironmans (a 1.2-mile swim, 56-mile bike, and half marathon).  I looked at two that are at the end of October – Beach 2 Battleship in Wilmington NC and the Half Ironman in Miami. 
Pros:  I'll be done with my book, which will free up time for training.  I'm pretty sure a race of this distance will require a 1 – 2 hour a day commitment.  I'll be able to say, "I'm a Half Ironman," which is pretty badass.  I've done multiple half marathons and metric centuries, so I'm comfortable with the idea of running and biking those distances.  And we might want to start a family in the next year, so if I want to do this, it's now or wait 2 – 3 years.
Cons: Um, hello – 70.3 miles in total.  I'll have to turn my life over to training for two months.  I might drown during the swim.  Race entry is expensive ($215 to $300); plus we'd pay for travel.  A half marathon seems like a far way to run right now, even though I've run 13.1 miles more times than I can count.  And most of all, I'm afraid I won't make the 8-hour cut-off because it takes me at least 4.5 hours to bike a metric and 2.0 hours to run a half marathon… and that's when I'm doing the events individually.
Thoughts?  Opinions?