Morning!  This morning had a very slow start – not necessary a good thing.  It may be a Sunday, but I have a ton of work to do… Ugh.
Perfect Sunday breakfast, if you ask me!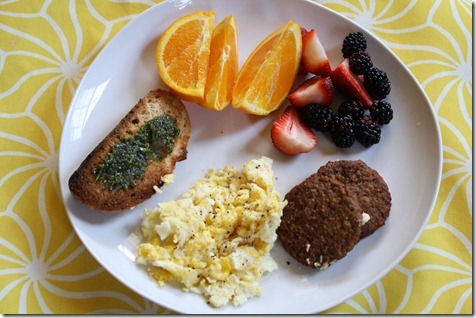 Scrambled eggs, toast, Moringstar sausages, orange, and berries.  Mmm.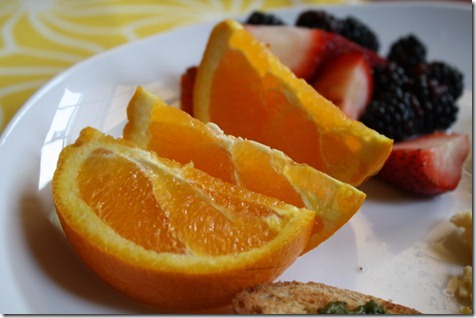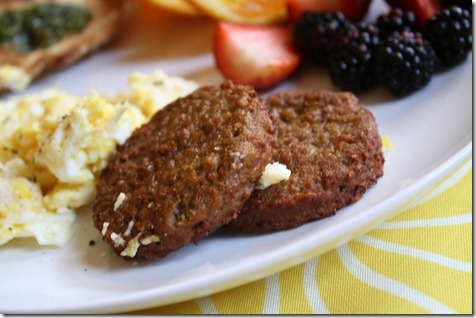 Actually, today's breakfast got me thinking about Vegetarian-Fed Eggs.  Have you seen cartons like these at the grocery store?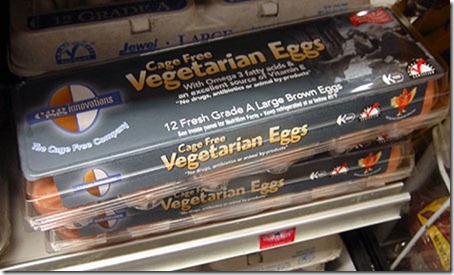 (Source)
I noticed these eggs a while back and thought – "Hmm, isn't that kind of weird?"  I always thought chickens should ideally be eating worms and bugs… They aren't suppose to be vegetarian, right?
Well, just as I wrote in the Egg-cellent Labeling post, a lot of egg labeling is merely about making the consumer feel good about the product (and thus be more willing to spend lots of money on 'special' eggs).  And yes, chickens aren't technically suppose to be vegetarian, but in this case, we're not talking about chickens raised on a lovely, green farm.  We're talking about chickens raised en-masse for purposes of egg delivery.  Hence, they aren't hunting for worms and bugs – they are eating whatever the farmer gives them while they are stuck in little cages.
So – here's the truth behind the label!
Vegetarian eggs are eggs that come from hens who are fed a vegetarian diet.  Vegetarian hens are a direct result of concern over hens eating animal byproducts, like their fellow egg-laying hens that died in the same factory farm.  Now, it is generally illegal to fed cattle back to cattle (due to Mad Cow's disease), but in general, pigs can be fed pigs and turkeys can be fed to turkeys.  Also, pigs, chickens, and turkeys that have been fed cattle bits can be fed back to cattle (basically, a horrible loophole that creates a risk for Mad Cow's disease anyway!).  (Source)
Many would argue that re-feeding protein ("wasted protein") back to animals is a good thing because it's environmentally conscious, but it creates a lot of potentially problems in terms of the spread of disease. 
When you see vegetarian eggs, that simply means the chickens are not fed animal by-products in their feed.  It doesn't mean the chickens necessarily LIVE in any better conditions (check out this post for humane labeling explanations). 
Interesting, right?  Now you know!