If at first, you have an intense panic attack in the water and actually straight-up quit in the first leg of a sprint triathlon…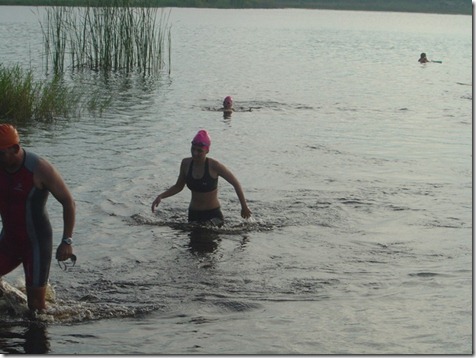 …And if at second, you have another panic attack in murky 55-degree water, grab onto a noodle for support, and end up being the last one out of the lake…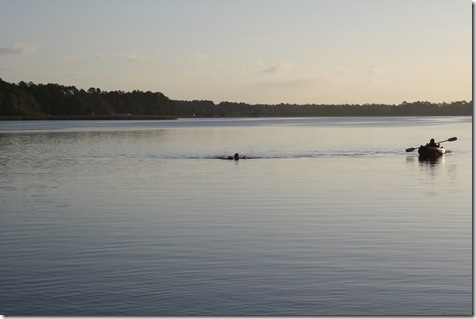 SWIM, SWIM AGAIN!
Oh yes.  Why do I torture myself so?  Even though I have two not-so-pleasant triathlon experiences under my belt, I think I really, really want to prove to myself that I CAN master the triathlon.  This isn't about my finishing time.  It's not about the blog.  It's just about me and the mental limitations I impose on myself.
Watch Caitlin freak out in the lake AND crash her bike! Yay!
My triathlon fears are definitely more mental than physical.  At least I can control myself mentally on race day – if I wasn't physically ready to swim the distance, there isn't much I can do!  I'm just scared of open water, and I know the only way to get over it is to just dive back in.  I need to get over my fears of: creepy things; dark water; cold water; being kicked in the face by other swimmers; not being able to breathe whenever I want to.
Hence…

My sprint triathlon (750-meter open water swim, 17-mile bike, and 5K run) is on Sunday, June 12, but before the "real" race, I need to get more comfortable in the water.
That's why I signed up for the Open Water Challenge, which takes place THIS Saturday at the same location as my upcoming sprint tri.  The Open Water Challenge provides me with an opportunity to safely practice swimming in race-like conditions. 
Saturday's event will also give me a chance to test out swimming clothes.  I don't have a trisuit (padded shorts that you can swim in and dry quickly for the bike), and I have to wear a sports bra because my bathing suit isn't supportive enough to run in (my teets hurt just thinking about that).  In the past, I've swam in a sports bra + bikini bottoms and pulled on bike shorts during the first transition.   Any other gear solutions that I can try?  I can't afford to invest in tri clothes right now!
So – what exactly does the Open Water Challenge entail?
800 meter swim <— 50 extra meters!!!
5K Run
I'm not 100% sure, but I think the swim waves begin at 8 AM and the run doesn't begin until 9 AM.  It won't take me an hour to swim 800 meters (um, hopefully), so that means there might be some hanging around.  Although the Open Water Challenge is technically a race, I won't be racing per say – just trying to survive and have fun. 
Some interesting little tidbits for you!
Swim + Bike + Run = Triathlon
Swim + Bike + Swim = AquaBike
Swim + Run = Aquathlon
Run + Bike + Run = Duathlon
750-meter Swim + 20K Bike + 5K Run = Sprint Triathlon*
1,500-meter Swim + 40K Bike + 10K Run = Olympic Triathlon*
1.9K Swim + 90K (56-mile) Bike + Half Marathon = Half Ironman
3.8K Swim + 180K (112-mile) Bike + Marathon = Ironman
*Exact distances can vary!
What's the longest distance triathlon you could ever imagine yourself tackling?  What leg would be the most challenging for you?  Since I've biked a Metric and ran several halves separately, I really cannot IMAGINE doing a Half Ironman.  But it's swim that would really kill me! 
PS – Other bloggers have gotten involved in the fundraising efforts for my neighbor Tonya, too.  Jenny from Fitness, Health, and Food will donate a $100 Sun Warrior Protein Pack to anyone who donates $10 to Tonya. Check out her blog for details.