The Husband and I set out on a 5K run this morning, but man – I think we waited too long to leave!  It was sweltering by the time we got going; summer has definitely arrived in North Carolina.
A date stuffed with sunflower butter beforehand (foodgasm!):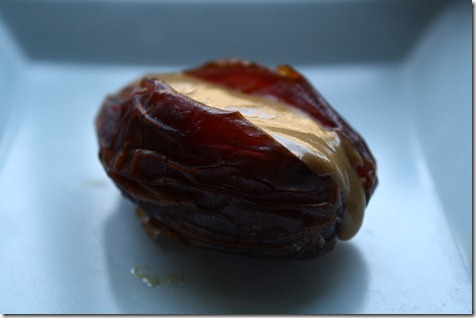 We did 3.16 miles, actually, in 35:00 on the dot.  I have been leaving my Garmin at home as to not stress about pace, which has dropped about 1-minute per mile since I took 8 weeks off (no surprise there).  I was surprised to check out our stats when we got home because I thought we had walked a lot more!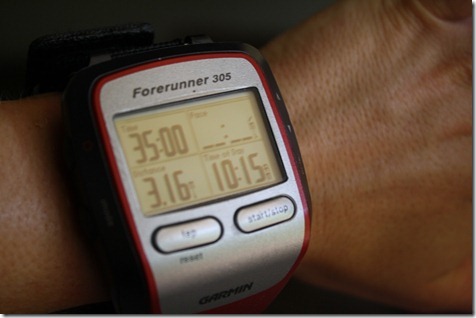 Cool breakfast:  cereal, banana, almond, and rice milk.
And now, for some various blog world updates…
Tonya Update
Thank you all SO much to contributing towards Tonya's cancer relief fund.  Tonya is my 32 year-old neighbor, and she was diagnosed with brain cancer last week.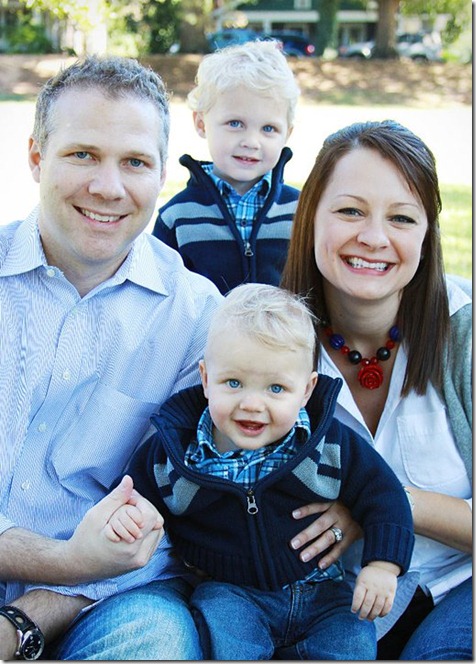 Amazingly, blog readers + Tonya's friends contributed more than $12,600 to help her family with medical and childcare costs.  I wanted you all to see that your continued support is ALREADY helping Tonya…  She emailed me yesterday to say, "Instead of going to work, my husband Kevin (who primarily works for commission) stayed home and took care of our boys this morning so I could organize my life.  He was with me today when the neurosurgeon remained uncomfortably blasé, despite our best efforts to elicit some hopeful comments. And he was able to come home and emotionally deal with what we're facing. He would have been forced to go work today if it weren't for your donations. I'm really grateful to you all that he was here with me today… Thank you."
Tonya is having a brain biopsy tomorrow (Friday) at 8 AM EST and has asked for your support with prayer!  She's a strong Christian and it means a lot to her to know that other people are praying for her.   I'll update you when I know more.
Guess Who's Pregnant?
"After 19 months, one surgery, 5 rounds of fertility treatments, thousands of dollars, and countless tears…"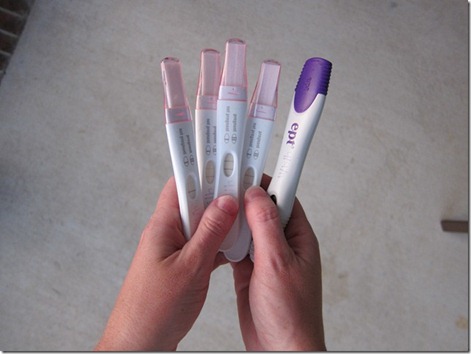 Guess which blogger is pregnant?  Yay!  Let's shower her with love!
Healthy Living Summit 2011
The HLS 2011 is ON!  I have taken a backseat with planning because I am too busy with the book, but Meghann is in charge and doing an awesome job planning an EXCITING blog conference!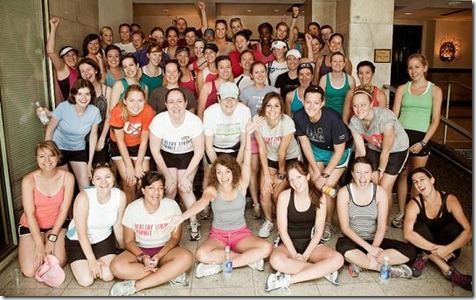 The 3rd HLS will take place in Philadelphia from August 19 – 20th.  Tickets go on sale Monday the 6th at 8 PM.  We sold out in twenty minutes last year, so I expect them to go FAST.  Bloggers and readers are welcome to attend!