I spent the evening chatting with the girls on the New Moon site (not related to Twilight).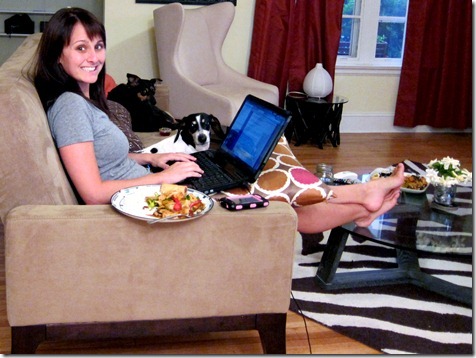 New Moon is a safe, educational, ad-free site for girls ages 8-12.  Activities on the site include moderated chat rooms, discussion forums, and reader submitted art, poetry, and videos.  My favorite part of the site is the Ask a Girl page where the girls can submit Q&As about all sorts of issues.  Highlights:  "What do I say when my friend is mean to me?  I'm nervous about my period!  How do I stop myself from focusing on my mistakes?"  And since it's all moderated by adults, everything is safe and fun. 
Anyway,  I was the special guest for the chat room tonight; we discussed all things Operation Beautiful-related!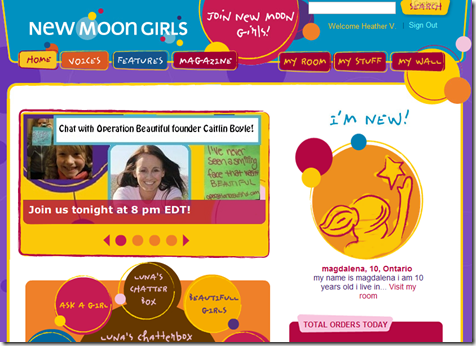 If you're a parent or know a girl that might like New Moon, you can buy them a membership (it's provided for a fee to keep ads off the site). 
Since I worked so late, the Husband got takeout and brought it to me to eat on the couch.  Just standard Thai fare:  a spring roll and tofu cashew nuts with rice.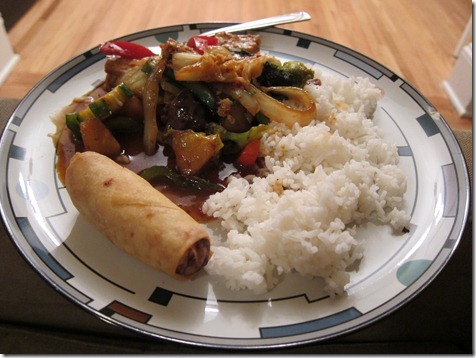 I had an orange for dessert.
Goodnight, friends!