Over the rivers and through the woods…  I'm back in Charlotte!
Mom, being the awesome mom that she is, packed me a lunch.  I had a PB sandwich and an apple.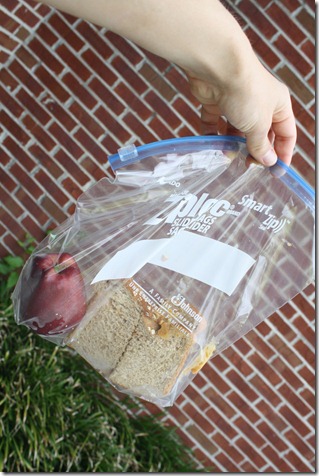 And later, a Clif bar: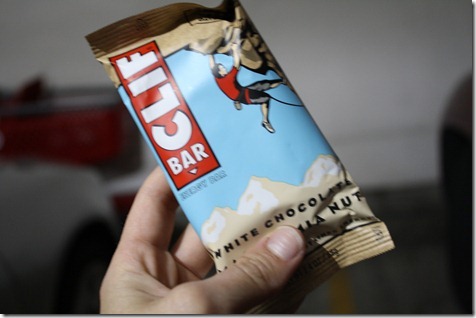 Safe Outdoor Cycling Tips
I compiled a few of my favorite tips from the "Indoor is Safer" post about cycling in traffic.  Here are some suggestions for staying safe on the road – beyond the most obvious one, of course, which is WEAR YOUR HELMET!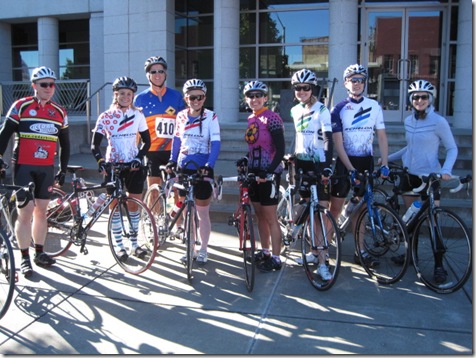 Hats @ See How She Runs wrote, "Be visible. Lights on bikes, reflective clothing, etc (even if you're cycling during the day). Bear in mind that if a motorist is driving in bright sunlight and you're in the shade, you can be quite hard to see. Also don't forget to wear sunglasses in really bright weather so you can see too."
Maija wrote, "Know that you always have the right to "take the lane." If you're on a busy road, just peddle right down the middle of the lane. Cars may get annoyed but it's way better to have an irritated motorist than a parked car to open up their door right in front of you."
Seek out your local bicycle alliance group.   Kristin @ FoodFash pointed me in the direction of Charlotte's group, CABA.  There's probably one in most big cities.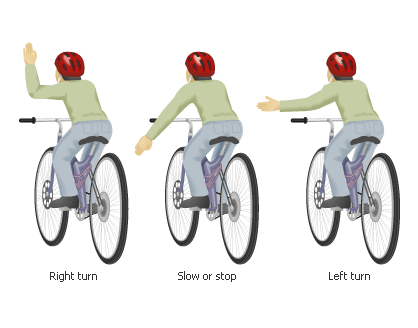 (Source)
K wrote, "Always ride with traffic.  If you ride against traffic, it is much easier to get hit by cars that are turning onto or off of the road you are on. A car is not going to be expecting or looking for someone to be traveling the wrong way down the street.  Also, if a car is coming up behind you, they can slow down until it is safe to pass. If you are heading toward them in their lane, they may not have that opportunity to move over, and you will have nowhere to go either. Always best to go with traffic." 
Madeline – Greens and Jeans wrote, "The best thing you can do is get as comfortable on the bike as possible. As soon as you KNOW that you can make your bike do what you want it to do 100% of the time, then you know that you will be completely in control of your ride. Of course, then you just have to make sure everyone else is aware of you! I always assume that drivers aren't paying attention and err on the side of caution."
Vanessa wrote, "It is never safe to expect that other vehicles will see you -in fact, assume that they don't and be prepared to make concessions. My general rule for city cycling is to assume that all taxi drivers are trying to kill me; this may not be the case but they sure drive like it is!"
Vaala wrote, "Pick the time of day for the route you're planning on taking carefully."  Don't ride on busy roads during rush hours if you can help it
Anne wrote, "Check out local bike shops, which often do group rides… find out what their routes are and go with them or ride them on your own."
Other bike-related posts: