I had quite the pleasant surprise this morning – the Husband made me breakfast in bed.  Such a nice gesture.  I love eating in bed.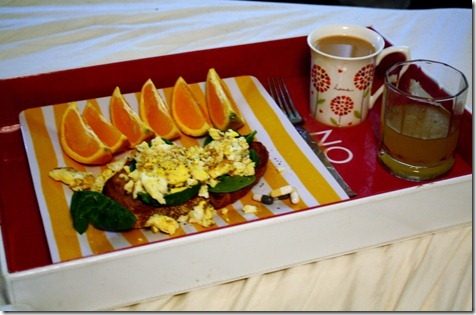 That little glass of brown-orange liquid is my B Vitamins!
He made eggs on toast with spinach, plus an orange.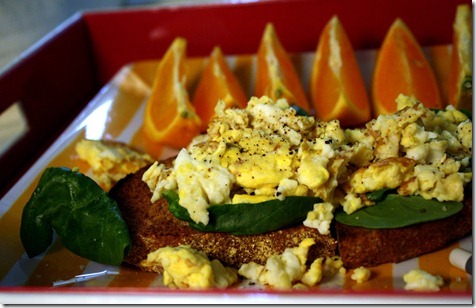 I took advantage of the fact that I didn't need to leave bed for food and cuddled with the pups for a good hour.  They are such good spooners.   One of my greatest pleasures in life is laying in bed with my dogs.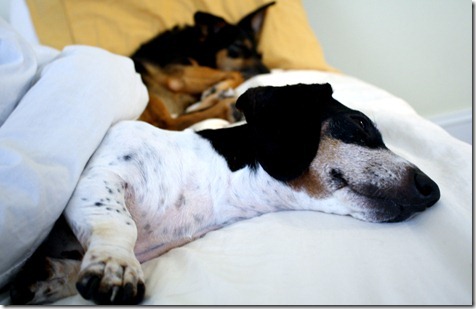 I also did a little reading.  I'm reading a review copy of Running on Empty, which tells Marshall's story of running across the country (from California to New York) in 52 days at the age of 57.  So far, it's intriguing… I have to admit that I don't actually LIKE Marshall.   I think you're not suppose to at this point in the book.  I am inspired by his running, though!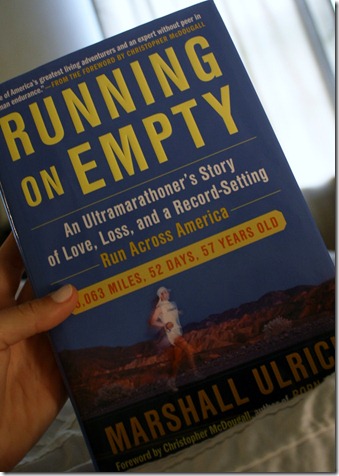 The only thing that got me out of bed, however, was a text from Nicole asking if I wanted to run.  I said sure, but first, I needed to pack my swim bag.  I did a back-to-back run and swim workout.  Double workouts like this are KEY for triathlon training, and I like to minimize the downtime between workouts as much as possible.
We ran a 5K in 34 minutes (I was SO proud of myself – don't call it a comeback!) and we only walked twice. Wahoo!
Then, I grabbed my swim bag and drove to the pool.  I swam 1,000 yards very fast (22 minutes).  I think it's easier to swim when you're already warmed up.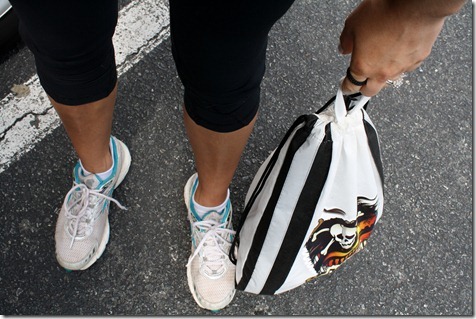 Post-workout lunch: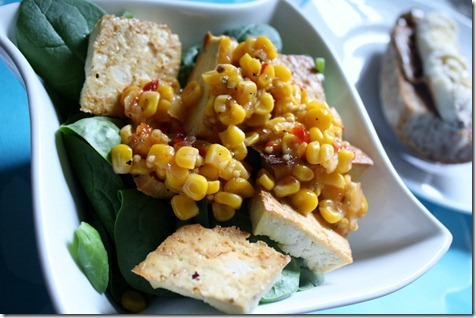 Spinach salad with baked tofu and corn salsa, plus a piece of bread with almond butter, mashed banana, and maple syrup.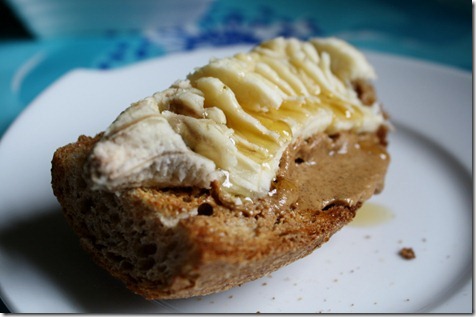 All in all – a perfect morning, by my standards!  A little nappin', reading, exercise, and good eats.  What more could a woman ask for?