This upcoming week is officially 'get myself back on track' week on HTP.  Care to join me?  I'm committed now that I signed up for a sprint triathlon in three weeks.  I think I'm ready for the swim (750 meters), and the bike (17 miles) won't be a problem with a bit of training. 
The race finishes up with a 5K (3.1 miles), and since I took most of April off from training, I need to continue to slowly work my mileage back up.  Slow and steady is my mantra!  I'll post some training thoughts soon, but one key thing I plan to do over the next three weeks is never run two days in a row.  I don't want to overtrain and will probably walk/run the 5K on race day. 
The nice thing about a comeback is you know that if you've been there once, you can get back again!  Comebacks are kind of fun.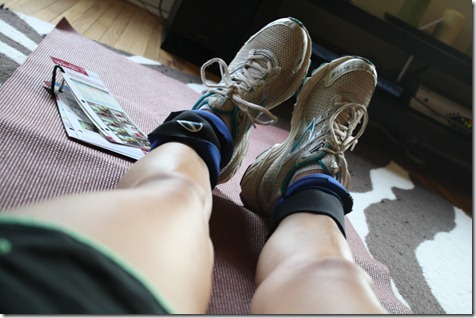 And this means return of the hot, smelly, ugly (but necessary) knee sleeves!   I love and hate them all at the same time. 
After a 37:00 5K with Nicole, I came home and did the abdominal workout from the My Trainer Fitness six pack cards.  Fellow blogger extraordinaire MizFit and her friend, LeAura Alderson.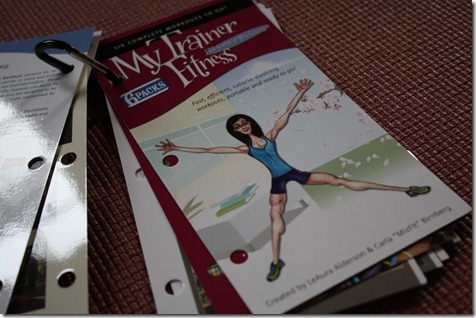 Each card is a mini workout for a different body area.  You need resistance bands and weights for some moves, but a lot of this just use your body weight.  Perfect for working out in your hotel room if you travel for work a lot – I'm bringing them with me on an Operation Beautiful trip!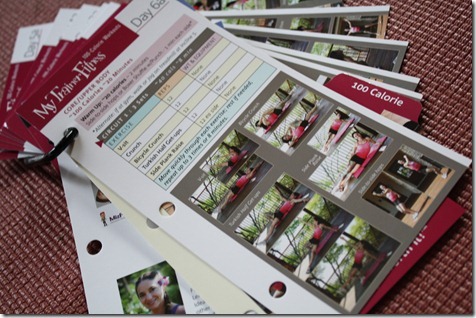 Workday snack of PB toast: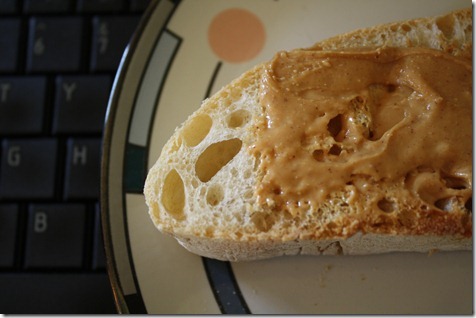 And dinner was made by the Husband.  He heated up some vegan pizza from Trade Joe's.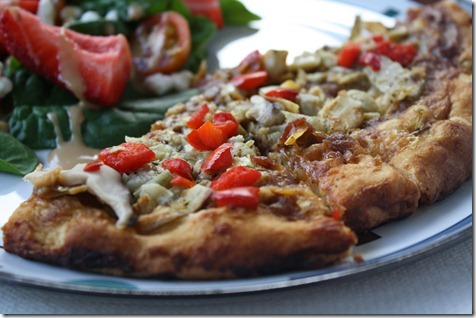 And he made me a salad – THE salad!  Ha!  Remember how I mentioned he loved the amazing salad last night?  I guess he loved it so much he decided to recreate it – he didn't know I had already done just that for my lunch!  Same salad three times in less than 24 hours.  It's that good!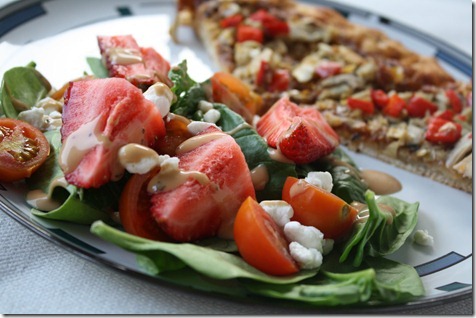 And a PB and banana protein smoothie.  In the blender:  a banana, glob of peanut butter, scoops of whey vanilla protein powder, vanilla bean paste (special ingredient!), and 1 cup of rice milk.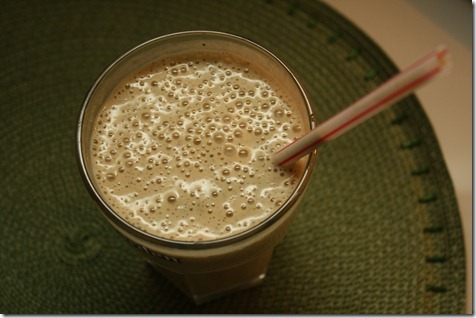 I leave you with this thought on Sunday night: 
"Concentrate all your thoughts upon the work at hand. The sun's rays do not burn until brought to a focus." – Alexander Graham