Today is the last day of our amazing vacation in the Dominican Republic.  Fittingly, I'm writing this on our balcony as dark clouds drizzle a fine mist of rain.  It's like the weather agrees that it's just time to go home.  I'm sad because we had so much fun!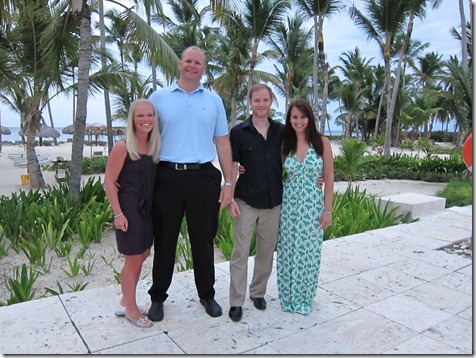 Many people asked for a review of our all-inclusive resort, the Catalonia Royal Bavarro (CRB), which is located in the Punta Cana area of the Dominican Republic.  CRB – an adults-only resort – is located next to the Catalonia Bavarro, the much larger kid- and budget-friendly sister resort to CRB.  CRB guests had access to all of Catalonia Bavarro, but their guests could not come onto our resort's property.  This was nice because we had access to all the Catalonia Bavarro amenities, and CRB stayed quiet.
Here's a more detailed review of CRB:, based on the following scale:
1 – Lamesauce
2- Fair
3 – Good
4 – Great
5 – Awesomesauce
ROOMS (4 – Great):  We upgraded to a Deluxe Junior suite, which was spacious and well-decorated.  We had a king bed with a Jacuzzi tub, as well as a big double-headed shower. Our bed was comfortable, too. Every day, the maid came and replenished the free mini-bar and gave us new, plush beach towels.  My only compliant about the room?  It smelled of mildew, which I'm sure is a common problem in the humid tropics, but a huge turn off (and mild health concern).  Oh, and bring your own blowdryer because theirs is useless.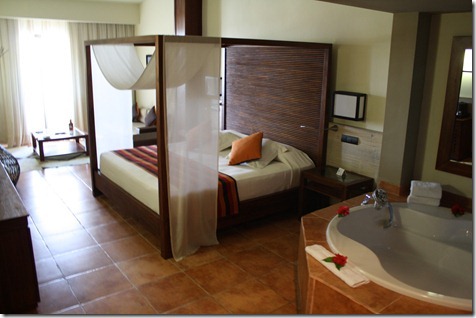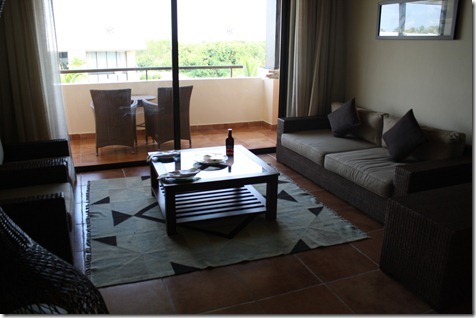 POOL and BEACH (5 – Awesomesauce):  The pool and beach areas were AMAZING.  This is what I think of when I think of paradise.  There were tons of chairs and huts on the CRB private beach, and many chairs at the pool.  We usually got to the beach by 8:30 or 9 and never had a problem getting chairs.  The wait staff at the beach bar and pool bar were great and mixed strong cocktails.  The cleaning crew removed the seaweed from the beach every morning, and the water was clear and warm.  There are two pools, one infinity pool and one with a swim-up bar.  We didn't spend too much time at the pools, but other guests seemed to love them.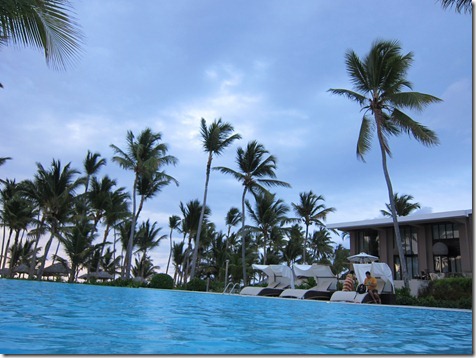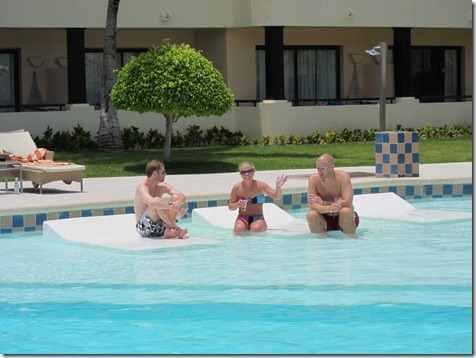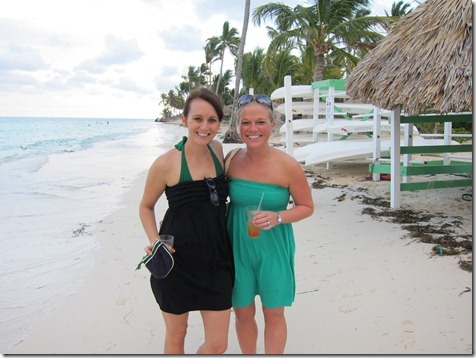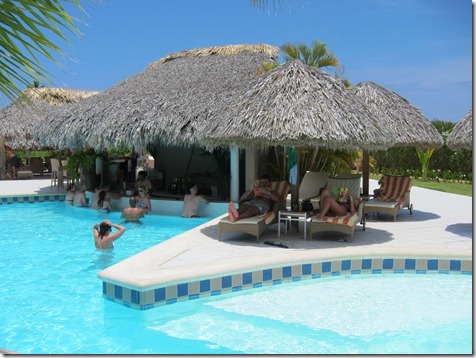 FOOD (2 – Fair for vegetarians; 3 – Good for meat-eaters):  The food was really my primary issue at CRB.  All food was included in the price, and although the CRB has three restaurants, only one served up acceptable vegetarian food (and it was only for breakfast).  CRB's chefs clearly don't understand how vegetarians need to eat – all of the vegetarian lunch and dinner entrees lack protein.  One vegetarian entrée was literally just a bowl of zucchini and carrots.  However, Sarah and her Husband said the meat-based dishes were pretty good.  The Catalonia Bavarro resort offered up several theme restaurants (Italian and Japanese), which were mediocre at best.  There were also several buffets at the sister resort, one of which was a reliable lunch spot.  But all in all, I felt like I ate like crap for seven days, often having pizza and French fries for lunch.  Honestly, I cannot WAIT to get back to my own kitchen and cook something green.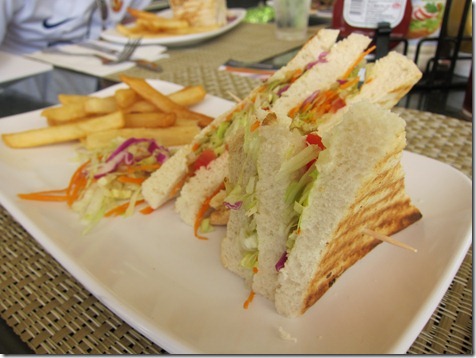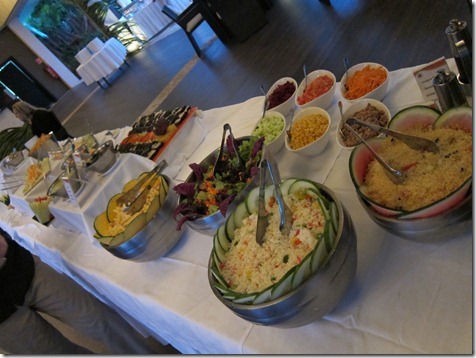 DRINKS (5 – Awesomesauce):  The resort definitely made up for the food in mixed free drinks.  The many, many bars offered a daily Drink of the Day, a fun and fruity concoction.  The drinks were strong, too!  I highly recommend the Pina Colada, the Carnival, the Blue Hawaiian, and the Hot Sun.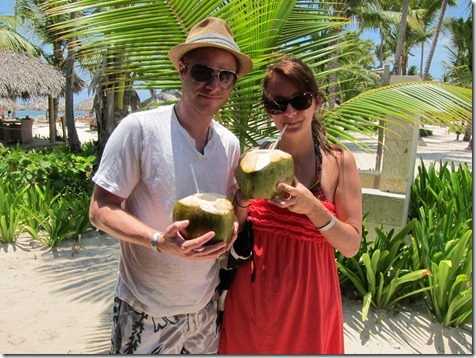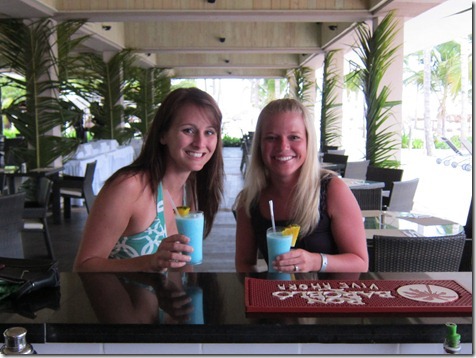 SERVICE (5 – Awesomesauce):  The people at this resort were AMAZING.  I have nothing but compliments for the staff.  We tipped extremely well as a a result. The staff were fun, engaging, and always willing to refill your glass.  The waiters were constantly singing and dancing, too.  I give mucho props to the staff at CRB.  Wonderful people!
ENTERTAINMENT (2 – Fair):  We golfed 9 holes at the resort's golf course, which was a quality course.  On the beach, you could borrow free snorkels and ocean single and double kayaks – I took out the kayaks a few times and it was really fun!  We also went on one excursion (snorkeling) that I enjoyed.  However, I found myself getting a little bored every at night.  While there was no nightly entertainment on the CRB side, there were nightly shows at the sister resort.  The only one we attended was the Michael Jackson show because the other shows were a little cheesy.  And we spent MANY nights in the smaller casino with blackjack and slots.  Last night's beach party was especially fun because it featured a huge (actually tasty) buffet spread, BBQ, and DJ on the sand.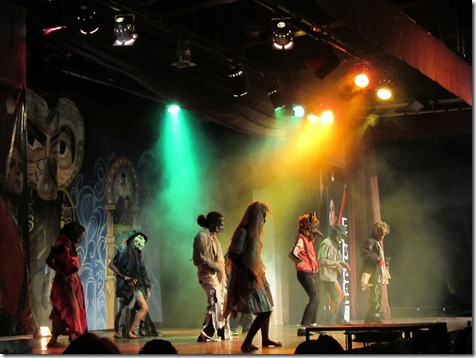 (Thriller dance!)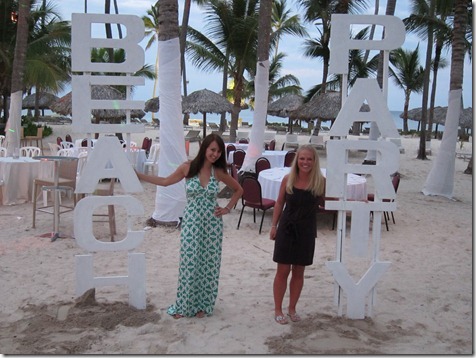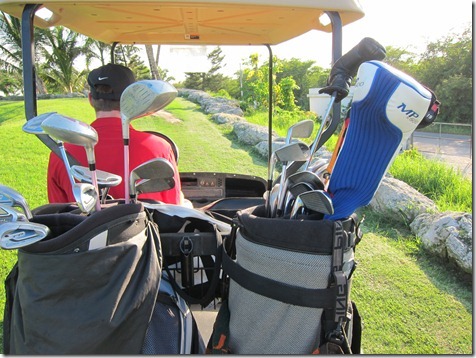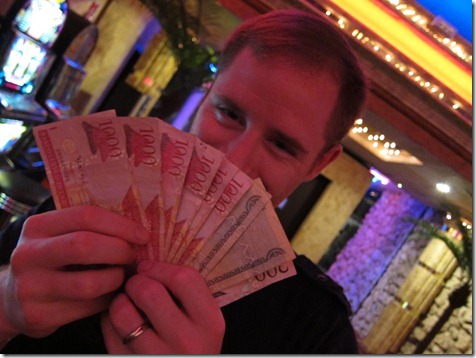 EXTRA AMENITIES (2 – Poor):  Although we didn't get any spa treatments, they have a full-range spa available on both resorts.  The gym was small but sufficient.  But the reason I rank CRB "poor" in this category is the INTERNET.  The Internet connection was really, really bad, sometimes going out for an entire day.  I'm not sure if this is something the resort can control or just a situation in the Dominican, but it was very frustrating.  Do not expect Internet at this resort!  Just lay by the pool and drink cocktails instead.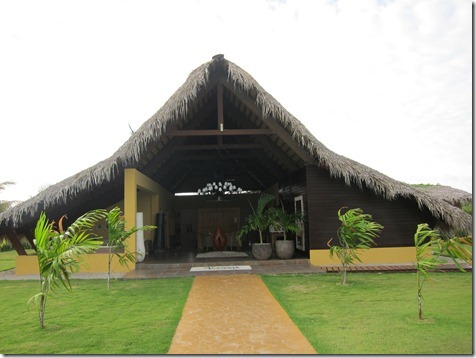 OVERALL AMBIANCE (4 – Great):  This resort is beautiful.  The beach is gorgeous.  It's on the Caribbean.  CRB gets bonus points just for being well-designed and snazzy!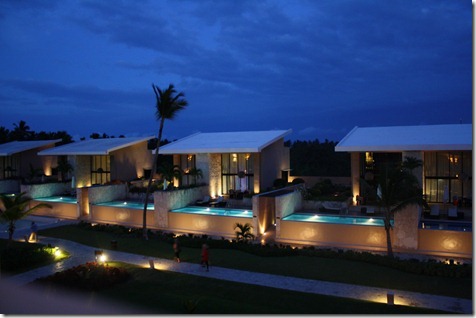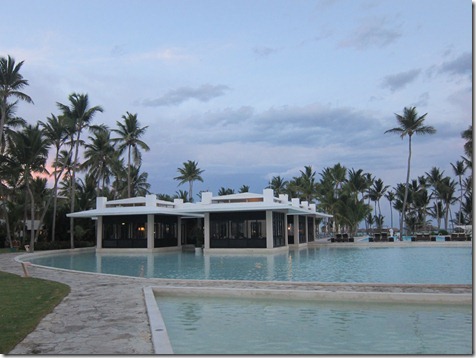 Overall, this works out to a 4.15 out of 5, which is pretty accurate because the hotel is a 4-star resort!  Especially when you factor in value for money, I think this resort is a great choice for:
Girlfriend getaways
Couples looking for an all-inclusive vacation but not a very special vacation… I would not recommend this place for honeymooners
Meat-eaters, not vegetarians and definitely not vegans
3 – 4 day vacations, given the lack of entertainment
Beach lovers
Fruity cocktail lovers
People who want an excuse not to check their work e-mails!
All in all – a wonderful vacation with the Husband, BFF Sarah, and her husband TK.  We had a blast at CRB.  
Adios!  See you in America!