I am really enjoying my double workouts for sprint triathlon training.  In fact, I think I'd rather do a double run/bike than one long run.  If anything, being injured and fighting for a comeback for the umpteenth time has really solidified the fact that my body NEEDS cross training.
The Husband joined me for a 5K run. Now, if you recall, I took 2 months off of running because of a trouble knee/leg injury.  Before that, I had recently completed my second marathon and was training for my fourth half marathon.  Coming back after running such high mileage and then running zero mileage is a curious thing.  You have to be very forgiving with yourself – I simply cannot run as far or as fast as I used to. 
Since I've crafted a zero to hero recovery before, I know I'll get back to my old pace eventually.  I just have to go really slow and be okay with walking breaks.  Which I definitely am!  Walking rules.  It's honestly the fastest and safest way to get your mileage and pace back up.  
I don't really take regular walking breaks, but we try to time it around hills.  We'll walk up the hill and then run down.  We wrapped up the 5K in 35 minutes or so, which seems to be my current 5K average! 
After the run, I switched to the bike (on the indoor trainer) for 20 minutes.  It's a nice way to recover after a very hard and hot run.
Lunch was courtesy of the Husband: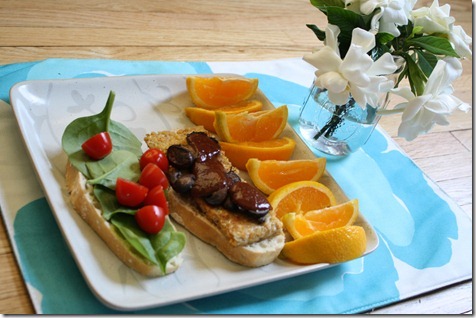 He made a yummy grilled tempeh and mushroom sandwich that was smothered in BBQ sauce, plus an orange: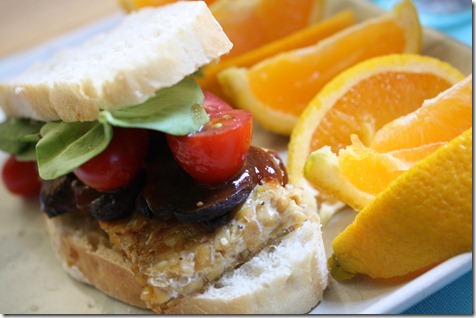 So – I'm in the process of writing a post called Injuries are a Blessing about the brightside of having to take a little time off from workouts.  Being injured has taught me SO much, and I'd love to hear your positive experiences with being injured. 
How has being injured helped you?  I'll include some of your stories in the post, too!