Good morning!
I hope you had a nice Memorial Day if you celebrate.  We spent the day playing, working, and relaxing.  I took my laptop to the driving range so I could write while the Husband golfed.  I grabbed a beer from the club – so refreshing.  Writing + beer = my two favorite things (when both are done in moderation!).
We played badminton all night long in the front yard, too – that was fun!  The Husband and I are constantly trying to beat our back-and-forth pass record.  Right now, we're at 58 passes, which I consider pretty impressive.  Good times!
Breakfast featured toasted quinoa: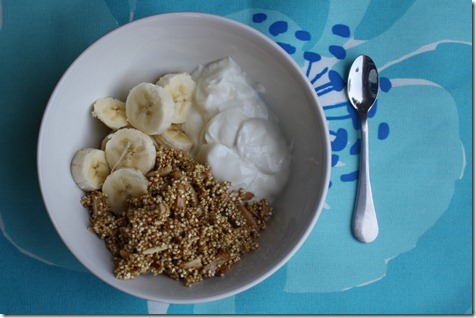 Ingredients:
1/4 cup quinoa, rinsed and drained
1 tablespoon maple syrup
2 tablespoons almond slices
Directions:
Preheat oven to 375 degrees
Mix ingredients and spread out on greased cookie sheet
Bake for 15 minutes, remove, and let cool completely
Serve with fruit and Greek yogurt
A yummy granola alternative!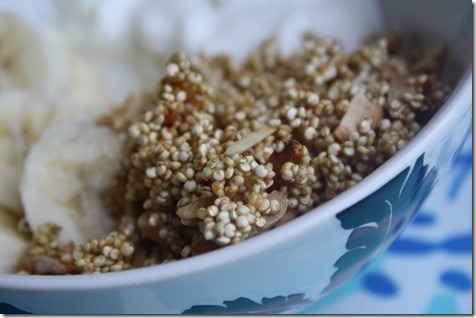 Stop Cursing Challenge Update
Time for an update on my hellish efforts to stop cursing!
About two months ago, I decided to try to clean up my potty mouth…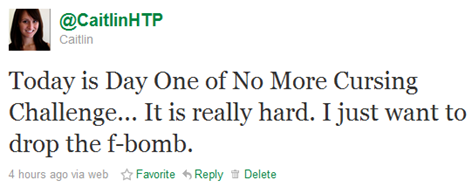 I have to say that things are going really well!  My cursing frequency has greatly decreased just by thinking how much I want to stop cursing and by correcting myself when I curse out loud.  Also, not cursing has forced me to be more creative with my verbal description of events (instead of just saying, "that is so f**king cool!").   I've also tried pretending I'm around children all the time when I'm in group settings – that helps!
Basically, my potty mouth was a bad habit, and I've definitely been able to phase it out!