Please excuse me – this post is complete randomness.  I think I'm sleep deprived from traveling.
Catching up on the weekend?
The Husband and I ran the Spring 5K with Girls on the Run.  Our girls did great, my knee held up, and the event was a huge success – over 4,000 girls + supporters attended!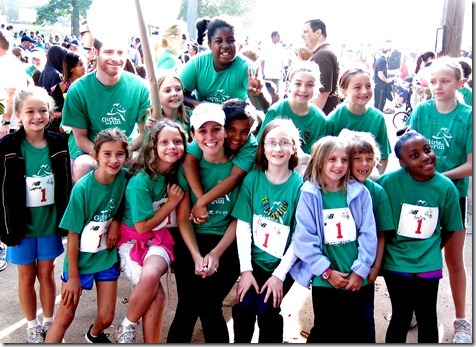 We also house hunted until I could barely see straight.  My mind is still reeling from the possibilities – won't you weigh in on your favorite house so far? 
(Side note: yesterday, I submitted an application to be on House Hunters.  Yes, really.)
And we celebrated the Husband's birthday in style at the Quail Hollow golf tournament.  Beer and French fries galore!  Happy 27th birthday to my best friend.
And last, but certainly not least, I boarded a plane to South Dakota so I can give two Operation Beautiful presentations today in a small town in Minnesota called Ivanhoe.
Many native Minnesota readers have commented that they've never heard of Ivanhoe so it must be really small.  You are right!  In fact, this is how small it is: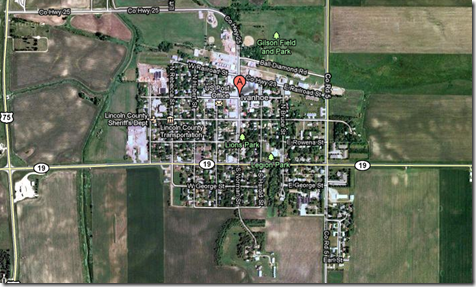 Ivanhoe is less than 10 blocks wide, or 0.9 square miles.  Only 559 people live in Ivanhoe!
So, I'll be back at lunchtime, but until then…
Please check out the Blogger Baby Shower by Callie!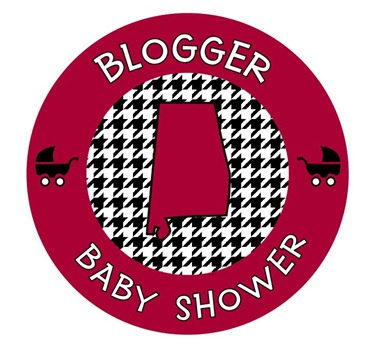 She wrote me to say, "It has been a busy two weeks in the news. Before we were distracted by the Royal Wedding and Osama bin Laden's death, we were stunned to see the tornadoes that ravaged Alabama and surrounding areas. But those images are now yesterday's news. Unfortunately, it is still very much a reality for the people living there.  People like my little sister.  That's right – my little sister lives in Tuscaloosa, Alabama, just blocks away from where the tornado ripped through the town. She is fine, thank God, but her job as a bank teller brings her in contact every day with people who have lost everything. She has been volunteering with a local church and discovered that one of the greatest needs they have are baby items – simple things like diapers, formula and onesies. As a soon-to-be mom, it breaks my heart to think of mothers who have lost everything and are trying to take care of their babies at the same time. I can't imagine not having those simple things like diapers or food for my child. As soon as I heard the need, I wanted to do something to help."
Want to help Callie and her virtual Blogger Baby Shower? Simply visit the Tuscaloosa Tornado Baby Registry on Amazon and purchase baby products that will help the residents of Northport, Alabama.  Great idea, right?