Such a long day of travel – I'm happy to be home!  Nothing feels as good as coming home to the Husband and the dogs.
My layover was at Minneapolis/St. Paul.  Once again, I am SO impressed with that airport.  There's an entire MALL in the center.  It was easy to find something delicious to eat for lunch with so many options.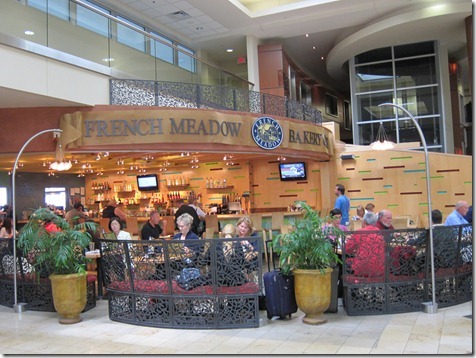 I got a grilled cheese, spinach, and sundried tomato sandwich with chips.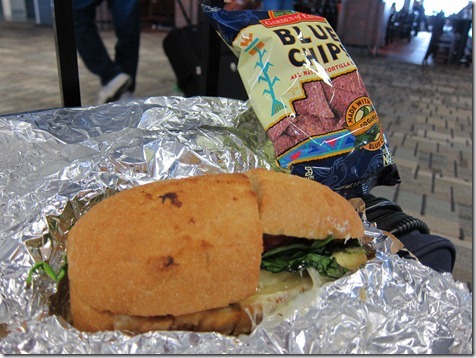 Tasted as amazing as it looks. 
So – it's that time again… time for the Best (Worst?) of Sky Mall.  For our reading pleasure, Delta provided us all with this gleaming copy of Sky Mall giggle at browse.  Here's part one ofthe Best (Worst?) of Sky Mall!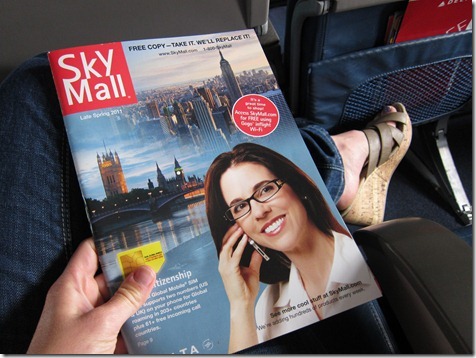 First up:  The Zombie of Montclaire Moore Statue!  Yours for the completely reasonable price of $89.95.  Because who says you can't enjoy all the tacky trappings of Halloween all year long?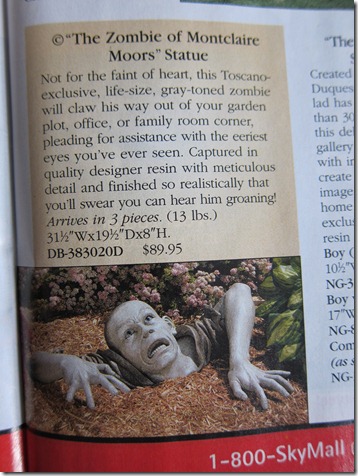 Next, we have the incredible ROM Machine, which allows you to get a full workout in just four minutes.  I know they say that 97% of people who rent it, buy it, but I just cannot see how this would possibly work.  Also – did you catch the price tag?  $14,615!  Has anyone ever tried this?  It's both completely ridiculous and entirely intriguing.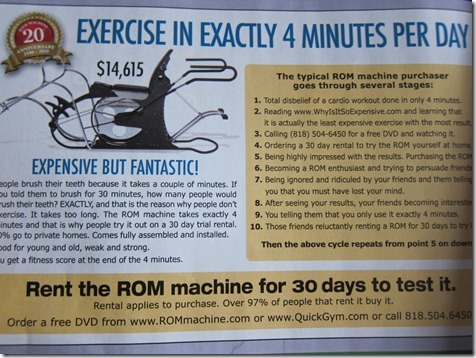 Here's another gadget that I hate to admit I want to try… the Magic Wand Remote Control.  Kind of awesome, right?  Especially if you had a kid and could convince them you were a wizard who had the capability to change channels with your magical wand.  All yours for just $89.95.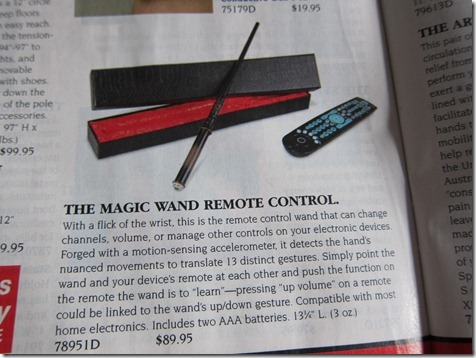 Many people commented that they couldn't believe I didn't include this little gem in the last Sky Mall review. I think this has been in the magazine for at least 15 years.  I fly pretty frequently, and yet I've never actually seem someone use one of these… probably because it would be more embarrassing than just sleeping against the window with your mouth open.  Can you imagine if your seatmate started to inflate a SkyRest?  I would probably take a picture of passing out against it.  Yours for $29.95!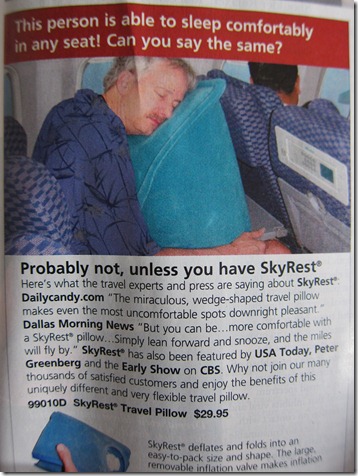 And last, but not least, I've got to give love to the Slanklet (blanket with sleeves?), but only because you can also buy a SIAMESE SLANKET for couples.  In case you're wondering, I have an itch to buy a Siamese Slanket in "Sofa Safari" for the Husband and I.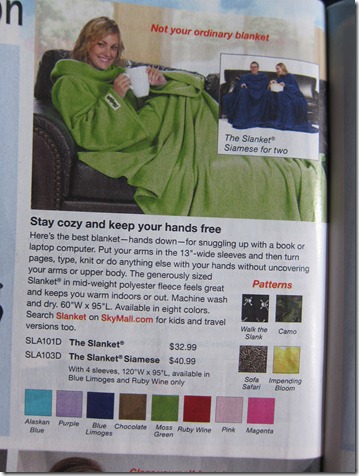 Oh, Sky Mall.  How would I survive long flights without you?
PS – If you actually own any of these items, please tell me if they are actually AWESOME.  I think Sky Malls sells some great stuff.  You just need to NEED it!  Like I need that Dog Genealogy Test Kit for James.