Have you ever played octopus?  I never played it before coaching Girls on the Run.  I have memories of kick ball and dodge ball, but not octopus.  It's a fun form of tag for large groups – you need at least ten people!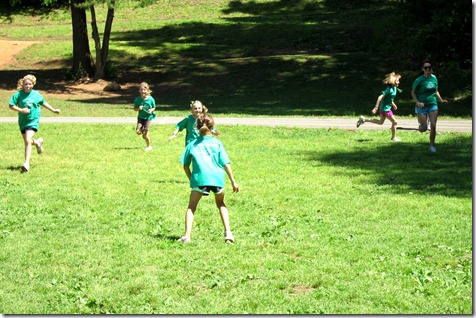 Here's how we played today:  Two people are the octopuses (octopi?) and the others are the fish.  When the octopus yell out "OCTOPUS!", the fish have to run from one side of the 'sea' (the field) to the other without getting tagged by the octopuses.  If the fish is tagged, they turn into sea urchins, sit down where tagged, and try to tag other fishes without moving from their position.  The last two fish standing become the octopuses for the next round. Once I played at Christmas as two Santas and a bunch of reindeer.  :) 
I'm getting sad GOTR is almost over – I'm going to miss the girls so much! 
Afternoon and evening eats: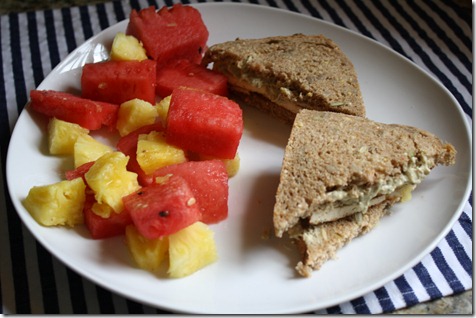 Tofu and basil hummus sandwich (from Trader Joe's – so good!) with a side of fruit.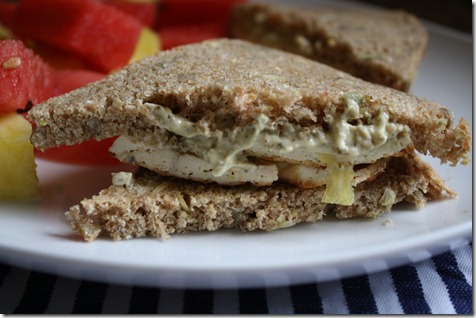 Greek yogurt, oats, blueberries.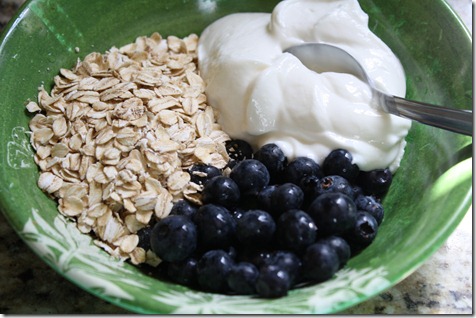 And this delicious quesadilla.  After staring into the fridge with a blank expression on my face for several minutes, I threw this together in desperation – but it ended up being really good!  I cooked a handful of cheddar cheese, spinach, and pre-heated veggie burger (Almond Grain from Earth Fare) on a whole wheat tortilla.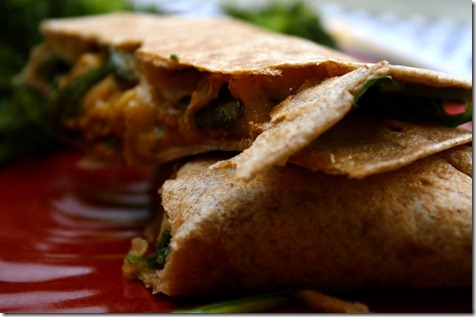 It kind of tasted like a (vegetarian) cheeseburger quesadilla.  Which means I will be making it again as soon as possible. 😉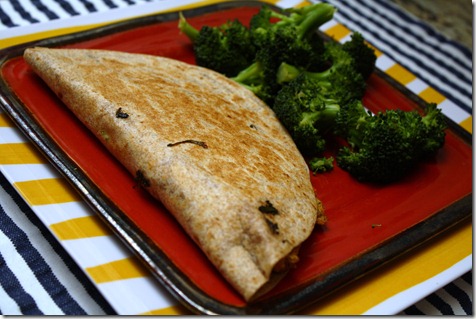 So – I'm going to bed because I have quite an early wake-up call.  We're hosting a Royal Watch Party tomorrow morning. A few of my friends are coming over to watch William and Katherine's wedding, which is at 11 AM England time and 6 AM our time.  
The scones (which I taste-tested) and the cookies (which I also taste-tested) are baked, the tea is ready to go, and the British flags are out.  I know everyone's not into the Royal Wedding, but I am, and I'm not ashamed to admit it.  It's such a romantic tradition.
And has anyone else (besides Angela!) been watching all the Royal specials?   We've watched two, and I've noticed that the young Husband looks creepily like the young Prince Harry…
Do you see it, too?!
The wedding starts at 6 AM Eastern time, so I'll be watching at 5:30 AM  to see the processional and Kate's dress when she gets out of the car.    I cannot wait to see her dress; I'm sure it's going to be gorgeous.
Here's a fun fact that I've learned from watching all those Royal specials:  Kate will arrive in a car and leave in a carriage to symbolize her transition to royalty!